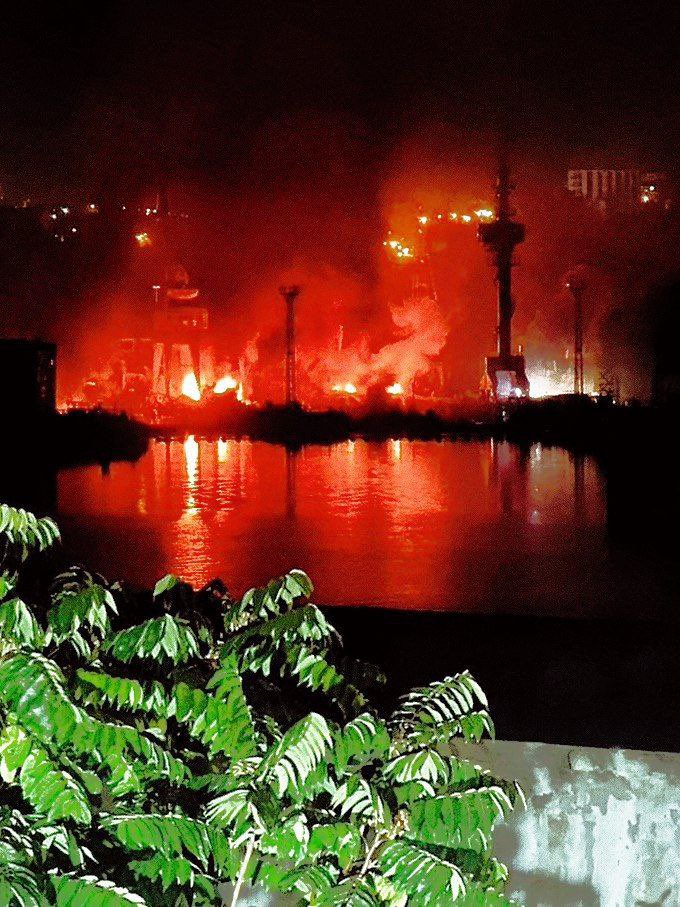 Kyiv launched a strike against a ship repair facility in Sevastopol early on Wednesday, seriously damaging the Rostov-on-Don, a Kilo-class submarine. It would be the first time one of Russia's deadly subs was hit by Ukraine in this war. Another ship appears to have been damaged with observers suggesting the large landing ship Minsk was also hit. Footage showed huge explosions erupt at the dock and large fires breaking out.
Kilo-class submarines can launch cruise missiles out of their torpedo tubes for long range attack and subs in the Black Sea have used this to pummel Ukraine throughout the war. They typically carry an array of up to 18 torpedoes or 24 naval mines, but can also load a maximum of four Kalibr cruise missiles.
Ukrainian government adviser Anton Gerashchenko said: "Russian media report that a large landing ship "Minsk" and a submarine "Rostov-on-Don" were reportedly seriously damaged as a result of the attack on Sevastopol." The Russian defence ministry claimed: "Tonight, the Ukrainian Armed Forces launched a strike with ten cruise missiles at the ship repair plant named after. S. Ordzhonikidze in the city of Sevastopol and three unmanned boats from a detachment of ships of the Black Sea Fleet on the sea crossing. "Air defence systems shot down seven cruise missiles, and the patrol ship Vasily Bykov destroyed all unmanned boats. As a result of being hit by enemy cruise missiles, two ships undergoing repairs were damaged." Tass, the Kremlin's media agency, claimed 10 missiles were fired at Sevastopol overnight.
Besides potentially knocking out even more of Russia's Black Sea fleet – having famously sunk the Moskva flagship last year – Ukraine has kept up the psychological pressure on Crimea with this strike.
https://www.lbc.co.uk/news/russian-submarine-hit-missile-attack-crimea/
Comment: Initial reports suggested it was R-360 Neptune cruise missiles that struck Sevastopol, but Russian reports and subsequent British reports say it was Storm Shadows. Ukrainian reports congratulating their Air Force supports that. Whether the attack consisted of ten cruise missiles has not been confirmed. But it does appear that the attack took out another Ropucha class large landing ship Minsk and the Kilo class diesel-electric sub Rostov-on-Don along with the dry dock facilities. Nice.
The success of this strike was no doubt aided by the earlier Neptune strike taking out an S-400 system and the amphibious raids that took out radar and EW capabilities on the Crimean coast and oil platforms in the Black Sea. That's some good planning. Ukraine's long term planning has been consistently good from day one of this war.
TTG