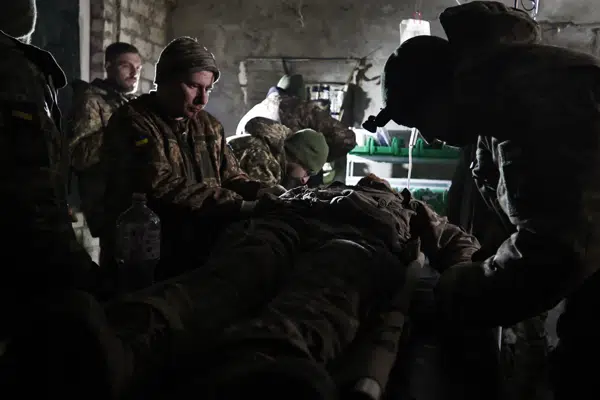 "A top adviser to Ukraine's president has cited military chiefs as saying 10,000 to 13,000 Ukrainian soldiers have been killed in the country's nine-month struggle against Russia's invasion, a rare comment on such figures and far below estimates of Ukrainian casualties from Western leaders.
Russian forces kept up rocket attacks on infrastructure and airstrikes against Ukrainian troop positions along the contact line, the Ukrainian general staff said Friday, adding that Moscow's military push has focused on a dozen towns including Bakhmut and Avdiivka — key targets for Russia in the embattled east.
Late Thursday, Mykhailo Podolyak, a top adviser to Ukrainian President Volodymyr Zelenskyy, relayed new figures about Ukrainian soldiers killed in battle, while noting that the number of injured troops was higher and civilian casualty counts were "significant."
"We have official figures from the general staff, we have official figures from the top command, and they amount to between 10,000 and 12,500-13,000 killed," Podolyak told Channel 24.
The Ukrainian military has not confirmed such figures and it was a rare instance of a Ukrainian official providing such a count. The last dates back to late August, when the head of the armed forces said that nearly 9,000 military personnel had been killed. In June, Podolyak said that up to 200 soldiers were dying each day, in some of the most intense fighting and bloodshed this year."
Comment: This would make more sense to me than the 100k figure that has been spread around. Is the Ukrainian general staff encouraging the circulation of the larger number as some sort of ruse de guerre? Could be. pl
Official says over 10,000 Ukrainian troops killed in war | AP News