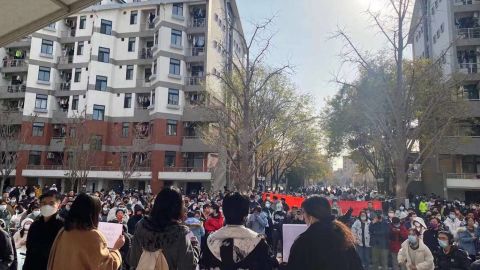 "Protests erupted across China on Saturday, including at universities and in Shanghai where hundreds chanted "Step down, Xi Jinping! Step down, Communist Party!" in an unprecedented show of defiance against the country's stringent and increasingly costly zero-Covid policy.
A deadly fire at an apartment block in Urumqi, the capital of the far western region of Xinjiang, which killed 10 people and injured nine on Thursday has acted as a catalyst for searing public anger, as videos emerged that seemed to suggest lockdown measures delayed firefighters from reaching the victims.
On dozens of university campuses, students held gatherings or put up posters to grieve the dead from the Xinjiang fire and speak out against zero-Covid. In several cities, residents in locked-down neighborhoods tore down barriers and took to the streets, following mass anti-lockdown protests that swept Urumqi on Friday night.
Such widespread scenes of anger and defiance – some of which stretched well into Sunday – are exceptionally rare in China, where the ruling Communist Party ruthlessly cracks down on all expressions of dissent. But three years into the pandemic, many people have been pushed to the brink by the government's incessant use of lockdowns, Covid tests and quarantines.
The ratcheting-up of restrictions in recent months, coupled with a series of heartbreaking deaths blamed on an over-zealous policing of the controls, has brought matters to a head."
Comment: As long as the security forces stick with the CCP nothing much will change but if the Party's grip on the instruments of oppression starts to slip … pl
Protests erupt across China in unprecedented challenge to Xi Jinping's zero-Covid policy | CNN