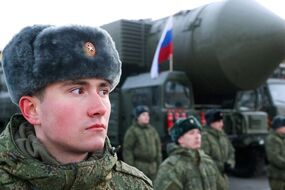 "President Zelenskyy urged the Russian population to stand up to Vladimir Putin to stop their soldiers from being sent to Ukraine to "kill or be killed." In his latest televised statement, the Ukrainian leader said several thousand Russian soldiers had been taken prisoner since the start of the invasion on Thursday. He urged the troops to reconsider their mission in Ukraine as he reiterate Kyiv is not prepared to give into Moscow's plans."
"He also urged Ukrainian expats to make their way back to the motherland to join the fight against Russian troops.
Addressing the public in Russian, President Zelenskyy said: "I want everyone in Russia to hear me, everybody.
"Hundreds of captured soldiers who are here in Ukraine don't know why they were sent here to kill people or to be killed.
"The sooner you tell your government the war has to be stopped, more people from your country will stay alive.""
"Your nationals are voicing their opposition to this war, we know that many people in Russia are shocked now by the brutality of the Russian Government and this is the right reaction. I'm grateful for this reaction."
Comment: It would appear that Putin's actions in Ukraine are eroding his support on the home front. The demonstrations against him are still small, but the fact that anyone at all is out in the street is remarkable.
People seem to think that Shoigu and Gerasimov are rational and competent soldiers. Well, pilgrims, they don't look like much in their toleration of Putin's excesses.
And now we have the public release of an elevation in the alert level of Russian nuclear forces. Why has Putin done this. Several possibilities;
He has become mentally unbalanced and desperate. This is the most worrisome possibility.
He actually fears a NATO attack on "Holy Russia." This seems unlikely.
He sees that the great mass of Americans is terrified of any mention of nuclear weapons. I am informed that the GRU reads Turcopolier.com pl
https://www.express.co.uk/news/world/1572311/Russian-news-warning-Putin-soldiers-killed-Ukraine-invasion-Zelenskyy-vn