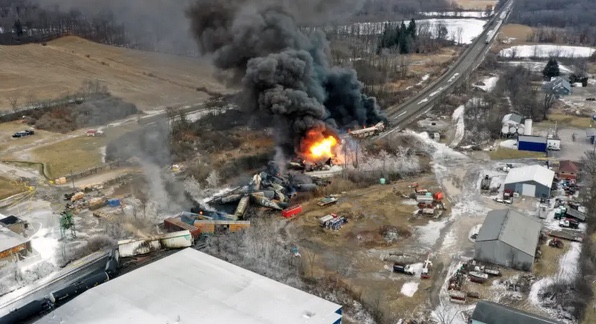 By Robert Willmann
After a train derailed at East Palestine, Ohio on 3 February 2023, and toxic chemicals were released and burned, there was little reporting on what was and is a dangerous situation. Finally, after 11 days of virtual silence, some national stories have appeared [1].
The culprit is Norfolk Southern Corporation, a publicly traded company on the New York Stock Exchange under ticker name NSC and based in Atlanta, Georgia. The Wall Street Journal newspaper says that Norfolk has 227,780,000 shares of stock outstanding, and that the stock market value of the company is $54,600,000,000 ($54.6 billion) as of early this afternoon [2]. Initially, this company offered only a paltry $25,000 — or $5,000 per person — to the residents of the small Ohio town [3]. Now that some information is leaking out (so to speak) about how bad the situation is, Norfolk is pivoting and is saying that it is putting in more than $1 million to help the town, which is still nothing [4].
Several days ago, a report emerged of problems with dead chickens and fish [5].
Meanwhile, the federal Secretary of Transportation, Pete Buttigieg, must still be trying to figure out how a male homo sapien can breast feed a baby, instead of doing his job of conducting a sweeping and vigorous investigation of the train derailment.
And the FBI? Instead of trying to make cases by using entrapment against so-called white supremacists, it would better serve the public by looking at real harmful events such as this disaster involving a train. After all, there are criminal laws about environmental matters [6].
We will see if a serious transportation and environmental problem will break through a coverup.
---
[1] http://www.foxnews.com/media/ohio-train-derailment-toxic-fallout-compared-nuclear-winter-nuked-town-chemicals
[2] http://www.wsj.com/market-data/quotes/NSC
[3] http://finance.yahoo.com/news/norfolk-southern-giving-25-000-200000640.html
[4] http://nscorp.mediaroom.com/2023-02-13-Update-on-Norfolk-Southern-Assistance-to-the-East-Palestine,-OH-Community
[5] http://www.wkbn.com/news/local-news/east-palestine-train-derailment/north-lima-woman-finds-chickens-dead-tuesday-questions-chemical-release-from-train/
http://www.cbsnews.com/pittsburgh/video/dead-fish-found-in-leslie-run-near-east-palestine-train-derailment#x