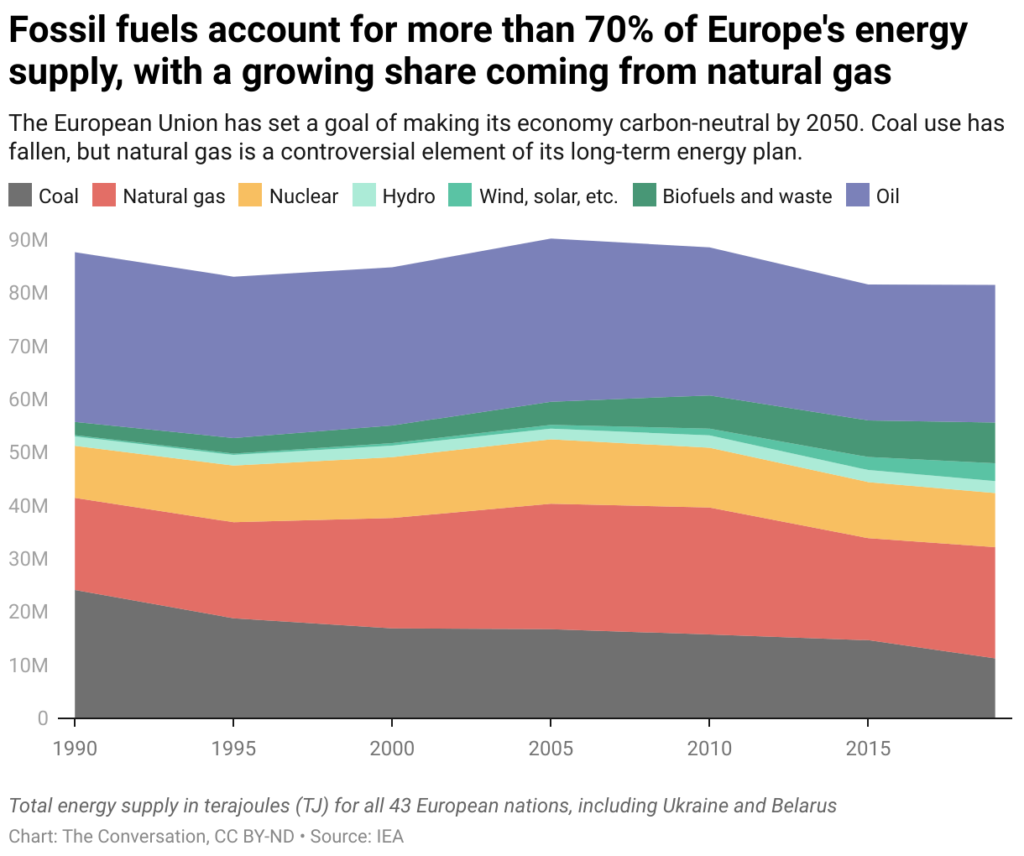 "Natural gas represents about one-fifth of all primary energy used across Europe. It accounts for about 20% of electric power generation and also is used for heating and industrial processes.
Russia is the largest supplier of natural gas to Europe, sending about 40% of the continent's supplies shipped by pipeline. The next-largest suppliers via pipeline are Norway (22%), Algeria (18%) and Azerbaijan 9%. Europe also receives natural gas that is liquefied and delivered by ship.
In recent months, European imports of liquefied natural gas, or LNG, from the U.S. and elsewhere reached record levels at around 400 million cubic meters per day. To put that in perspective, a single LNG cargo ship can hold roughly 125,000-175,000 cubic meters of natural gas – enough energy to warm 17 million British homes for one winter day."
"LNG is made by cooling natural gas to minus 260 degrees Fahrenheit (minus 162 degrees Celsius), which reduces its volume by a factor of more than 600. Natural gas is piped to a port, processed in a liquefaction plant, and then loaded into specialized insulated, temperature-controlled tankers for shipment by sea.
To receive LNG, an offloading port must have a regasification plant that converts the LNG back to a gaseous form so it can be sent by pipeline to end users. Both liquefaction plants and regasification plants cost billions of dollars and take multiple years to build.
Following a similar crisis in 2009, when a financial conflict with Ukraine prompted Russia to suspend gas shipments for 20 days, Europe substantially expanded its number of regasification facilities to 29. There is still currently space in European regasification receiving terminals to import more LNG, and plenty of storage space to hold imported supply virtually indefinitely. But many of the world's top suppliers are maxed-out, with little capacity to produce and liquefy more natural gas than they are already moving.
The global LNG market has some flexibility. About two-thirds of all LNG is sold under firm, long-term contracts with fixed destinations. Some major contract holders like South Korea, Japan and China and their suppliers are willing to redirect cargoes to Europe if a further cutback in Russian exports creates a worsening supply crisis."
Can the US Supply Enough Natural Gas To Neutralize Russia's Energy Leverage Over Europe? (scitechdaily.com)