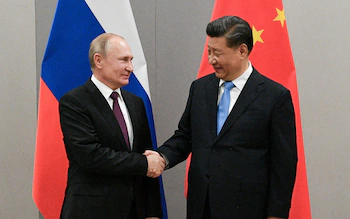 "Beijing backs Moscow's demand for binding security guarantees that Nato will not expand in Ukraine or elsewhere in eastern Europe, according to the Kremlin.
President Vladimir Putin talked to Chinese leader Xi Jinping in a video call on Wednesday about "mounting threats to Russia's national interests from the US and the Nato bloc, which consistently move their military infrastructure close to the Russian borders," according to a briefing. 
In response, Mr Xi said he understood Russia's concerns and "specially stated his support" for Moscow over the issue, said Russian foreign affairs adviser Yuri Ushakov.
Mr Xi added that "both China and Russia need to carry out more joint actions to more effectively safeguard our security and interests," according to Chinese state broadcaster CCTV.
"At present, certain international forces are arbitrarily interfering in the internal affairs of China and Russia under the guise of democracy and human rights, and brutally trampling on international law and the norms of international relations," Mr Xi reportedly said.
It comes as Moscow said on Wednesday it had delivered its concrete proposals for legal security guarantees to halt Nato's eastwards expansion to a top US diplomat visiting Russia at the moment so that talks can begin immediately." telegraph
Comment: As I said above we have driven the Russians into the arms of the real menace, Communist China. pl
https://www.telegraph.co.uk/world-news/2021/12/15/beijing-backs-moscows-demand-nato-halt-eastwards-expansion/