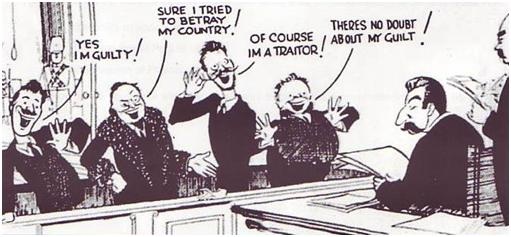 "New York Times reporter Katie Benner suggested on Tuesday that in order to tackle America's current national security "dilemma," Trump supporters should be considered "enemies of the state."
As the first hearing of the Jan. 6 committee was underway on Capitol Hill, Benner took to Twitter to stress that it "underscores" what she indicated was the ongoing threat within the U.S.
"Today's #January6thSelectCommittee underscores the America's current, essential natsec dilemma: Work to combat legitimate national security threats now entails calling a politician's supporters enemies of the state," Benner wrote.
EX-NYT JOURNALIST SAYS REPORTERS WERE 'MANIPULATED' BY STEELE DOSSIER, CALLS UNCRITICAL COVERAGE A 'TRAVESTY'
Benner explained, "As Americans, we believe that state power should not be used to work against a political figure or a political party. But what happens if a politician seems to threaten the state? If the politician continues to do so out of office and his entire party supports that threat?"
The Times' DOJ reporter cast doubt that the Pelosi-appointed committee would resolve the "dilemma" since it remained "unresolved" following the Russia investigation and both impeachments of President Trump. " foxnews
Comment: It will be interesting to see what the NYT does about this.
The Left's open grab for absolute power acting behind their puppets and figureheads (Biden and Harris) is now quite open.
The political theater of the Jan 6 "insurrection" is now revealed in Pelosi's stage management of the hearing. She found rabidly ant-Republican capital policemen to put up as martyr figures in what is going to be a simulacrum of the Moscow Show Trials of the '30s in which the Old Bolsheviks were condemned as a group along with the Trots and either shot in the Cheka's basements or hunted down like Trotsky himself.
Benner wants us all silenced and "carcelated" as in AOC's dream of a new prison system re-designed for America's "real needs."
If this continues and is generally accepted by the left as their view of reality, then us "enemies of the state" will have no choice but to decide if we want to live on our knees or die on our feet. pl
https://www.foxnews.com/media/new-york-times-katie-benner-trump-supporters-enemies-of-the-state