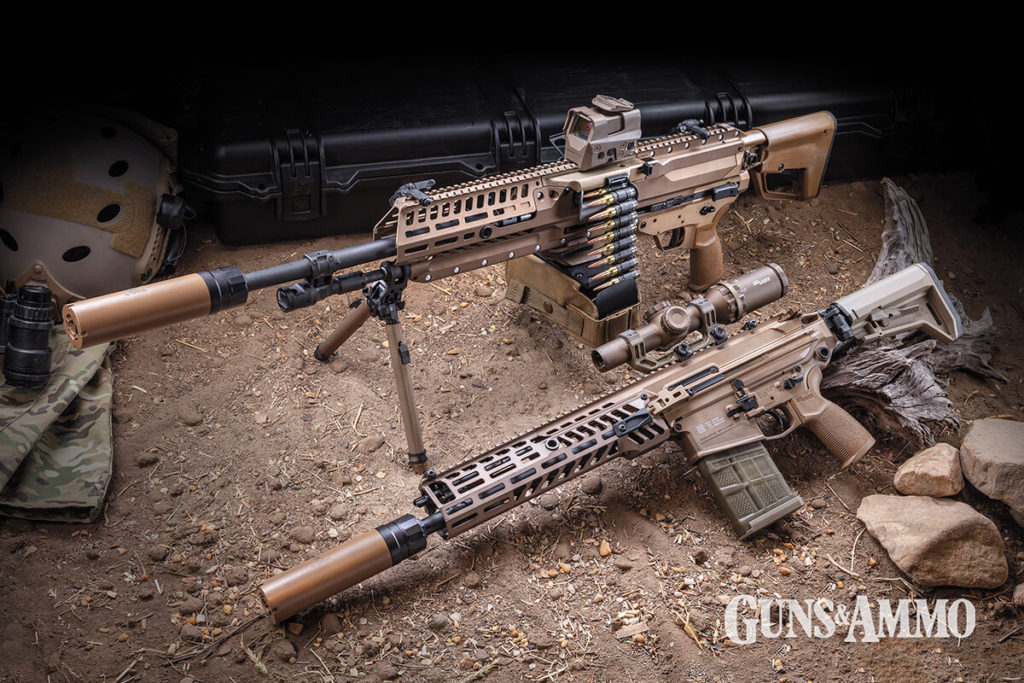 The Army has found its replacements for the M4 rifle and M249 Squad Automatic Weapon, handing out a contract to put new guns in the hands of tens of thousands of soldiers. The force is awarding a 10-year, $20.4 million contract to Sig Sauer for the XM5 Rifle, which will become the new standard rifle for soldiers, and the XM250 Automatic Rifle, which will replace the SAW.
The service will also switch from 5.56mm ammo to 6.8mm, after a search for rounds better built to penetrate body armor. "Both weapons fire common 6.8 millimeter ammunition utilizing government provided projectiles and vendor-designed cartridges," an Army spokesperson said in a press release. "The new ammunition includes multiple types of tactical and training rounds that increase accuracy and are more lethal against emerging threats than both the 5.56mm and 7.62mm ammunition."
The news comes after a 27-month evaluation process in which other defense contractors, including General Dynamics, competed to be the Army's go-to small arms dealer. The weapons will include the XM157 Fire Control optic, which includes a laser range finder, ballistic calculator, visible and infrared lasers, and a compass. That optic is made by Vortex Optics.
It's unclear how many weapons the Army aims to buy over the decade, or how quickly soldiers will totally ditch the decades-old SAW and rifle. In its proposed 2023 budget, the force is requesting 29,046 new weapons. But that budget still needs to be approved by Congress.
https://www.military.com/daily-news/2022/04/19/army-picks-its-replacement-m4-and-saw.html
Comment: Although this is the first I've heard of this, I'm not at all surprised. The long voiced desire for greater range for infantry weapons and the now widespread use of body armor just cried out for something new. I'm sure that first batch in the FY 2023 budget is going to SOCOM and JSOC units.
I was struck by the optics. It's come a long way from the simple iron sights on my old M-16A1 and later my AKMS. I remember the old AN/PVS-2 night sight that doubled the weight of the M-16A1. Good times.
As to be expected, the linked "Guns and Ammo" article goes into much more detail on these new infantry weapons and the new round for those weapons. While I still have a nostalgic attachment to wooden stocks and iron sights, these new weapons seem to be pretty good kit.
https://www.gunsandammo.com/editorial/ngsw-sig-sauer-us-army-contract/457100