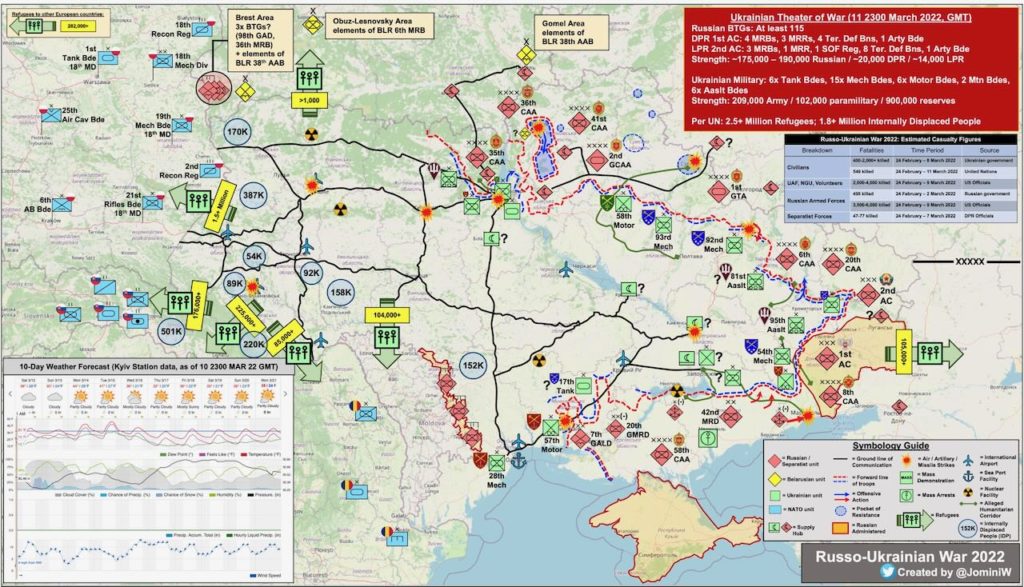 Finding informative maps of this war has been a challenge. There were some excellent sources for Syria with good detail, but I haven't been able to find an equivalent for Ukraine. Yesterday I found the map above. It was compiled by someone with the twitter handle Jomini of the West (@JominiW). He appears to be a military war gamer hobbyist living in Maryland. I know nothing else about him, but he appears to have a good grasp of the basics and probably has decent historical and technical research skills. His maps include main supply lines (MSRs) and unit designations/locations and are a significant improvement over all those maps merely showing red ink blots representing territory supposedly under full Russian control, especially those maps produced by Russian sources. The commentary accompanying his maps are also worth reading.
The listed units do not include any of Ukraine's Territorial Defense Forces (TDF) which are a major part of Ukraine's strategy of national resistance along with her conventional armed forces. Not only has the TDF been instrumental in blunting several Russian armored assaults, but is busy ambushing Russian convoys behind the lines, collecting abandoned equipment and supplies and destroying what they can't recover. They've been trained for years to conduct just those kinds of missions. That's what's going on in the red ink blots on those simplistically silly maps.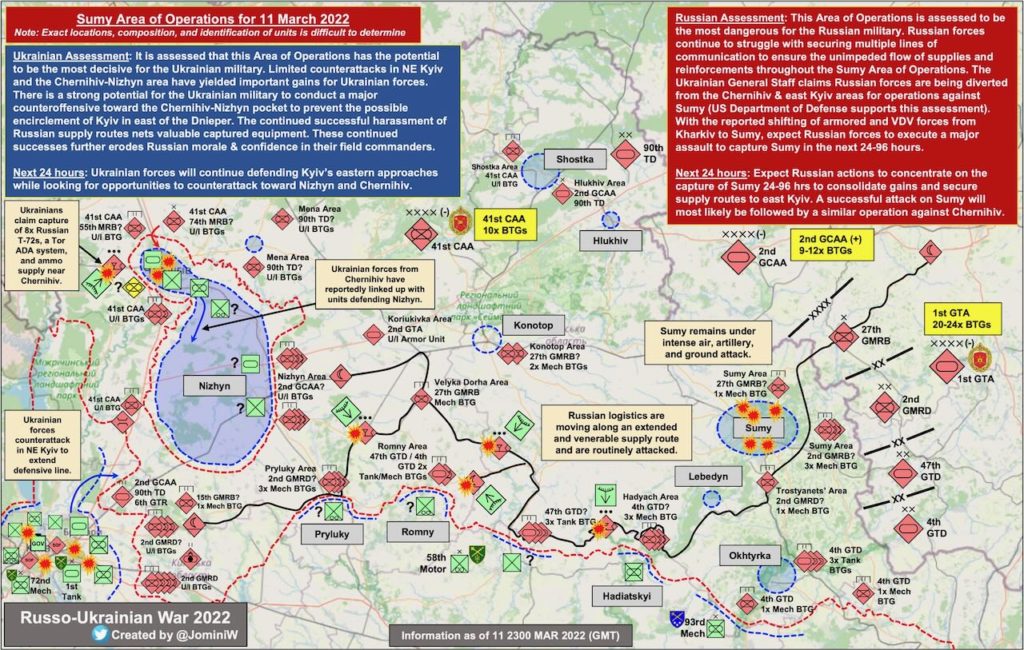 Another good primer on Russia's invasion of Ukraine is a posting on The Fivecoat Consulting Group web page. The author, David Fivecoat, offers a detailed comparison of US plans and actual progress during Operation Iraqi Freedom and Russia's invasion, a concise breakdown of the battalion tactical group (BTG) along with current Ukrainian combat brigade organization, a detailed and thoughtful map of Russia's plan for the invasion prepared by Jomini of the West, and a good discussion of battle damage assessment of both Russian and Ukrainian forces.
https://www.thefivecoatconsultinggroup.com/the-coronavirus-crisis/ukraine-context-d15
This is from the bio page of the author's website: "Previously, Colonel Fivecoat served twenty-four years as an infantry officer, leading men and women during contingency operations in Kosovo and Bosnia, three combat tours in Iraq, and a combat tour commanding a battalion in Afghanistan – over 41 months in combat. He culminated his service by overseeing the gender integration of the US Army's Ranger School. In his free time, he skis, competes in triathlons, and is an avid bicyclist. He resides in Columbus, Georgia." Sounds qualified to write on these subjects. Enjoy.
TTG