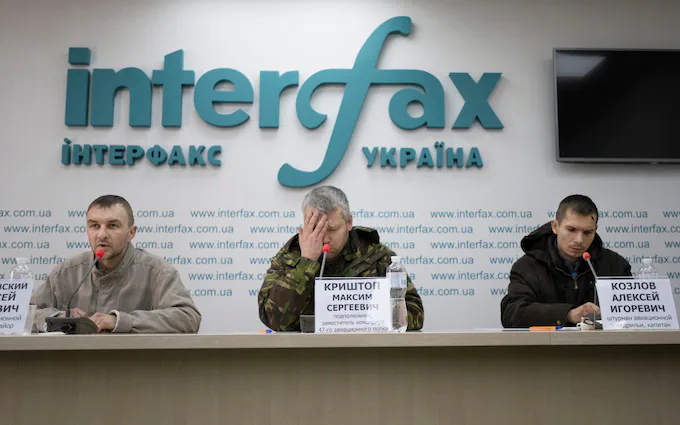 "On Thursday, though, Ukrainian defence officials released footage of a group of Russian tanks that tried to storm their way into the north-east suburb of Brovary the day before. The footage showed the group – which included vehicles carrying thermobaric weapons – being hit by Ukrainian drone missiles as they drove down a motorway. At least four of the 20-odd vehicles were crippled by huge explosions, with the rest of them then driving around in disarray. A senior Russian colonel was said to be among the casualties.
The fact that the tanks were even driving in formation along an open road has surprised Western military experts. Russian forces, they say, still seem to think they can roll into Kyiv unopposed, despite being beaten back several times already by their Ukrainian foes."
""You would only group in that way if you felt relatively secure from attack," Air Marshal Philip Osborn, a British military expert, told Sky News. "This video proves that was a misjudgment."
George Barros, a researcher with the US-based Institute for the Study of War, said the Kremlin had assigned "suboptimal units" so far to taking Kyiv. "The Russians took some of the worst units of the Russian army, arrayed them in a poor way, and told them to waltz into Kyiv," he added.
In Brovary on Friday, smoke could still be seen drifting up from the vanquished tanks, while an acrid burning smell hung in the air. Ukrainian forces blocked off the road several miles from the attack site, saying the area was unsafe to visit.
In the rest of Brovary, life continued in many ways as normal, with shoppers browsing at supermarkets that remained well-stocked with food. Along the main highways, large defences were being erected, with emplacements being dug for tanks and militiamen filling up sandbags. However, the exodus of people from the city – which saw huge queues of traffic fleeing in the first few days – now seems if anything to have reversed."
Comment: The Rooshians are a mess. Why they would have used poor quality troop units for a job like this is a mystery. pl
'Do not invade Kyiv, we have already lost this war': the pleas of Russia's captured pilots (telegraph.co.uk)