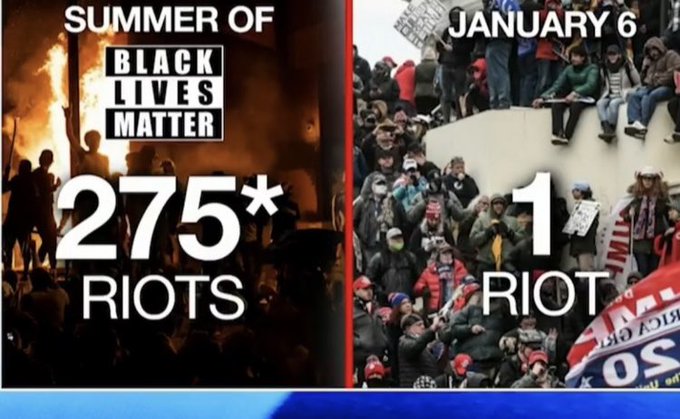 The American public has been fed a steady diet of lies about violent white supremacists (aka Trump supporters) who stormed the U.S. Capitol on January 6, 2021 in order to launch an insurrection and keep Donald Trump in power. But this is an outrageous fiction. BLM and Antifa have done more killing, looting and burning than Trump supporters. The facts tell the true story.
Trump supporters did not kill a single person, including law enforcement personnel on the scene charged with protecting the Capitol. The lone police officer listed as a casualty died from a stroke, according to his mother. Three other fatalities died of medical emergencies. Only Ashli Babbit was a victim of violence–she was unarmed and shot by a cop.
The FBI, according to FBI counter-terrorism official Jill Sanborn, did not recover any firearms from protestors nor have they charged a singled person with carrying a weapon on the Capitol grounds.
Christopher Wray lied to Congress when he testified that the FBI had not seen any evidence of anarchist violent extremists or people subscribing to antifa in connection with the 6th. In fact, the FBI has interviewed more than two dozen Antifa members who admitted being paid to infiltrate the crowd of Trump supporters. As Joe Hoft noted in a recent post, Antifa-BLM organizer John Sullivan was at the US Capitol and bragged about wearing a MAGA hat during the riots where he broke a window and stormed the US Capitol.
How can you have an "insurrection" when there are no weapons and no fatalities at the hands of the supposed revolutionaries?
By contrast, the rioting that broke out across the United States in the wake of George Floyd's death left at least 17 people dead: