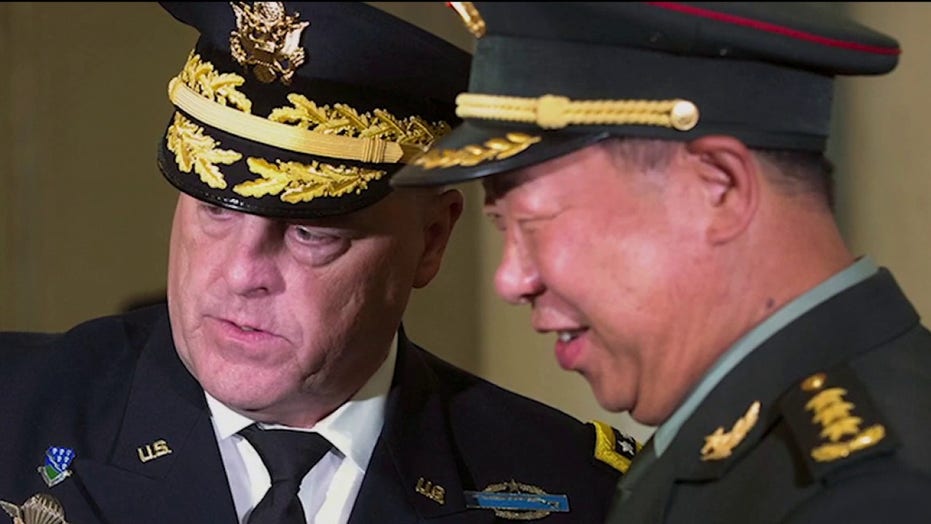 The Washington Post ran an item yesterday on a new book by Bob Woodward and Post national political reporter Robert Costa which claims, among many other things, that Gen. Milley was so fearful that Trump's actions might spark a war with China that he moved urgently to avert armed conflict. In a pair of secret phone calls, Gen. Mark A. Milley, the chairman of the Joint Chiefs of Staff, assured his Chinese counterpart, Gen. Li Zuocheng of the People's Liberation Army, that the United States would not strike, according to the book. One call took place on Oct. 30, 2020, four days before Election day, and the other on Jan. 8, 2021, two days after the events on Capitol Hill.
The first call was prompted by Milley's review of intelligence suggesting the Chinese believed the United States was preparing to attack. That belief, the authors write, was based on tensions over military exercises in the South China Sea, and deepened by Trump's belligerent rhetoric toward China. "General Li, I want to assure you that the American government is stable and everything is going to be okay," Milley told him. "We are not going to attack or conduct any kinetic operations against you."
In the book's account, Milley went so far as to pledge he would alert his counterpart in the event of a U.S. attack, stressing the rapport they'd established through a backchannel. "General Li, you and I have known each other for now five years. If we're going to attack, I'm going to call you ahead of time. It's not going to be a surprise." In the second call, placed to address Chinese fears about the events of Jan. 6, Li wasn't as easily assuaged, even after Milley promised him, "We are 100 percent steady. Everything's fine. But democracy can be sloppy sometimes."
According to the Woodward-Costa account, Milley believed that Trump suffered a "mental decline" after the election, a view he shared with Nancy Pelosi in a phone call to her on Jan. 8 (the fact of the phone call was reported at the time. Pelosi demanded that Milley take control of the nuclear launch codes away from Trump). Milley agreed with her evaluation that Trump was unstable, according to a call transcript obtained by the authors.
But Milley didn't limit his conspiring to Pelosi. The same day he spoke to Pelosi, Milley also called the commander of Indo-Pacific Command to recommend postponing the military exercises. He also summoned senior officers at the National Military Command Center to review the procedures for launching nuclear weapons, saying the president alone could give the order — but, crucially, that he, Milley, also had to be involved. Looking each in the eye, Milley asked the officers to affirm that they had understood, the authors write, in what he considered an "oath."
The book, entitled "Peril" is said to be based on interviews with 200 people, all of whom spoke on condition that they not be named. The book is set to be released next week. The question remains why did Woodward and the Washington Post come out with this account? How true is it? The Milley-Pelosi phone call was reported on by the Post and other media at the time and confirmed by Milley's office. But this isn't a question of moving against the occupant of the White House at the time because he wasn't liked. It's a matter of policy.
Col. Richard Black (ret.), a former JAG officer as well as a former Virginia state senator, told me in response to the Washington Post article on the Woodward book that he has long had concerns about the potential of a military coup in the United States, citing as one example, this article in the Australian-British blog The Conversation which he called a "roadmap" for a military coup.
"General Milley's melodramatic actions described by Woodward were extraconstitutional. A habitually histrionic caricature of the wacky military officer, Milley is totally unsuited for responsibilities requiring a calm, mature hand on the tiller," Col. Black said. "The comment that Milley went so far as to pledge he would alert his Chinese counterpart in the event of a U.S. attack is interesting. The president is the commander-in-chief of the armed forces. He alone can authorize a military offensive. Gen. Miley is the Chairman of the Joint Chiefs of Staff. As such, Milley has no command authority whatsoever.
"I do not believe for a minute that Trump ever intended war with China. But had the president ordered such military action, and if Gen. Milley had given advance notice to the Chinese of impending American actions as he reportedly promised, such actions during an unfolding armed conflict would have constituted an unfathomable act of treason, resulting in the death of untold millions of Americans. Benedict Arnold's betrayal would have seemed trivial by comparison. Can he have actually told his Chinese counterpart, 'If we're going to attack, I'm going to call you ahead of time. It's not going to be a surprise.'
"If the report of Milley's intentions is accurate, he should be relieved for cause, for though he did not consummate a criminal act by making that promise, the promise was so fraught with impropriety that an officer who betrayed his government in such fashion should ever be trusted to serve. Indeed, it is likely that had his Chinese counterpart made such a promise to General Milley, he'd have been executed for doing so."
Black went on to describe Milley as a "doctrinaire liberal" who was opposed to Trump wanting to pull out of Afghanistan but was fine with Biden doing it. He also charged Milley with resisting Trump's efforts to use the military to quell riots in American cities and in doing so "leaving citizens terrorized by mobs and our cities in smoldering ruins."
"Milley has functioned far beyond his legitimate role as Chairman, acted in an immature fashion, and failed the nation in doing so," Col. Black concluded.
The involvement of retired Army Col. Douglas Macgregor is a crucial point in that he served as an advisor to Trump and had advised Trump to get the US military out of Afghanistan. "According to Woodward and Costa, that memo is one of the reasons Mark Milley decided to organize a coup," Tucker Carlson said on his show last night.
On Sept. 3, Carlson argued that Biden was getting the Trump treatment with respect to the Afghanistan withdrawal. In other words, the same military establishment that was resisting Trump's plans for Afghanistan, and his earlier effort to withdraw US troops from Syria, had now turned on Biden. But the establishment isn't just the American military and the Democratic Party as Carlson thinks.
The hysterical reaction of the British establishment, beginning with Tony Blair on Aug. 21, shows otherwise. Blair, in an article originally published on his website, denounced Biden's decision to withdraw from Afghanistan. "We didn't need to do it," he wrote. "We chose to do it. We did it in obedience to an imbecilic political slogan about ending 'the forever wars'." Biden used the term when he announced the withdrawal. Blair said: "For Britain, out of Europe and suffering the end of the Afghanistan mission by our greatest ally with little or no consultation … we are at risk of relegation to the second division of global powers." The British concern wasn't about Afghanistan per se but rather the implications of the US president acting on his own authority for the "Global Britain" policy announced by Boris Johnson last March.
"America has just signalled to the world that they are not that keen on playing a global role," one unnamed minister said . "The implications of that are absolutely huge. We need to get the integrated review out and reread it. We are going to have to do a hard-nosed revisit on all our assumptions and policies," the minister said. "The US had to be dragged kicking and screaming into the First World War. They turned up late for the Second World War and now they are cutting and running in Afghanistan."
So it's a question of policy, not personalities. The policy of the Anglo-American establishment is one of permanent warfare, and it will resist any efforts to end those wars, regardless of who the occupant of the White House is. Willy B
Comment from Lang: IMO this can end in several different ways; 1. Biden will do nothing. 2. Biden will order Milley relieved and retired. 3. Biden will relieve Milley and order an Article 32 investigation and then a general court-martial for sedition under Article 94 of UCMJ.
If it is true that Milley told Li that he would warn China of an impending kinetic attack by the US, a charge of treason would also be appropriate.
Biden will choose course of action #1. pl