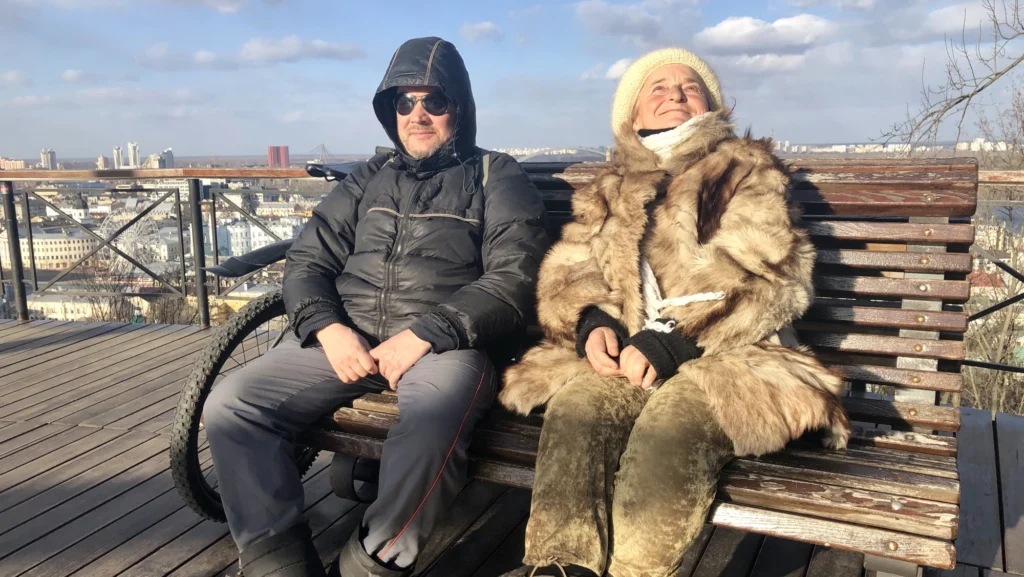 2 May 2022 | Kyiv , Ukraine
At first it looked like Kyiv would fall.
On the morning of Feb. 25, 2022, the second day of the full-scale war, a unit of Russian soldiers advanced within the city limits. A gun battle erupted on the streets of the Obolon neighborhood, within earshot of my downtown apartment. Amid the rattle of small-arms fire, my cat, Luna, abandoned my lap and sought safety under the sofa. When the air raid sirens began to wail a moment later, I surrendered my coffee, dropped to my hands and knees, and dragged Luna's tiny, trembling body into my arms. I whispered to her, "It's okay, it's okay, it's okay…" as I hurried to a nearby metro station and joined the huddled hundreds sheltering inside from Russia's missiles.
Down in the belly of the underground hall, I found an empty corner for Luna and me. Seated in my arms and still shaking, my little black cat hid her face in the crook of my elbow and stayed silent. Some children around us laughed and played, while most adults sat stone-faced and spoke softly. Every so often, I caught someone's look and saw something familiar in the unfamiliar eyes. In that instant, we shared more than strangers often do. Caught in the tide of an accelerating calamity, we hurtled together toward an unknown end and wondered, "Will Kyiv fall?"
At that point, Moscow certainly seemed to think so. Some advancing Russian units carried parade uniforms, revealing preparations for a triumphant victory march. Even the US government demonstrated little faith in Kyiv's ability to hold out for more than a few days.
Two months later, I type these words in a free and unoccupied Kyiv because Ukraine's soldiers, civilians, and political leaders held their ground, turned the tide of battle, and saved their capital city.
In the early hours of Feb. 24, Russian President Vladimir Putin declared his "special operation," and missile strikes thundered across Ukraine. Russian troops gained ground, and the sounds of approaching explosions violated Kyiv's ordinary urban din. The occasional crackle of small-arms fire was audible, too, as Russian special operations troops forced their way downtown in a bid to kidnap or kill Ukrainian President Volodymyr Zelenskyy. During those frightful first days, the roads out of Kyiv clogged with traffic as many tried to flee. At the city's main train station, women offered their babies to strangers on overloaded trains.
At night, Ukrainian surface-to-air missiles and anti-aircraft tracers split the sky, seeking inbound Russian missiles. You heard the chilling snarl of jet noise overhead and wondered, Russian or Ukrainian? When the air raid sirens sounded, as they often did, you debated whether to seek shelter or simply shut yourself inside the bathroom with your body armor vest draped over you like a child's protective blanket.
Kyiv's citizens quickly adapted to the danger. Down in the bomb shelters, you'd see snapshots of their resilience. Smiles and laughter. Children playing. Every so often, the Ukrainian national anthem sounded from someone's smartphone. So, too, did the voice of Zelenskyy, who declared in an online video on Feb. 26, the third day of the full-scale war, that he was still in Kyiv and would not leave.
"I need ammunition, not a ride," Zelenskyy famously said, refusing American entreaties to evacuate.
Zelenskyy's defiance inspired Kyiv's soldiers and citizens to dig in and do whatever was necessary to save their city. Even so, the weeks that followed tested the city's soul.
Read on at https://www.coffeeordie.com/inside-battle-of-kyiv
Comment: This is a good report by Nolan Peterson about the early days of the Russian invasion. I would call it a human interest story. The initial assault on Kyiv was what the world expected from the much vaunted Russian war machine. They got as far as an attempt to storm the compound where Zelenskiy and his family were living. It was that close. But the Russian war machine ran straight into the Ukrainian war machine and their strategy of national resistance. As we all know, the Russians couldn't replicate their 2014 takeover of Crimea. They faltered badly and were forced to withdraw. The Russians and their supporters are still trying to pass this failure off as a clever feint… a retelling of the classic tale of the fox and the grapes.
A major point of failure for the Russians was the botched job of intelligence preparation. It wasn't for a lack of trying. A Washington Post story from yesterday laid out five points about this failure.
The FSB Ukraine Department expanded rapidly in preparation for solving the "Ukraine problem" once and for all. It went from 30 officers in 2019 to 160 officers on the eve of the invasion.
This FSB unit lined up two pro-Russian governments in waiting. One centered on former president Yanukovych and Victor Medvedchuk. The second group consisted of former members of Yanukovych's party in territory already occupied by Russian forces, probably in Crimea.
"The FSB branch, known internally as the Department of Operational Information, has for years carried out clandestine operations to penetrate Ukraine's institutions, pay off pro-Russian politicians and prevent the country from leaving Moscow's orbit. Despite its intense focus on Ukraine, Western intelligence officials said, the FSB either failed to grasp how fiercely Ukraine would resist, or did understand but couldn't convey such inconvenient information to Russian President Vladimir Putin."
This FSB department was so convinced of a quick victory that they were already arranging for operational bases and residences in Kyiv before the invasion kicked off. That's overconfidence, an overconfidence I have seen in our own IC.
Finally, these FSB officers, who failed so badly, are still in place. I can hardly criticize the Russians for this. This trait of keeping those who screwed the pooch so badly on the job is also embarrassingly familiar. 
TTG
https://www.washingtonpost.com/national-security/2022/08/19/intelligence-war-fsb-ukraine/