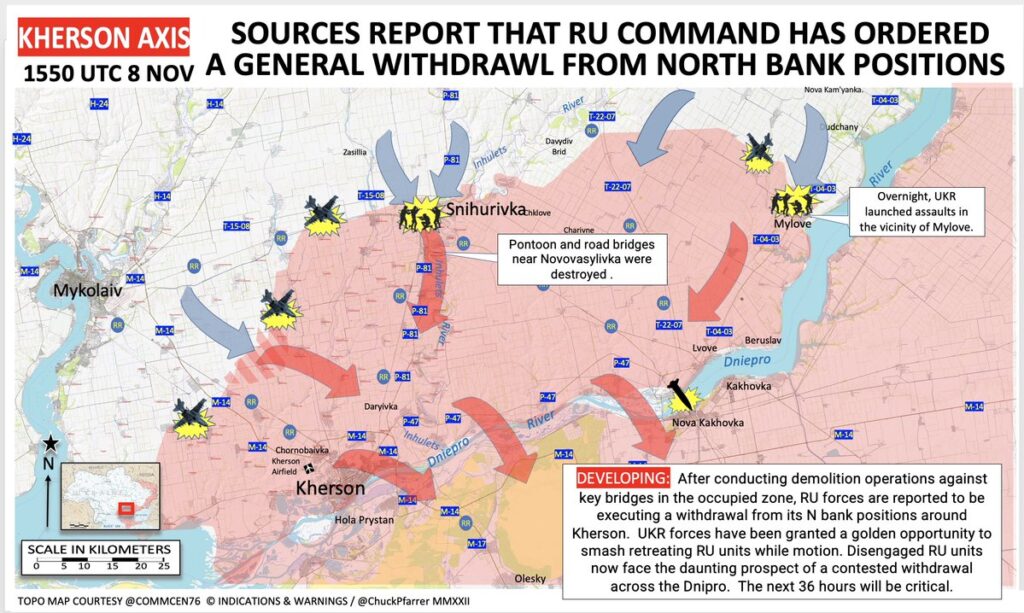 UPDATE: Wednesday, Nov 9, 2022 · 9:51:51 AM EST · Mark Sumner
As the update was being written this morning, news started to roll in that there is, in fact, fighting near Kyselivka (see map below) with Ukrainian forces reportedly pressing along the highway and Russian fighters concerned that they could be rapidly cut off and isolated.
Also, Kirill Stremousov, a strident anti-vax quisling who was appointed by Russia as the deputy governor of their occupation government in Kherson, has died. The official statement indicates that he died in a car crash. Take from this what you will.
Finally, a report from Russian Telegram sources that some Russian forces in Kherson Oblast have received an order to withdraw from the right bank, some have already crossed, and some have been told to hold the front until the rest can complete the escape. Some forces are also reported to be out of communication, which may reflect earlier reports that no one is in communication with Russian forces in Snihurivka. As with all claims that sound this good, keep a salt shaker handy — especially as we're still not seeing named locations as liberated.
UPDATE: Wednesday, Nov 9, 2022 · 10:01:01 AM EST · Mark Sumner
Ask for specific locations, and ye shall receive: Ukraine has reportedly liberated Kalynivske, a small town along the Inhulets River just a few kilometers north of Snihurivka. This leaves just the village of Bobrovyi Kut between Ukrainian forces pressing in from the north, and those pushing west into Snihurivka. Be prepared to hear the name of that village again soon.
UPDATE: Wednesday, Nov 9, 2022 · 10:38:54 AM EST · Mark Sumner
This appears to be official. It is now appearing on Russian state media. Russian Defense Minister Sergey Shoigu has ordered a withdrawal of all Russian forces from the west bank of the Dnipro River in Kherson region. Still, there is active fighting going on. Wait for word of actual cities and towns being liberated. But get ready. Keep your fingers crossed. Be prepared for good news.
UPDATE: Wednesday, Nov 9, 2022 · 10:42:02 AM EST · Mark Sumner
The names of towns Russia has reportedly abandoned are now pouring in faster than I can record them. Expect a map update in a couple of hours when I can see if Ukraine has move in to liberate these locations. Holy ****.
https://m.dailykos.com/stories/2022/11/9/2134748/-Ukraine-update-Front-lines-in-Kherson-reportedly-crumbling-as-Ukrainian-forces-enter-Snihurivka
Comment: I've seen the video of Shoigu giving the order… Haul Ass! The next few days should be quite interesting. I can hear MSG Al Rivers' voice booming out across the field, "The shit's on, good buddy!"