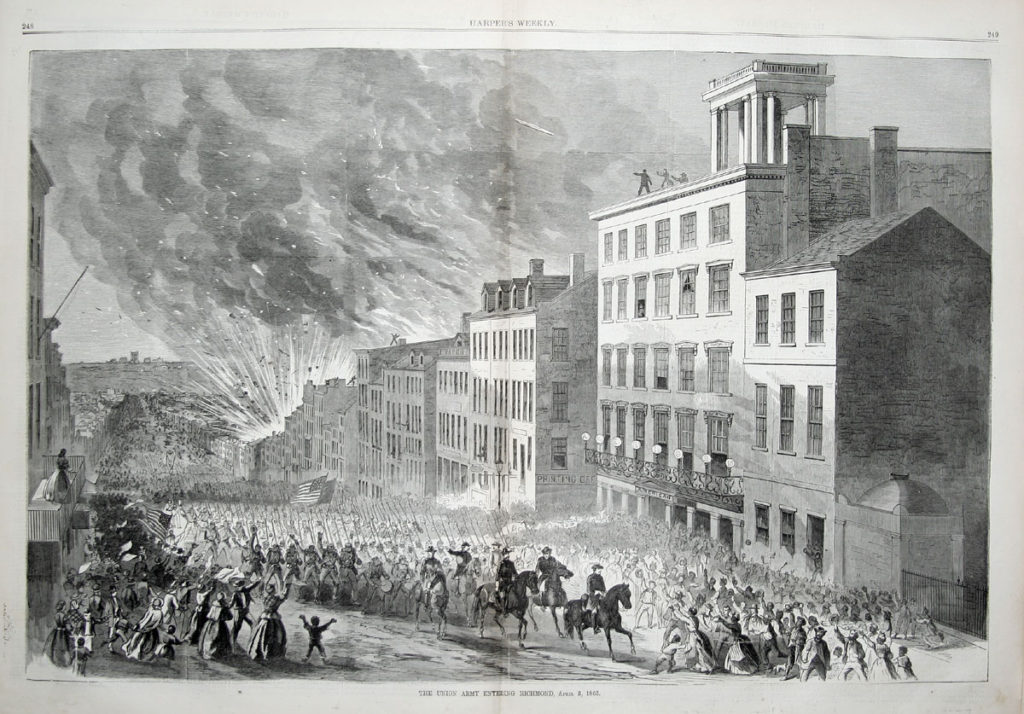 For the Christian Recorder
LETTER FROM RICHMOND
City Point, Va., April 12th, 1865.
Mr. Editor:- I have just returned from the city of Richmond; my regiment was among the first that entered the city. I marched at the head of the column, and soon I found myself called  upon by the officers and men of my regiment to make a speech, with which, of course, I readily complied. A vast multitude assembled on Broad street and I was aroused amid the shouts of ten thousand voices and proclaimed for the first time in that city freedom to all mankind. After which the doors of all the slave pens were thrown open and thousands came out shouting and praising God and father or master Abe, as they termed him. In this mighty consternation I became so overcome with tears, that I could not stand up under the pressure of such fulness of joy in my own heart. I retired to gain strength so I lost many important topics worthy of note. 
Some people do not seem to believe that the colored troops were the first that entered Richmond. Why you need not feel at all timid in giving the truthfulness of my assertion to the four winds of the heavens, and let the angels re-echo it back to earth, that the colored soldiers of the Army of the James were the first to enter the city of Richmond. I was with them, and am still with them, and am willing to stay with them until freedom is proclaimed throughout the world. Yes, we will follow this race of men in search of Liberty through the whole island of Cuba. All the boys are well and send all their love to all the kind ones at home.
Yours in Christian love,
G. H. White, Chaplain 28th U.S.C.T.
Comment: In addition to being among the first Union soldiers to enter Richmond, the Illinois 28th Infantry Regiment USCT was one of the assaulting regiments at the Battle of the Crater. They lost half their men there. They paid their dues.
Their experience in Richmond witnessing the freeing of so many slaves foretold the experience they would fortuitously have months later on 19 June 1865 in Galveston, Texas. They embarked from City Point, Virginia in late May or early June en route to Texas for duty at Brazos Santiago and Corpus Christi, Texas. However, they ran into heavy weather sapping the steamers of coal and water. They arrived off Galveston Bar on 18 June and on the 19th went in to the wharf to replenish. Among other USCT regiments, the 28th was present for General Gordon Granger's famous issuing of General Order No. 3 on what became known as Juneteenth. The events of that day probably paled in comparison to the tumultuous events of 3 April as described by Regimental Chaplain G.H. White.
TTG