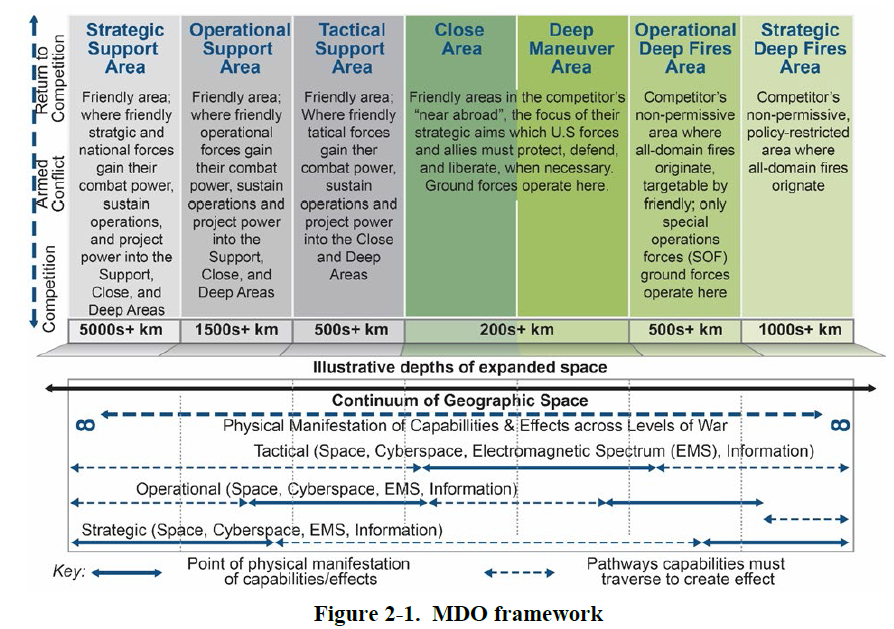 "HUNTSVILLE: The Army's experimental Multi-Domain Task Force is a "game changer" that's turned the tide in "at least 10 wargames," the commander of US Army Pacific says. "Plans are already changing at the combatant command level because of this." The key: the unit cracked the Anti-Access, Area Denial (A2/AD) conundrum, Russia and China's dense layered defenses of long-range missiles, sensors, and networks to coordinate them. "Before, we couldn't penetrate A2/AD. With it, we could," Gen. Robert Brown said of the task force's performance in "at least 10 exercises and wargames. With the Multi-Domain Task Force," he told me after his remarks to the AUSA Global conference here, "we could impact their long-range systems and have a much greater success against an adversary. If I go into any more, it'd be classified."
"In the future, Brown said here last week, "all formations will have to become multi-domain or they'll be irrelevant, [but] it's going to be years before it can happen." The Army's goal is modernize enough forces to wage multi-domain warfare against either China or Russia — but not both at once — by 2028." (Breaking Defense)
Comment: I was intrigued when, in April, SecDef Austin announced he was sending two units with about 500 personnel to Germany. The units are a multi-domain task force and a theater fires command. Sounded like a mere symbolic move. But there's nothing symbolic about these particular units. They are an early implementation of the Pentagon's new multi-domain operations doctrine which focuses on theater level operations. That doesn't mean mass divisions and corps. It means theater level employment of global assets across the entire spectrum of conflict. It's still billed as a concept rather than a full blown doctrine, but it's getting there and is already being implemented in the Pacific theater.
In an Army Chief of Staff paper, "Army Multi-Domain Transformation Ready to Win in Competition and Conflict" dated 16 March 2021, the multi-domain task force (MDTF) is described as "theater-level maneuver elements designed to synchronize precision effects and precision fires in all domains against adversary anti-access/ area denial (A2/AD) networks in all domains, enabling joint forces to execute their operational plan (OPLAN) directed roles." The MDTF's purpose is during competition, to "gain and maintain contact with our adversaries to support the rapid transition to crisis or conflict"; during a crisis, to "deter adversaries and shape the environment by providing flexible response options to the combatant commander"; and if conflict arises, to "neutralize adversary A2/AD networks to enable joint freedom of action."
Russia has been modernizing their doctrine, force structure and equipment in earnest for at least the last decade. Surely China has been moving in the same direction. It's about time we do the same. It will be several years, at least, before this doctrine can be fully implemented with the necessary force structure and equipment. In many ways, our military has atrophied terribly due to two decades of brigade level, at best, counterinsurgency operations. However, we should, and apparently are, implementing this new doctrine now with the minimal force structure changes of the MDTF and the inclusion of EW within cyber. Our current equipment can be employed more effectively especially if land, sea, air and space systems are better integrated. It's an evolution, not a revolution. 
TTG
https://breakingdefense.com/2019/04/armys-multi-domain-unit-a-game-changer-in-future-war/
https://breakingdefense.com/2021/04/breaking-new-army-long-range-units-coming-to-germany/