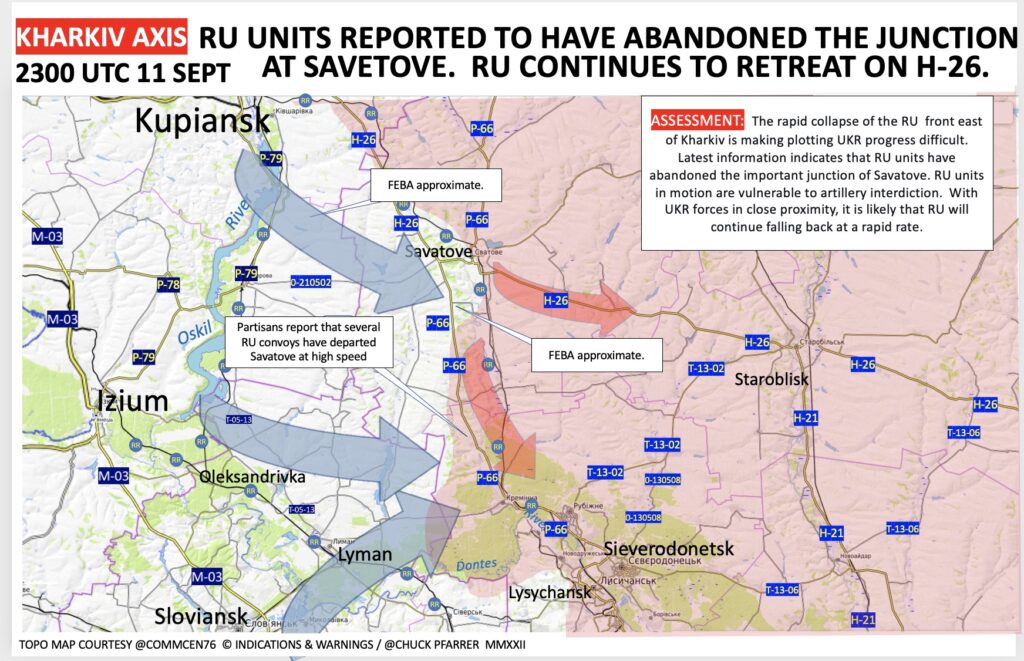 The militarily logical thing for Russia to do would be to fall back to Svatove, east of the administrative border with Kharkiv Oblast, and build defenses to protect that mass to its east. Yet Russia isn't bothering to try. Ukraine General Staff reported last night that "In Luhansk region, the Russian military and their families left the town of Svatove. Only soldiers of the so-called 'people's militia' from among the local residents remained." With Russia abandoning them, will the Donbas cannon fodder decide to fight? Hopefully not. And with Svatove liberated, Ukraine can look east to the vast empty nothing of northern Luhansk Oblast. 
The town of Starobilsk (pop. 16,600) anchors the entire region's transportation network—all the major roads cross through town, as well as the lone rail line east of Svatove. It's wide, it's open, it's flat, with few settlements standing in the way. The Aidar River borders Starobilsk to the west, but that would be nothing more than a nuisance to Ukrainian forces, who could cross it with little interference to the north or south of the town. 
So if Svatove falls, so does northern Luhansk, and we're almost back to the pre-February borders in that region. Ukraine could station a small territorial defense force garrison in Starobilsk, just for early-warning if Russia decides to cross that long border again, but the bulk of the force could head south and lay siege to Luhansk city, pressuring it from both the north and west. If Luhansk were liberated, western Luhansk would be effectively cut off. Pushing further south would threaten Donetsk city from multiple directions. 
As for Russian forces, reinforcements were seen heading toward Mariupol. Russia isn't feeling too great about its "land bridge" to Crimea, and for good reason. Ukraine doesn't want to just cut that land bridge, but wants its Azov Sea coastline back. Not only is it of upmost economic importance, but it would also threaten more of Russia's Black Sea fleet as well as the Kerch Bridge connecting Crimea to the Russian mainland. 
https://m.dailykos.com/stories/2022/9/12/2122326/-Ukraine-Update-What-now-after-Kharkiv
Comment: I first saw the map above last night and have been looking for evidence that this was more than just aspirational. The conventional wisdom trumpeted by Moscow and most Russian shills was that a new line was being established on the east bank of the Oskil River. It looks logical. A long stretch of that line is a natural water barrier. But this is apparently not what's happening, although Russian units are still trying to organize a defense at the town of Oskil. The Russian forces from the Kharkiv and Izyum front are in such disarray that they are unable to establish a coherent defensive line, especially in front of Kupiansk. They're not holding at the oblast border nor are they holding at Svatove. Maybe they can manage at Starobilsk. Maybe that much vaunted 3rd Army Corps, composed of mostly fat old men dreaming of reliving their glory days in the old Soviet Army, will anchor that new defensive line.
The chaotic nature of the Russian withdrawal is shaping this still evolving defeat. Much equipment was abandoned intact rather than destroyed in place. The same goes for substantial ammo stores. The retreating Russians are failing to establish minefields or other obstacles to slow the Ukrainian advance. Panic has set in among Russian supporters and collaborators in the occupied territories. The roads are clogged with those seeking to escape to Russia. Oddly enough, the Russians are refusing to let them into Russia even though many of the refugees have their newly issued Russian passports. Maybe the Border Guard are trying to spot Russian deserters among the refugees. There are even rumors that the leaders of the DNR and LNR have "unassed the AO" as we used to say.
Another shaper of this evolving Russian defeat is Ukraine's aggressive use of reconnaissance forces. Much like our armored cavalry, Ukraine's sabotage-reconnaissance units push forward of the main forces probing for the locations of the enemy and the gaps between enemy locations. They appear to be somewhat lighter than our armored cavalry using a lot more lighter wheeled vehicles, armored and unarmored than we do. They are also quick to employ dismounted assaults and appear to be adept at infiltrating enemy defenses. As long as these sabotage-reconnaissance units can be kept resupplied or, even better, rotated from the front lines, the Russians will have a hard time establishing a defensive line.
TTG