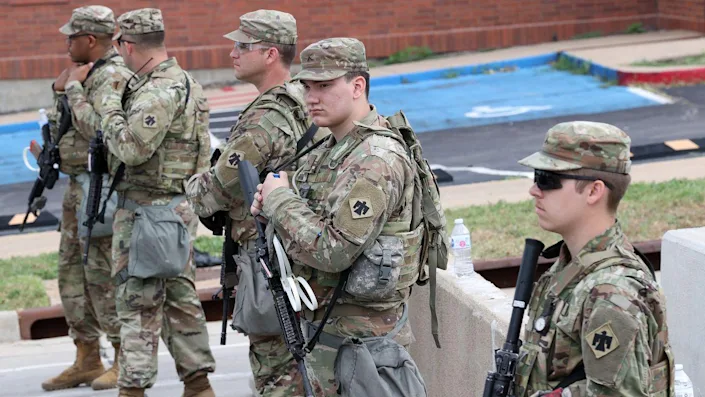 "Driving the news: "We are aware of the memo issued by the Oklahoma Adjutant General regarding COVID vaccination for Guardsmen and the governor's letter requesting exemption. We will respond to the governor appropriately," Pentagon spokesman John Kirby told Axios in a statement.
"That said, Secretary Austin believes that a vaccinated force is a more ready force. That is why he has ordered mandatory vaccines for the total force, and that includes our National Guard, who contribute significantly to national missions at home and abroad," Kirby added.
State of play: The Pentagon's statement comes after Brig. Gen. Thomas Mancino, who now oversees the Oklahoma National Guard, "rescinded" the requirement.
Mancino cited a written request from the governor to Defense Secretary Lloyd Austin asking DOD to "immediately consider suspending the COVID-19 vaccine requirement for national guardsmen in Oklahoma."
Oklahoma Gov. Kevin Stitt (R) is "awaiting an decision" from the Defense secretary, Mancino wrote in the memo dated Thursday."
Comment: Well, well, this will be an interesting test. The National Guard of each state is the portion of the state's militia that is federally supported with money, training and equipment. Unless the president calls the National Guard into federal service, the governor controls it. If Biden/Austin seize control of the Oklahoma Guard and manage to make that "stick," then seizure of control of the Texas Guard cannot be far behind. pl
https://news.yahoo.com/pentagon-respond-appropriately-oklahoma-national-185815417.html?guccounter=1&guce_referrer=aHR0cHM6Ly9uZXdzLmdvb2dsZS5jb20v&guce_referrer_sig=AQAAANwB3tSLF_hd4FQDVnlRWYnzjnrZIsEC_qannhk6sz84fbCdhdxYC5a–IV4jYs_3QWrKRXp10fTPd7AlttbeYrzc7XV1aF5vbON4s6RAm73K-YPaVmh99V9Xz2NFlD_ETDAJeTTWKwAjb4Cd3GkFol40ecdV1cfGBuUv1V0Z4GK