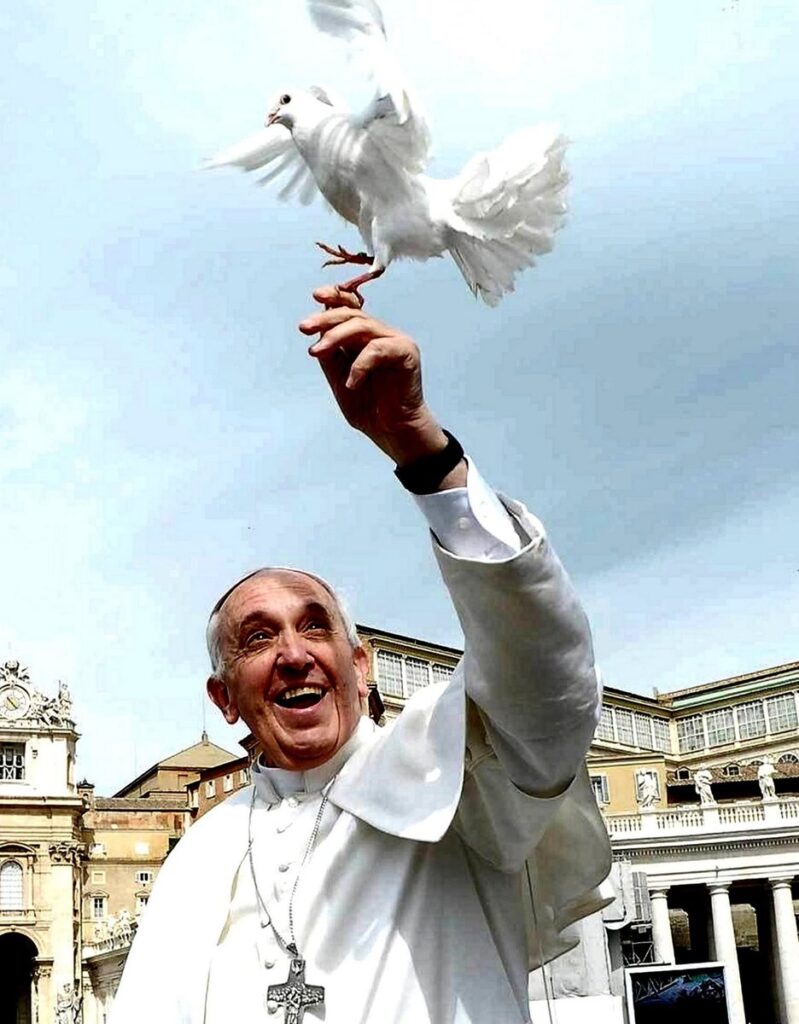 ROME — On a recent Sunday, a group of young American Catholics were among thousands in St. Peter's Square waiting for Pope Francis to deliver his weekly message. Gillian Caruso said he's doing a great job. "He came out with the statement that we were talking about at dinner last night that no pope has ever said, about gay people not being a sin," she said. "So that was pretty cool." Her friend Carolyn Cree agreed. "Especially in this time, like, everyone feels supported by him, you know?"
The women were referring to the pope's recent remarks to journalists, on his flight home following a visit to Sudan, in which he denounced laws criminalizing LGBT people. He said such legislation is an injustice and a sin, because LGBT people "are children of God and God loves them."
Back in St Peter's Square, his message over, Francis delivered his signature sign-off: "Don't forget to pray for me," the pope said. "Have a great meal and arrivederci." As the crowd cheered, the 86-year-old pope returned to the modest Vatican City guest house where he has chosen to live, renouncing the pomp and isolation of the Apostolic Palace.
In that same square on March 13, 2013, the new pope introduced himself as coming from the "end of the world." Born in Argentina, Jorge Bergoglio became the first non-European pontiff in more than a millenium. Since that day, says Massimo Faggioli, professor of theology at Villanova University, Francis has made clear the old world no longer calls the shots on what's Catholic and what's not. "The Western hemisphere, the North Atlantic, a certain bourgeois Catholicism, he has rejected that in the most radical terms," says Faggioli.
The first Jesuit pope and the first to take the name Francis – after the saint of the poor – was elected with a mandate to clean up a scandal-ridden Vatican administration. Papal biographer and veteran Vatican watcher Marco Politi says Francis' reforms of the Vatican bank, for example, are radical. "It is no more possible that mafia money flows through the Vatican bank or corruption money for political parties in Italy like it was in the past," Politi says.
And he says it's not only on financial issues that Francis has left his mark. "He has wiped off from the table all the obsession of the Catholic Church about sexual issues," Politi says, adding that Francis shuns the culture wars and rarely speaks about birth control and abortion. "He doesn't change the letter of some church documents," Politi says. "But with his gestures or with his words, he paves the way to new attitudes."
https://www.npr.org/2023/03/13/1162954465/after-10-years-as-pope-francis-continues-to-reshape-the-catholic-church
Comment: This commentary is by NPR's Sylvia Poggoli. She goes on to cover the Pope's more controversial actions and the pushback he's experiencing from the more traditionalist, conservative elements of the Catholic Church and from self-righteous populist world leaders. I doubt Pope Francis is surprised by this push back or even disappointed by it.
One of his more far reaching reforms is pushing the organization and functioning of the church into synodality rather than pure authoritarianism. This may stem from his Jesuit belief in the importance of the informed conscience. In my view, he has made listening to others, questioning both the orthodox and unorthodox and continuing the discussion in a journey of spiritual and human growth. When first asked who is  Jorge Mario Bergoglio, his response was "I am a sinner. This is the accurate definition. It is not a figure of speech, a literary genre. I am a sinner." I firmly believe this admission is at the heart of Pope Francis' call to us, all of us, to join him on this pilgrimage to God. The path for this pilgrimage is laid out in "Laudato Si."
TTG