"This week marks the seven-month anniversary of the beginning of the war in Ukraine, something that is still going on and isn't talked about quite as much anymore. The day that war began, which was February 24, two things were very obvious. The first was that there was no way the Ukrainian army would be able to win a decisive military victory over Russia and the reason was simple. Russia is too big. Ukraine is too small. The Russian military is many times the size of the Ukrainian military. Plus, of course, it has nuclear weapons.
Russia itself is the largest country on planet Earth. It's got a relatively huge economy for the region and it's got 145 million people who live there. Ukraine has a population of about 40 million. It's the poorest country in Europe. It's got an average annual income that is much lower than Albania's.
So, just by looking at the most basic Wikipedia level numbers, it was clear right away that if Ukraine wanted to remain a sovereign country and of course, all of us wanted that for Ukraine, Ukraine was going to have to reach some kind of negotiated settlement with Russia. Pitched battles were not going to do it. Now, that's not a moral judgment. You can root for the Ukrainian military all you want, but it's still a fact and there's no getting around it.
The second thing that was immediately evident about this war was how unusually destructive it was and was going to be. It wasn't just Ukraine that was getting pummeled, though it certainly was. It was the entire Western economy, including our economy. Russian energy fuels Europe. A recession in Germany was certain to lead to a recession here and in the months since, it has, a bad one. The longer this war goes on, inevitably the poorer everyone is going to be, with the exception probably of Vladimir Putin.
PUTIN INITIATES CONSCRIPTION TO BOLSTER MILITARY INVASION AS UKRAINE MOUNTS COUNTEROFFENSIVE
"We are breaking things that are very hard to rebuild. Again, this was very obvious the first day of the war. You weren't allowed to say it at the time. Anyone who did was denounced as a Russian spy. But it was still clearly true and the Ukrainians certainly understood it. Back in April, according to an account in Foreign Policy magazine, negotiators from the governments of Russia and Ukraine met secretly and "appeared to have tentatively agreed on the outlines of a negotiated interim settlement to end the war."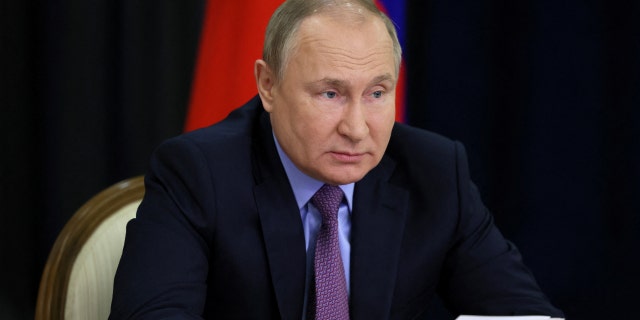 Russian President Vladimir Putin chairs a meeting on the country's transport industry via a video link in Sochi, Russia May 24, 2022. (Sputnik/Mikhail Metzel/Kremlin via REUTERS ATTENTION EDITORS – THIS IMAGE WAS PROVIDED BY A THIRD PARTY.)
The terms of the deal were simple. Russia would withdraw its troops from Ukraine. Ukraine would promise not to join NATO, so each side would get the thing that it wants most simple and effective, and it might have worked.
But the Biden administration adamantly opposed this settlement. Biden's advisers didn't just want the Russians to leave Ukraine. That's what they told us they wanted on television, but no. Biden's advisers wanted a total regime change war against Russia, apparently to avenge the election of Donald Trump, which they believed Putin was responsible for, and they were willing to fight to the last Ukrainian to get it.
On April 9 of this year, the White House dispatched its hapless cutout, then British Prime Minister Boris Johnson, to Kyiv, according to Ukrainian news media, Johnson communicated two messages to the Zelenskyy government, "The first is that Putin is a war criminal. He should be pressured, not negotiated with and the second is that even if Ukraine is ready to sign some agreements on guarantees with Putin, the West is not."
In other words, who cares what the Ukrainians want. America and the U.K. demand total war with Russia, regime change war with Russia and of course, the Ukrainians caught in the middle had no choice but to concede. So, days later, the peace negotiations fell apart. This was virtually unreported at the time, but it was the turning point in the war in Ukraine. This was the moment where the goal changed from restoring Ukraine to what it was before the invasion – and that seems reasonable to everyone in the West – to something very different, to a war designed to topple Vladimir Putin, just like we toppled Saddam Hussein and then hoping for the best afterward. That is clearly insane and dangerous, but that's where we are and from that point on, everything changed and that is how we got to where we are today, which is the closest we have ever been to nuclear conflict in history.
REP. WALTZ URGES BIDEN TO BE TOUGH ON 'WAR CRIMINAL' PUTIN AS UKRAINE WAR RAGES ON: 'RHETORIC MATTERS A LOT'
This week, President Zelenskyy of Ukraine gave an interview to the left-wing newspaper, The Guardian and in it, he casually called for the United States to nuke Vladimir Putin. "The other nuclear states need to say very firmly that as soon as Russia even thinks of carrying out nuclear strikes on foreign territory, in this case the territory of Ukraine, there will be swift retaliatory nuclear strikes to destroy the nuclear launch sites in Russia." Parse that, and we're quoting, "as soon as Russia even thinks of carrying out nuclear strikes" – meaning before Russia actually launches missiles – "the U.S. needs to launch nuclear weapons against Russia." In other words, we need to launch nuclear weapons now. Why now and how do we know that's what Zelenskyy meant? Because the Zelenskyy was responding to this warning from the Russian government on Wednesday.
PUTIN: I want to remind you that our country also has various means of destruction and for separate components, more modern than those of NATO countries and when the territorial integrity of our country is threatened, to protect Russia and our people, we will certainly use means at our disposal. It's not a bluff.
"It's not a bluff," says Putin, who we are told is insane, so we probably should take it seriously. He is, after all, running a country with the largest nuclear arsenal on the planet and he's talking about using nuclear weapons if the West continues to threaten Russia's territorial integrity. It's a conditional warning and, of course, threatening Russia's territorial integrity was never part of the deal. Right? You remember this? It's why you wore a Ukrainian lapel pin or put a Ukrainian flag in front of your house. Ukraine was invaded. The point was to kick the Russians out. That seems reasonable by any standard of fairness and decency, but that's not what the Biden administration is pushing for. They're pushing for toppling the government of Russia and once again, hoping that everything will be fine after that, someone better will somehow take over. "He's bad. Let's kill him." Heard that story before?
Comment: He had that "hapless" soul MacGregor on to back him up. All DM was willing to say was that there have always been fringe groups in DC who claim to think that limited nnuclear war is possible. Pretty sad, Doug. Sad.
Carlson himself is just way over the top. pl
TUCKER CARLSON: The point of the Ukraine war is regime change in Russia | Fox News
Kyiv urges west to spell out how it would respond to Russian nuclear strike | Ukraine | The Guardian