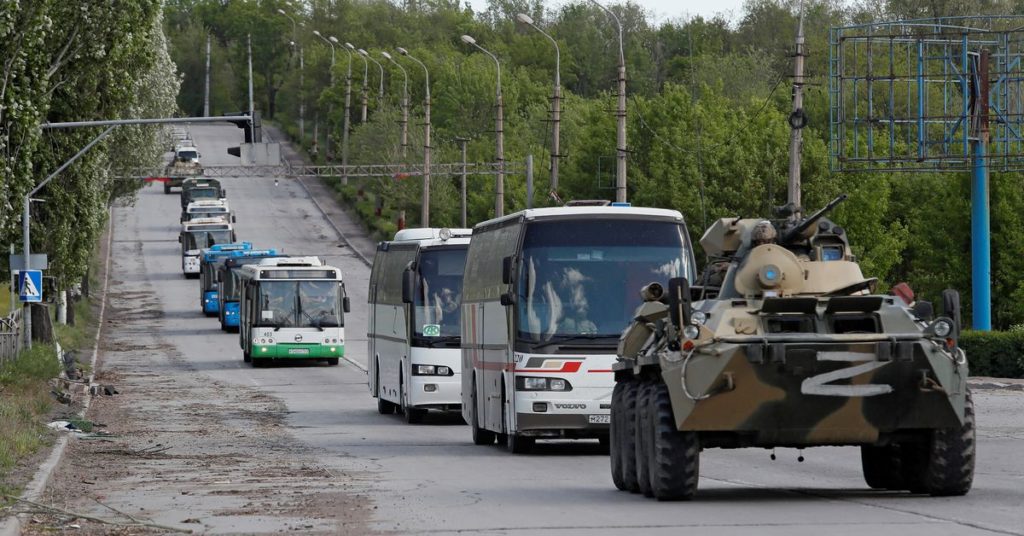 "The Kremlin said the combatants would be treated in line with international norms, though some Russian lawmakers demanded they be tried for war crimes and one demanded they face the death penalty. read more
The Swiss-based International Committee of the Red Cross (ICRC) said it had registered those leaving the plant to keep track of prisoners.
It also explicitly set out the rules of the 1949 Geneva Conventions, the body of international law relating to the treatment of captured military personnel and civilians.
"The ICRC must have immediate access to all POWs in all places where they are held," it said. "The ICRC must be allowed to interview prisoners of war without witnesses.""
"The official mission statement says that: "The International Committee of the Red Cross (ICRC) is an impartial, neutral, and independent organization whose exclusively humanitarian mission is to protect the lives and dignity of victims of war and internal violence and to provide them with assistance." It also conducts and coordinates international relief and works to promote and strengthen international humanitarian law and universal humanitarian principles.[28] The core tasks of the committee, which are derived from the Geneva Conventions and its own statutes[29] are:
to monitor compliance of warring parties with the Geneva Conventions
to organize nursing and care for those who are wounded on the battlefield
to supervise the treatment of prisoners of war and make confidential interventions with detaining authorities
to help with the search for missing persons in an armed conflict (tracing service)
to organize protection and care for civil populations
to act as a neutral intermediary between warring parties
The ICRC drew up seven fundamental principles in 1965 that were adopted by the entire Red Cross Movement.[30] They are humanity, impartiality, neutrality, independence, volunteerism, unity, and universality.[31]" wiki on the ICRC.
Comment: Russia is a signatory to the 4th Geneva Convention concerning prisoners of war. One of the basic provisions is that the ICRC shall register and maintain a record of all captured soldiers. After that it provides parcels, "care packages," etc. This makes it a lot more difficult to "disappear" people. The detaining power may, however, try PWs for war crimes or other offenses on the same basis that it would its own soldiers.
The Japanese had made much the same undertakings to the world before WW2 and observed none of them. For that Generals Homma and Yamashita were hanged in Tokyo.
"Friends" of the US will ask if we treated enemy soldiers as legally PWs in VN. In fact the RVN governments held all PWs.
We declined to consider captured jihadis as PWs during the GWOT arguing that they did not qualify as soldiers. I argued then and still believe that was an error on our part. pl
Many Ukrainian fighters remain in Azovstal, commander says operation going on | Reuters