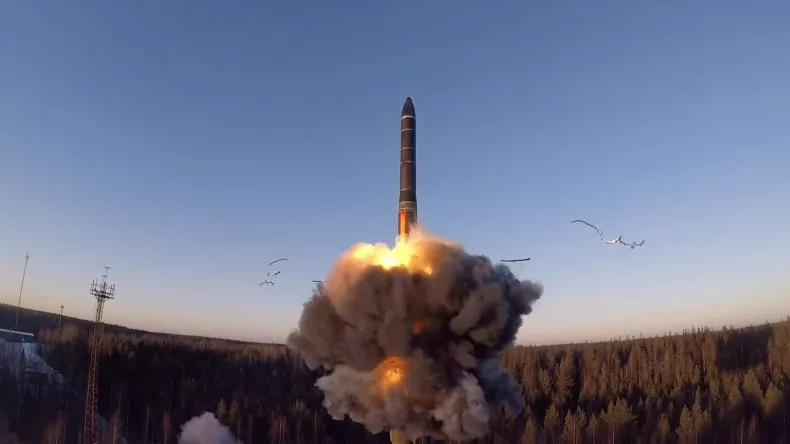 Russia has conducted unsuccessful tests of the RS-24 Yars intercontinental ballistic missile (ICBM), a core component of Russia's land-based strategic nuclear forces, the Ukrainian Defense Ministry's Main Intelligence Directorate or HUR reported on Telegram on Nov. 4. The failed Nov. 1 missile launch from the Plesetsk Cosmodrome to a testing range in Kamchatka was carried out by the 33rd Missile Army of the Russian Federation's Strategic Missile Forces. The missile deviated from its course, as it did during previous tests of Russia's strategic nuclear forces on Oct. 25. On the same day, Russia also conducted a test launch of an RSM-56 Bulava ballistic missile from a Borei-class nuclear-powered submarine. That test also failed.
The HUR report indicates that Russia is also facing "serious problems" with the RS-28 Sarmat liquid-fueled, MIRV-equipped super-heavy intercontinental ballistic missile, which is one of the key projects in the declared process of "modernizing" Russia's strategic nuclear forces.
Russia has been developing the Sarmat missile since 2009. According to Moscow's plans, it was supposed to be commissioned in 2018, but the date was constantly postponed until September 2023, after the first and only full-scale test was conducted in April. "In fact, Sarmat is an unfinished, imperfect, raw missile," the HUR said, comparing the Ukrainian-made RS-20 Voyevoda ICBM and the Sarmat missile, which it said was no better in terms of design, payload, and methods of overcoming missile defenses.
Russia also faces difficulties in improving the air component of its strategic nuclear forces, as part of the modernization of Soviet-made Tu-160 and Tu-95MS bombers. Current capacity allows only 1-2 aircraft to be overhauled per year. The delivery of new Tu-160M2 strategic bombers, originally scheduled for 2023, has been postponed due to the failure to resume production of the new NK-32 engines, HUR claims, saying that Russia's challenges are "direct consequences of the civilized world's sanctions against Moscow" for its war in Ukraine and its inability to produce the necessary components to replace imports.
https://english.nv.ua/nation/moscow-s-latest-nuclear-icbm-tests-unsuccessful-like-previous-ukrainian-intelligence-50365744.html
Comment: Anybody can have a missile launch go haywire. We just had a Minuteman III launch failure ourselves. The Kremlin had a nice laugh at it. They should have kept their mouths shut with two launch failures in one day after another one a week earlier. This doesn't instill confidence in either of our nuclear missile forces, but Russia seems to have a serious reliability problem. Even at the end of the Soviet Union, their nuclear force was reputed to be solid. It was so solid that Ukraine could not break the codes of the missiles on her territory. And they did try.
In addition to the missiles and the bomber, Putin's much vaunted Kinzhal hypersonic cruise missile proved vulnerable to a Ukrainian manned Patriot air defense system. If the Kremlin's premier weapons are coming up short, imagine what the rest of their MIC is like. In the old days, the commies were true believers who did their best for the motherland. Now they're all capitalists and cynical, crooked ones at that. They should be able to develop their own top-notch machine tool industry, but I guess there's no money in that. It's easier to smuggle what's needed from the West, fake it and lie to the commissars.
TTG