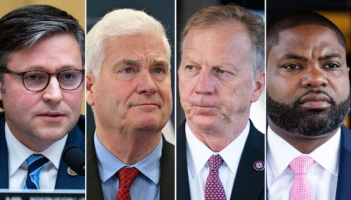 By Robert Willmann
Like Mother Nature, mathematics is impartial. Acting like petulant children, several Republican members of the House of Representatives prevented Jim Jordan from becoming Speaker by using the whole number five, or higher, to prevent him from getting a majority 217 votes and being elected. For the third time, a public vote took place in the House on Friday, 20 October 2023, and at that time, Jordan received 194 votes; all 210 Democrats present voted for their candidate Hakeem Jeffries; 20 obviously anti-Jordan Republicans voted against him by voting for someone else; and 5 other Republicans voted similarly.
But now those petulant Republicans are running up against numbers themselves. A candidate more pleasing to their agenda can also be blocked by five or more votes. And a much bigger number is not going away — the U.S. National Debt is $33,627,279,194,343.04 as of last Friday, 20 October [1].
Speaking with a forked tongue and holding a knife in his hand, former Speaker Kevin McCarthy stood up last Friday for the third vote on Jordan and nominated him to be Speaker! As the intelligence community likes to say, "we assess with high confidence" that McCarthy was one of the main movers trying to block Jordan from becoming Speaker, which can easily be seen by which Republicans other than Jordan received votes, and by whom. In looking at the earlier votes on Jordan, in the first one on Tuesday, 17 October, Steve Scalise (who tried to become Speaker after McCarthy was ousted) received 7 votes, McCarthy 6, and Lee Zeldin 3. These votes revealed the effort to block Jordan. In the second vote on Wednesday, 18 October, Scalise received 7 votes, McCarthy 5, and Zeldin 3. In the third vote on Friday, 20 October, Scalise received 8, Speaker pro tempore McHenry (who was appointed to that job by McCarthy) received 6, Zeldin received 4, and McCarthy 2. That little group made sure that five or more votes were made to someone other than Jordan, and to "send a message" to others. Furthermore, Lee Zeldin is no longer in Congress. He ran for governor of New York last year but lost to Kathy Hochul. Three House members from New York state voted for Zeldin in the first two rounds on Jordan — D'Esposito, Garbarino, and LaLota. They were joined by another New York member, Marcus Molinaro, and again voted for Zeldin in the third round. What a coincidence! Did each one of them independently and on their own decide to vote that way, even if Zeldin created an impression that he supported Jordan? We will see if they vote for Zeldin instead of Tom Emmer in any open vote for Speaker.
Shortly after that third vote on 20 October, and Jordan was not going to continue to try to be Speaker, McCarthy promptly endorsed Tom Emmer for the position, who also has been the majority whip in the House. I would not trust Emmer for a minute, in these trying times, based on his background.
The Republicans in the House decided to have the members who then wanted to try to be Speaker to announce their intention by Sunday, two days ago. Nine did so. Before the House adjourned last Friday, its next session was to begin today, 24 October, at 11:00 a.m. eastern time. But after convening today, they immediately recessed at 11:02 a.m., subject to the call of the Chair. This happened because the Republicans did not have anyone lined up to have a vote to be Speaker. Of the nine who had announced, four were left as of around 11:30 a.m. eastern time today.
Around 11:45 a.m., the House Republicans, after meeting privately and taking internal votes on those wanting to be Speaker, announced that Emmer emerged as the one who would be put forward in an open vote on the House floor. Rumors are floating around that anywhere between 10 and 26 (or more) Republicans did not vote for Emmer in the private meeting. Math tells us that those numbers are larger than 5.
This brings us to the subtraction of integers. The House Democrats have been voting as a bloc. If enough of them vote "present", or do not show up for an open vote for Speaker, it will reduce the number of votes to less than the 217 Emmer would need to get a majority of the votes cast. That would spice things up a lot.
The other number important to Congress is money. The national debt became an issue when the federal government's 2023 fiscal year ended on 30 September 2023 and a budget or more money had to be "appropriated", as opposed to just "authorized". An impasse developed and to wriggle out of it, Congress passed House Resolution 5860 (Public Law 118-15), using the proverbial "continuing appropriations" technique. Section 106 of that law said that funds appropriated would be available only until 17 November 2023, unless other laws for appropriations were made before that date [2]. The debt question and related money matters were some of the issues that pushed McCarthy out.
Back on 3 June 2023, with federal spending banging up against the statutory debt ceiling, Congress passed the Fiscal Responsibility Act of 2023, Public Law 118-5. That slick little trick raised the federal debt limit without establishing a new debt limit! And it lets the debt increase with no ceiling or limit until 1 January 2025, after the 2024 general elections for president and numerous other offices!
Tom Emmer voted for both of those bills.
The 17th of November is fast approaching.
---
[1] http://fiscaldata.treasury.gov/datasets/debt-to-the-penny/debt-to-the-penny
[2] http://www.congress.gov/bill/118th-congress/house-bill/5860