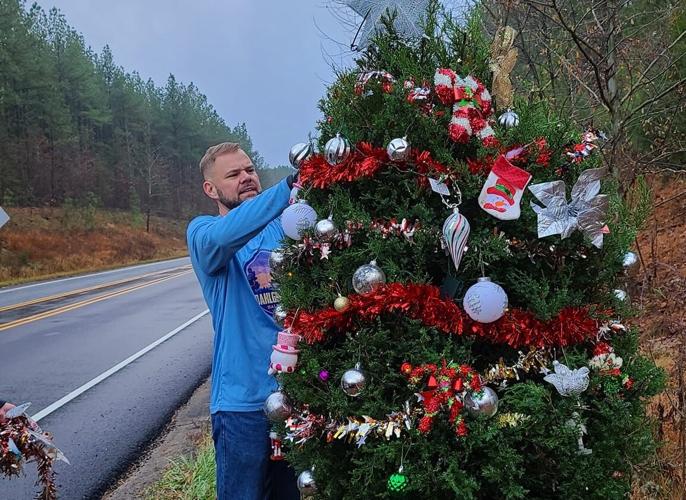 Stafford family turns an odd roadside tree into community joy.
James Scott Baron — The Free Lance-Star
The family that decorated a lone white cedar tree along a busy parkway in southern Stafford last year dressed up the same tree Sunday to once again bring a dose of holiday joy to passing motorists. "You have brought smiles to many drivers that make this route daily," wrote a woman on a Stafford social media page. "A simple act has helped so many by putting that smile on their faces and thinking of their own Christmas memories and hope for tomorrow."
Rob Hutchins, a government contractor and a U.S. Navy veteran who has lived in North Stafford since 2002, said it was never his intention to make the tree that lies just south of the Mountain View Road intersection on Centreport Parkway a popular local attraction when his family decorated it just after Thanksgiving last year. "To have had it make so many others happy is such a huge bonus," Hutchins said. "It's like our little Stafford tree."
Hutchins said the unusually positioned 8-foot-tall cedar first got the attention of his then 15-year-old daughter Alison when the family drove by the tree in 2021. Alison told her parents the tall evergreen growing oddly but proudly under a roadside guardrail looked remarkably like a Christmas tree.
"A couple of days went by and I was like, let's go decorate this thing," Hutchins said. "So we did, and it kind of blew up on (social media)."
Read the rest of the story here.
https://fredericksburg.com/news/local/roadside-cedar-gets-another-christmas-makeover/article_81d99a1c-6f21-11ed-8839-e79976a2f978.html#tracking-source=home-top-story
Comment: This was the feature story on the front page of my morning paper this morning. It immediately brought a smile to my face as I retrieved it from my mailbox under overcast skies and a light drizzle. It was another reminder why I cherish my local print newspaper. I generally avoid most social media so I missed the saga as it unfolded online.
This story solves the mystery of this one Christmas tree, but there were two other roadside cedars decorated last year along this stretch of road. And I swear I saw decorated cedars in the area in years long past. They remain a Christmas mystery.
Although this appears to be a comparatively insignificant local human interest story, I see it differently. It is a triumph of what is best in us, a triumph of the human spirit. And the fact that this is the lead story in my local paper is, indeed, joyful and triumphant.
TTG