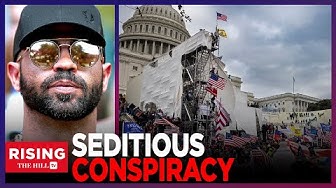 With Thursday's criminal convictions of five Proud Boys, including leader Henry "Enrique" Tarrio, a third jury has stamped history's judgment on January 6 as an organized, violent uprising meant to overturn the 2020 election. In courtrooms, it's now established beyond a reasonable doubt that the Capitol siege was not spontaneous, but rather a planned assault by force on our democracy. Four defendants — Ethan Nordean, Joseph Biggs, Zachary Rehl and Tarrio — were found guilty of the top charge of seditious conspiracy. (The jury reached a partial verdict in the case, meaning it will continue deliberations on some remaining counts.)
In less than half a year, juries have rendered three sets of guilty verdicts — 10 in total — for seditious conspiracy. The crime means that two or more people agreed "to try to overthrow… or to destroy by force the Government of the United States … or [its] authority … or by force to prevent, hinder, or delay the execution of [its] law." Conviction carries a maximum 20-year term of imprisonment.
https://www.msnbc.com/opinion/msnbc-opinion/proud-boys-guilty-trump-legal-january-6-rcna82042
Comment: This is three different jury trials and I don't think any of those three juries just rubber stamped the prosecutors' charges in full. I notice that the charge of seditious conspiracy only applies to actions taken against the government of the United States. What charges would apply at a local or state level? How would a conspiracy to establish a so called free autonomous zone be addressed like the Capitol Hill Autonomous Zone (CHAZ) in Seattle? Would it just conspiracy to commit whatever the crime would be?
TTG