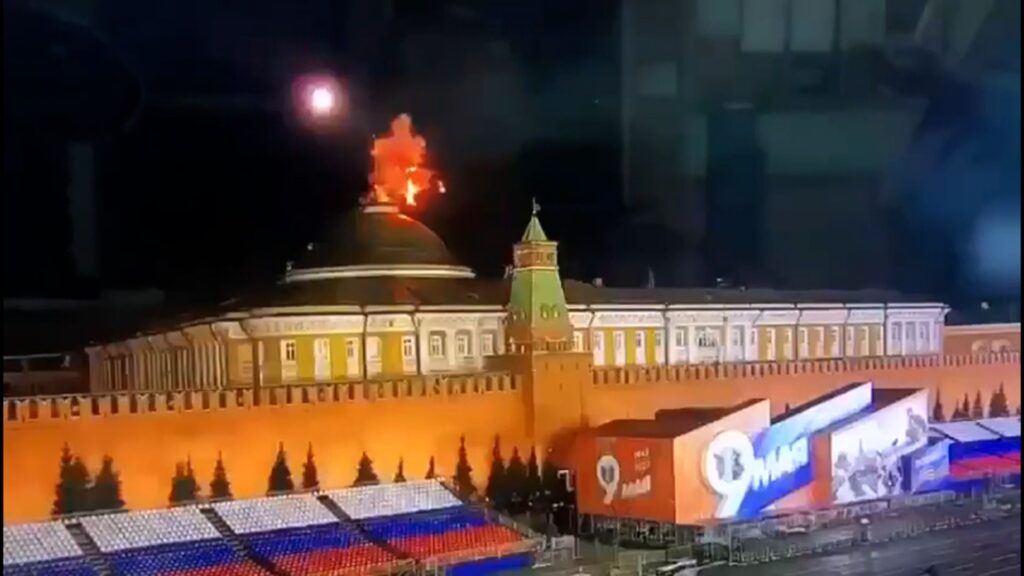 Russia accused Ukraine of conducting a drone strike against the Kremlin on May 3. Social media footage circulated on May 3 shows a drone detonating near a flagpole on top of the Kremlin Senate Palace building in Moscow as two unidentified people climbed up the dome of the building. The Kremlin accused Ukraine of orchestrating "a planned terrorist attack" with the intent of assassinating Russian President Vladimir Putin and clarified that Putin was not at the Kremlin at the time of the attack and was therefore unharmed. Ukrainian officials, including Ukrainian President Volodymyr Zelensky, stressed that Ukraine did not conduct the attack.
Russia likely staged this attack in an attempt to bring the war home to a Russian domestic audience and set conditions for a wider societal mobilization. Several indicators suggest that the strike was internally conducted and purposefully staged. Russian authorities have recently taken steps to increase Russian domestic air defense capabilities, including within Moscow itself, and it is therefore extremely unlikely that two drones could have penetrated multiple layers of air defense and detonated or been shot down just over the heart of the Kremlin in a way that provided spectacular imagery caught nicely on camera. Geolocated imagery from January 2023 shows that Russian authorities have been placing Pantsir air defense systems near Moscow to create air defense circles around the city. A strike that avoided detection and destruction by such air defense assets and succeeded in hitting as high-profile of a target as the Kremlin Senate Palace would be a significant embarrassment for Russia. The Kremlin's immediate, coherent, and coordinated response to the incident suggests that the attack was internally prepared in such a way that its intended political effects outweigh its embarrassment. The Kremlin immediately accused Ukraine of conducting a terror attack, and Russian official responses coalesced rapidly around this accusation. If the drone attack had not been internally staged it would have been a surprise event. It is very likely that the official Russian response would initially have been much more disorganized as Russian officials scrambled to generate a coherent narrative and offset the rhetorical implications of a clear informational embarrassment. The Kremlin has notably failed to generate a timely and coherent informational response to other military humiliations not of its own making, including the falls of Balakliya and Kherson City in September and November 2022.
The rapid and coherent presentation of an official Russian narrative around the strike suggests that Russia staged this incident in close proximity to the May 9th Victory Day holiday in order to frame the war as existential to its domestic audience. The Kremlin may use the strike to justify either canceling or further limiting May 9th celebrations, actions that would likely augment the information effort framing the war in Ukraine as directly threatening Russian observance of revered historical events. ISW has previously assessed that Russia is employing an array of measures to frame the war in Ukraine as existential to Russia's domestic audience and to prepare for wider societal mobilization.
https://understandingwar.org/backgrounder/russian-offensive-campaign-assessment-may-3-2023
Comment: That's the ISW's take on the drone strike on the Kremlin's Senate Palace. But I'm not fully convinced of their false flag explanation. It makes more sense than the Russian claim of a deliberate Ukrainian attempt to assassinate Putin. Unless Zelenskiy thinks that Nosferatu-looking SOB flies up to Senate dome every night to sleep with the other bats, the talk of an assassination attempt is absurd. However, Zelenskiy's statement that he wouldn't attack the Kremlin or targets inside Russia is equally absurd. Ukraine has attacked Belgorod alone with missiles, helicopters and drones. It could be an act of counting coup, an act to embarrass Putin by showing that Ukraine can touch the heart of the Kremlin at will. 
Another possible explanation is a strike originating from within Moscow itself carried out by a Russian resistance element. That's the opinion of Ilya Ponomarev, a former Russian Duma member who voted against the annexation of Crimea in 2014 now living in exile in Kyiv.
In an exclusive interview, Ilya Ponomarev told CNN's Matthew Chance that "it's one of Russian partisan groups," adding that "I cannot say more, as they have not yet publicly claimed responsibility." According to Ponomarev, members of partisans group inside Russia are usually "youngsters, students, residents of large cities. I am aware of the partisan activity in approximately 40 cities across Russia," he told CNN. "All partisan groups have their own focus, their speciality, their core knowledge. Some of them are focussed on railroad sabotages, some of them are doing arson of military recruitment posts. Some of them are doing attacks on pro-war activists, some of them are doing hacking attacks," he said. According to Ponomarev, the drone attacks inside Russia are a "new line of operation" for the groups, which he says pose a "real threat."

https://www.cnn.com/europe/live-news/russia-ukraine-war-news-05-03-23/h_81072ce0d77a5070aa0f8f95b4a31fa6
There have been RC model aircraft hobbyists in Russia since the Soviet days. Drones like this could be assembled in a basement and launched from a street or field. This would account for the drones' ability to penetrate the multilayered air defense network installed around and in Moscow. This would also be in line with the upswing in rail, power grid and other sabotage strikes plaguing Russia lately. Would Ukrainian intelligence be in touch with such Russian resistance elements? I would count on it. I would also count on Ukrainian intelligence using those Russian resistance elements to shape the battlefield in preparation for their counteroffensive.
TTG