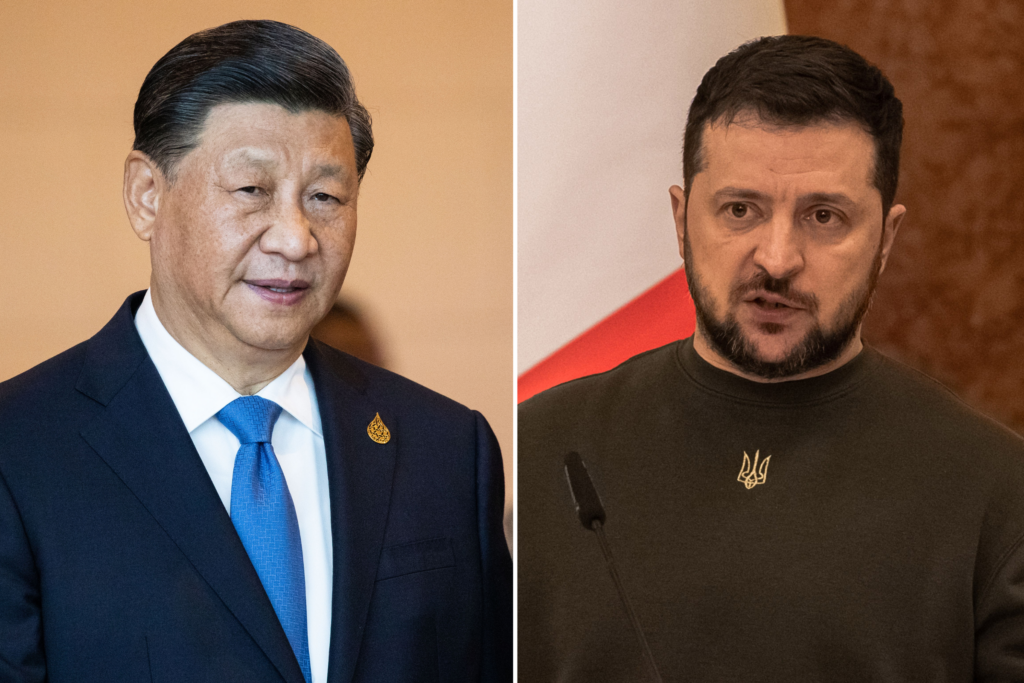 China released a peace plan for Ukraine today in a move that could dramatically expand Beijing's role in the conflict. The plan, which Chinese officials referred to as a "position paper," calls for a ceasefire and the resumption of peace talks. It also includes provisions calling for countries to respect the sovereignty of other states while noting that the "legitimate security interests and concerns of all countries must be taken seriously and addressed properly." 
Ukraine has approached the proposal with cautious optimism, calling it a "good sign" for China's role in the conflict. "We hope they also urge Russia to stop the war and withdraw its troops," said Ukraine's chargé d'affaires in China.
Ukrainian Foreign Minister Dmytro Kuleba, who saw the plan's key points during a meeting with China's top diplomat, said Tuesday that Kyiv intends to "carefully study it and draw conclusions." Kuleba also noted that Ukraine's top priority is its own peace plan, which Kyiv released late last year. Kuleba's careful reaction, a far cry from Kyiv's harsh rebuke of a peace proposal made by Mexico last year, signals that Ukraine could be willing to consider China as a credible mediator despite the country's close relationship with Russia.
The proposal earned a lukewarm reaction from Western leaders. "If the position paper is a positive sign for Ukraine then it's a positive sign for the [European Union], although we are studying the paper closely," said the EU ambassador to China, who argued that the proposal should not be viewed as a full peace plan. The German foreign minister also welcomed the plan earlier this week, noting that China's place on the UN Security Council means that it "has an obligation to use its influence to secure world peace." 
For its part, the United States has largely dismissed the document. "My first reaction to it is that it could stop at point one, which is to respect the sovereignty of all nations," said National Security Adviser Jake Sullivan.
As Patrick Wintour noted in the Guardian, the plan will likely earn plaudits from many in the Global South, which has suffered significantly from the war due to its impact on the price of food and other staples. "We cannot limit ourselves to talking about the war," Brazilian Foreign Minister Mauro Vieira told Wintour. "I am not referring to immediate negotiations – we would have to go step by step, perhaps first create an environment that makes a negotiation possible."
Meanwhile, there is growing evidence that China isn't the only superpower pitching a path to peace. Two unnamed Ukrainian officials told Politico Tuesday that CIA Director William Burns did in fact float a peace plan during a meeting with his Russian counterpart last November, a claim that Washington has strenuously denied. "[T]he officials also confirmed a report that in January, Burns had urged Ukrainian President Volodymyr Zelenskyy to make as much battlefield headway as quickly as he could, because the scale of military support could start falling off," wrote Politico opinion editor Jamie Dettmer.
https://responsiblestatecraft.org/2023/02/24/diplomacy-watch-chinas-peace-plan-draws-mixed-reactions/
Comment: Earlier today our own Fourth and Long posted a good summary of this plan. In my opinion, it all hinges on how the first point is interpreted. The other eleven points are fairly straight forward except for the timing. Are sanctions to be dropped as soon as the last Russian soldier leaves all of pre-2014 Ukraine? Are they to be gradually dropped as they withdraw to predetermined phase lines? Does a ceasefire need to be in place before any Russian withdrawal? Or does any Russian column moving towards the border have safe passage as long as they keep moving? I can't see Ukraine signing up for a ceasefire with all Russian troops still in place. That would be ceding Ukrainian soil (and Ukrainians) to Russian control.
Point 1. Respecting the sovereignty of all countries. Universally recognized international law, including the purposes and principles of the United Nations Charter, must be strictly observed. The sovereignty, independence and territorial integrity of all countries must be effectively upheld. All countries, big or small, strong or weak, rich or poor, are equal members of the international community. All parties should jointly uphold the basic norms governing international relations and defend international fairness and justice. Equal and uniform application of international law should be promoted, while double standards must be rejected.  
But that first point is the real kicker. What exactly does China mean? China wants a return to world order so she can continue to compete economically. A hot war and sanction regime puts a real kink in her plans for the BRI. Does China mean Russia should leave all Ukrainian territory, including Crimea and the Donbas? She never recognized Russia's seizure and annexation of Crimea or the Donetsk and Luhansk People's Republics as sovereign states. She abstained in the recent UN vote calling for a complete Russian withdrawal from all Ukrainian territory (Zelenskiy's plan). That vote received 141 in favor, 32 abstentions (including China and India) and only 7 no votes. I doubt the fact that China did not support their supposedly close ally escaped anyone's notice, including Putin. World consensus indicates what Ukraine claims as Ukraine is, indeed Ukraine. On the other hand, only 13 states and the Vatican recognize Taiwan as an independent state. China would be very comfortable going with the UN consensus recognizing all of Ukraine as belonging to Ukraine. That stance would be consistent with the UN consensus that Taiwan is part of China.
Both Kuleba and Zelenskiy expressed interest in China's proposal after great initial scepticism. Zelenskiy is now willing to talk to Xi about the plan. I believe China wants a world order void of war and economic sanctions far more than she wants Russia as a staunch ally. We'll see what comes of this.
TTG