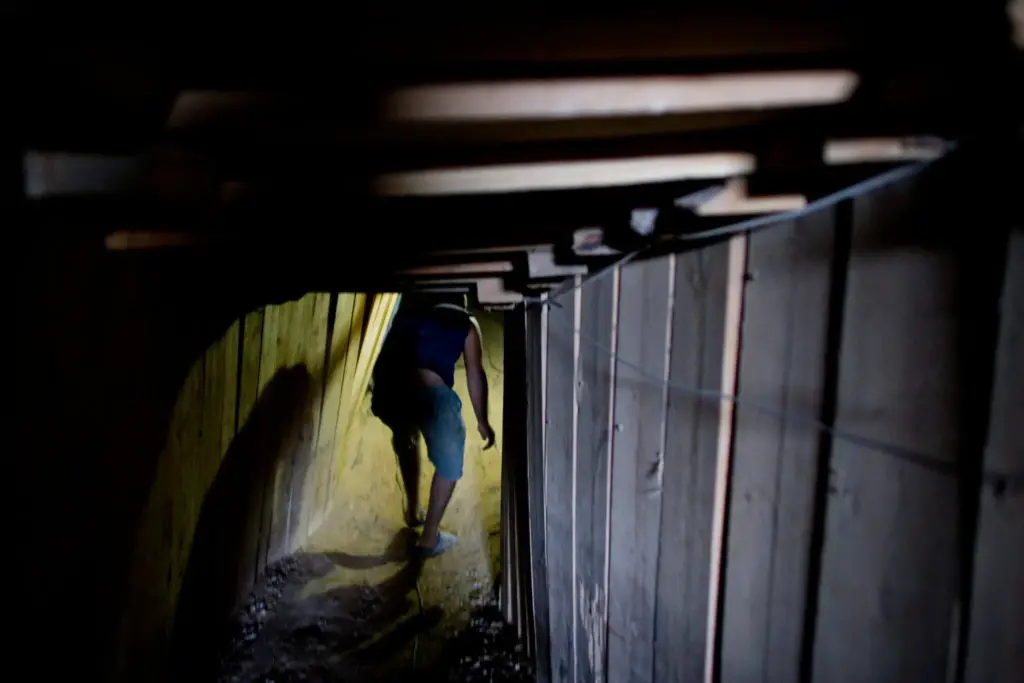 As Gazans Scrounge for Food and Water, Hamas Sits on a Rich Trove of Supplies
By Matthew Rosenberg and Maria Abi-Habib
Hamas has spent years stockpiling desperately needed fuel, food and medicine, as well as ammo and weapons, in the miles of tunnels it has carved out under Gaza. As supplies of virtually every basic human necessity dwindle in Gaza, one group in the besieged enclave remains well-stocked: Hamas.
Arab and Western officials say there is substance to Israeli claims of Hamas stockpiling supplies, including desperately needed food and fuel. Hamas, they say, has spent years building dozens of kilometers of tunnels under the strip where it has amassed stores of virtually everything needed for a drawn-out fight. It is a reality that Israel may soon find itself grappling with if it makes good on its threat to invade Gaza.
Hamas has hundreds of thousands of liters of fuel for vehicles and rockets; caches of ammunition, explosives and materials to make more; and stockpiles of food, water and medicine, the officials said. A senior Lebanese official said the militants, who are estimated to number between 35,000 and 40,000, had enough stocked away to keep fighting for three to four months without resupply.
One of the four Israeli hostages released by Hamas even described the militants providing captives with medicine, shampoo and feminine hygiene products. All are now said to be extraordinarily scarce in Gaza more than two weeks after Israel, aided by Egypt, imposed what it called a "complete" blockade following the attack by the terrorist group on Oct. 7. The Arab and Western officials who described Hamas's supply situation all spoke on the condition of anonymity because they were disclosing information gleaned from human sources, communications intercepts and other streams of intelligence. The stockpiles are typically kept underground, they said, and cautioned that precise details on Hamas's supplies were difficult to come by.
While the blockade has left Gaza's roughly 2 million people scraping by with what little food and water they scrounge up, it does not yet appear to have begun to degrade Hamas's ability to fight. The militants have launched hundreds of rockets at Israel since the blockade began and have fended off preliminary Israeli incursions into the enclave. The supply situation speaks to the relative sophistication of Hamas as a fighting force — an axiom among military professionals is that while amateurs talk about tactics, professionals talk about logistics. Yet with Gazans facing a humanitarian catastrophe, Hamas's stockpiles raise questions about what responsibility, if any, it has to the civilian population.
https://www.nytimes.com/2023/10/27/us/politics/palestine-gazans-hamas-food.html?
Comment: This NYT article was gifted by "Doctor G of the Algarve." You can follow his link to read the entire article if, like me, you don't have a NYT account.
Judging by the level of preparation shown in this article, Hamas seems ready to fight to the last surface dwelling Palestinian. I fear Israel is ready to do the same. If Bibi wants to get rid of Hamas, or at least its ability to wage war, he will have to send the IDF into the tunnels after them. I'm sure the IDF knows this, but do they have the steel to venture into the darkness?
Short of this, they will continue to pulverize and kill the Gazan Palestinians in the forlorn hope that Hamas will surrender both the hostages and themselves. Not going to happen. They are religious fanatics prepared to die for the cause. They expect the hapless Gazans to do the same whether they want to or not. I suspect this may be the Hamas "commander's intent" as to how this battle will unfold. Will the Israelis stick to the Hamas script? Will they show the world they can be just as blood thirsty as Hamas against civilian targets? That's not going to help them win the information war and it may not help them achieve their goal of destroying Hamas.
If I was in Bibi's shoes, I'd stop the wholesale bombardment of Gaza and not waste a bunch of time with those overnight armored thunder runs. Concentrate on securing the known tunnel entrances and start spelunking. Hamas may blow some of the tunnels as they're penetrated. I would. The IDF will have to find more tunnel entrances and keep burrowing. Meanwhile, allow humanitarian aid to flow to the Gazans, not just from Egypt, but from the Israeli side as well. It's a tough strategy fraught with risks. My question is do the Israelis have the will, the grit and the military ability to execute such a strategy.
TTG