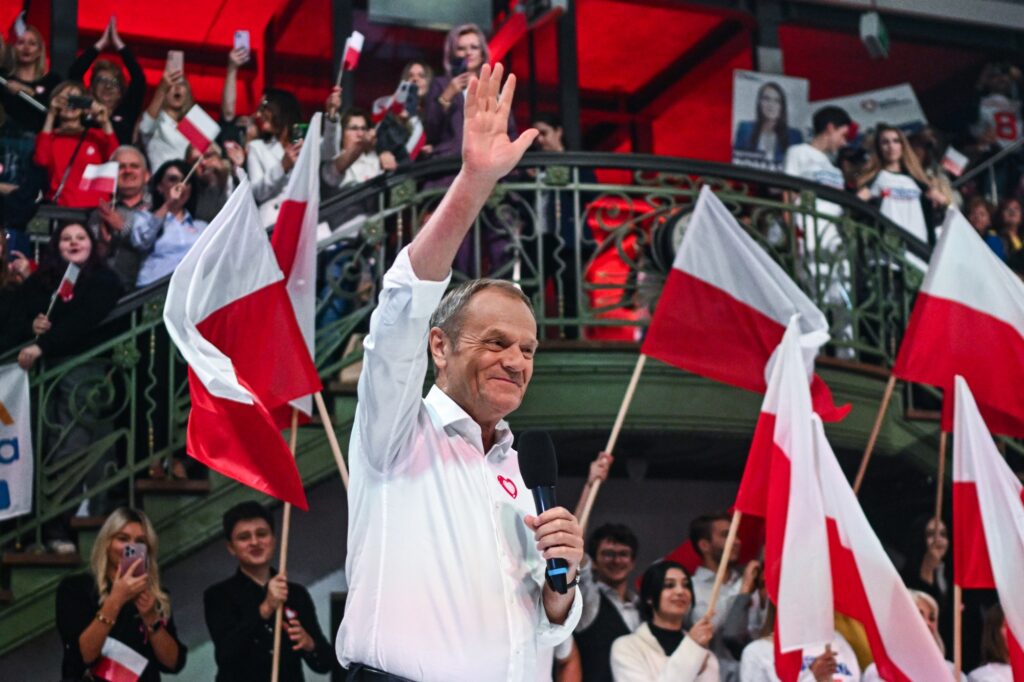 The exit polls from Poland's election have Eurocrats grinning like Cheshire cats. After years of estrangement and antagonism, Poland's centrist opposition Civic Coalition, has a simple message for Brussels: "We, the fifth-largest country in the EU fold, are back!" The fact that they're led by former European Council chief Donald Tusk means the EU believes them.
Brussels had been deeply worried about Poland's election. Little was said in public. EU figures don't want to be seen as interfering in national votes, but behind closed doors there was a tonne of euro-nail-biting. Poland and Hungary have long been viewed as the EU bad-boys: flawed democracies and EU-hostile. They were accused of flouting the bloc's democratic norms. In Poland's case, Brussels withheld billions of euros of funds, pointing at the Polish government taking away women's rights over their own bodies by virtually outlawing abortion, and threatening the independence of the judiciary and press freedom too by taking hold of the state broadcaster. Hungary and Poland also repeatedly stood in the way of agreeing new EU-wide measures to tackle migration and implementing ambitious EU climate goals.
So far there is only an exit poll to go on, but Brussels is doubly delighted at the expected outcome as it apparently bucks a trend much-feared by the EU – the apparent renaissance of the Eurosceptic hard right across much of the bloc. Those forces are polling strongly in France, Austria and Germany. Populists just won the election in Slovakia. Civic Coalition promises to return to the European mainstream, though it won't be easy. The outgoing hard-line, conservative Law and Justice party is expected to retain a big chunk of parliamentary seats, limiting room for manoeuvre for Poland's new government. Still, when I spoke to European Commission Vice-President Margaritis Schinas, he was upbeat. He hoped the tensions "haunting" relations with Poland would now dissipate, describing Warsaw as a core member of the European family.
Russia is another reason Brussels is keen to thaw frosty relations with Poland. Moscow sees any disunity amongst Ukraine's international backers as playing to its advantage. But Warsaw's tough line line against Russia was unlikely to waver, whoever won Sunday's election. It's an historic enmity. From that perspective, Nato was far more sanguine about Poland's election result, than the EU. Warsaw has played an increasingly high-profile role in the military alliance since Russia's invasion of Ukraine, Nato's ambassador to the US, Julianne Smith, told me what she observed on visits to Poland was a dedication by the Polish people – not just the Polish government – to continue supporting Ukraine. "They're right there. They border Ukraine, they feel this war differently than some of the other allies across the alliance. "It's very close to their daily lives. And for that reason I think we can count on Poland, we feel quite comfortable with counting on them over the long term, irrespective of who might be in power."
Even before the outspoken Donald Trump became US President, Washington was deeply frustrated that its European allies didn't spend more on defence. It's delighted Poland spends 3% of its GDP on making itself feel safer. And it's thought unlikely Civic Coalition will reverse that. In fact, Poland is so worried the war in Ukraine could spill over its borders, that it announced plans to invest in enough equipment and personnel to become Europe's strongest army by 2026.
https://www.bbc.com/news/world-europe-67118795
Comment: Poland's strong opposition to Russia and desire to become the militarily strongest nation in Europe was never in doubt. Both Donald Tusk and his rival in this election to lead the government, Jarosław Kaczynski, agree on those issues. In fact Kaczynski's opposition to Russia is not just national, it's personal. He blames Russia for the death of his twin brother in 2010 in a plane crash outside of Smolensk. The difference lies in Tusk's strong Eurocentrism compared to Kaczynski's right wing conservative nationalism. In this way, Kaczynski is closer to Hungary's Viktor Orbán.
Kaczynski's Law and Justice (PiS) party garnered more votes/parlimentary seats than other parties, but far from a majority. The centrist Civic Coalition (KO), together with the center-right Third Way (Trzecia Droga) and the The Left (Lewica) are in best position to form a coalition government. The hard right Confederation Liberty and Independence did not do well enough to help Kaczynski's PiS.
Under Tusk, I see the strengthening and expanding Three Seas Initiative (3SI) working together with NATO and the EU rather than being a rival to those older organizations. With the entrance of Greece as a full member and full partnership being granted to Ukraine and Moldova this year, the center of Europe is about to move east much to the chagrin of the Kremlin. The 3SI also stands as a potential local alternative to China's Belt-Road Initiative.
TTG
https://apnews.com/article/poland-election-parliament-explainer-eef3abebff2f31f29ec0dadde24e71a0