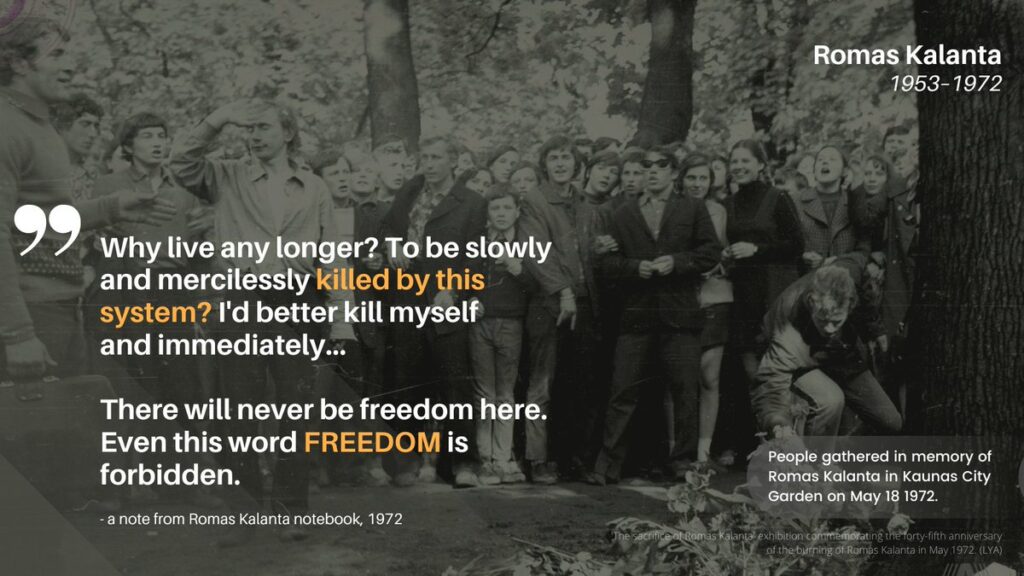 A question in many minds is what the hell did Hamas expect to accomplish with the  execution of al-Aqsa Flood? Why go far beyond a successful and shocking military raid to widespread commissions of atrocities upon innocents? Is Hamas no more than a band of sociopathic murderers maybe seeking their own pathway to paradise? Mental defectives? It's too easy to dismiss them as mere defective creatures in need of eradication.
In spite of the pain, suffering and death that is about to be visited upon the Gazans, I think they did this for the future good of the Gazans and maybe all Palestinians. They are invoking the idea of sacrifice. This is not a foreign idea, especially to Christians. Our religious beliefs are centered on sacrifice. Christ endured the sacrifice of torture, crucifixion and death for our redemption. We celebrate that sacrifice in every mass.
Another act of sacrifice that comes to my mind is the self-immolation of Romas Kalanta in 1972. This 19 year old Lithuanian student lit himself on fire in broad daylight in a Kaunas park to protest Soviet rule. The KGB was shocked and did everything in their power to bury Kalanta and his self-sacrifice, but word spread. 1972 became a year of massive demonstrations and protests across Lithuania. That year saw thirteen other protest suicides. It sparked a call for freedom that was eventually realized in 1990. And it started with the shockingly bizarre and very un-Western act of a Kaunas hippie kid who just had to do something.
But there is a major difference between the sacrifice of Christ and Kalanta and the sacrifice about to be imposed on the men, women and children of Gaza. Christ and Kalanta sacrificed themselves for others. Hamas is forcing tens of thousands to endure sacrifice. Those tens of thousands are not choosing to be sacrificed. Why is Hamas steering events to bring about this mass sacrifice? Much of the world doesn't give a damn about the fate of the Palestinians. Many Israelis care even less. They wish they just went away. The destruction of Hamas will not change that math. Self-sacrifice would be a useless and empty gesture. Perhaps the sacrifice of a large number of Gazans will change it. Yes it is heinous that Hamas is willing to bring about such a sacrifice of innocent Gazans by butchering innocent Israelis, but I can understand that drive to do something in the face of desperation and hopelessness. 
TTG
https://www.youtube.com/watch?v=pYwFcHURG3E