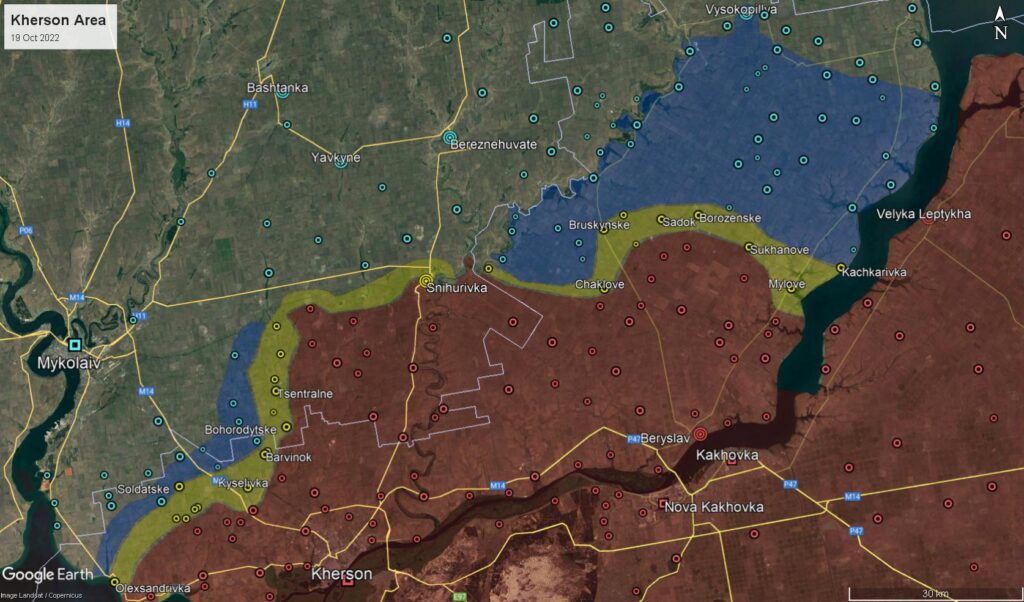 Over the last three days, what started as a trickle of Telegram statements hinting at Russian units being reassigned out of the Kherson area has turned into a flood of evacuation orders instructing people to leave the city immediately. On Wednesday morning, Russian soldiers, local officials, and civilians were all visible along the west bank of the wide Dnipro River, waiting for barges and ferries that will take them away to the east.
Some Russian spokesmen, like Kirill Stremousov, who serves as the head of Russia's occupation government in Kherson, are stating that "the battle of Kherson is about to begin." Others, like the commander of the Russian army group "South," Gen. Sergei Surovikin, seemed to be sending every possible signal that Russia is preparing to withdraw from the entire area. Overnight, Vladimir Putin formally declared martial law in all four of the oblasts now claimed by Russia. Something is definitely changing.
…
Of course, Ukraine has done much to grease the skids to this moment. By damaging first the AntonivskyiBridgeat Kherson, then the Kakhovka Dam Bridge at Nova Kakhovka, and finally the Kerch Strait Bridge connecting Russia and Crimea Oblast, Ukraine systematically increased the difficulty of keeping Russian forces west of the Dnipro River supplied and maintained. Ukraine then began a counteroffensive that meant Russian forces sitting and hoarding their limited supplies was out of the question.
For the past two weeks, it's largely seemed as if that counteroffensive was frozen in place. Even when there have been reports of Russian forces pulling back from a location, Ukraine seems to have not risked sizable forces in attempting to gain additional ground. But if each day along that line was forcing Russia to expend ammunition and equipment it couldn't easily replace, then the strategy was brilliant. Every day has brought Russia closer to either retreating before the bullets run out, or surrendering in place when they do.
https://m.dailykos.com/stories/2022/10/19/2129875/-Ukraine-update-Evacuation-of-Kherson-underway-as-Russia-prepares-to-lose-a-regional-capital
Comment: This is from the blatantly liberal, but remarkably accurate, Daily Kos. It's a damned good read. And it tracks with the AP article that Colonel Lang just showed us.
While the Ukrainians are maintaining good operational security by keeping their lips zipped, the Russians are saying everything and anything. I doubt they are clear in their own minds on what they are going to do or what's going to happen to them. I also doubt the maps of battle lines are an accurate representation of the actual situation. I do think we'll all soon be surprised when whatever does happens finally happens on this front. As my old mentor and good friend, Al Rivers, would have said, "The shit's on, good buddy."
TTG