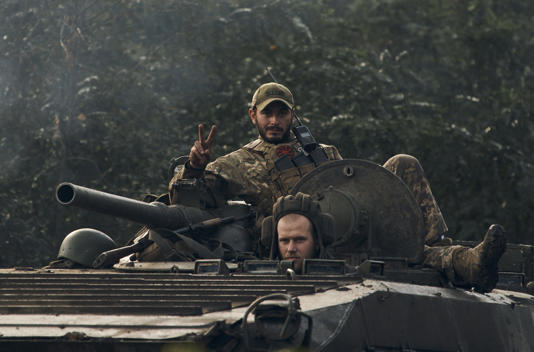 "Ukrainian troops piled pressure on retreating Russian forces Tuesday, pressing deeper into occupied territory and sending more Kremlin troops fleeing ahead of the counteroffensive that has inflicted a stunning blow on Moscow's military prestige."
"Some Russians appeared to have been left behind in the hasty retreat. "They were trying to catch up," she said.
It was not yet clear if the Ukrainian blitz, which unfolded after months of little discernible movement, could signal a turning point in the nearly seven-month war.
But the country's officials were buoyant, releasing footage showing their forces burning Russian flags and inspecting abandoned, charred tanks. In one video, border guards tore down a poster that read, "We are one people with Russia.""
Comment: My father. an old horse soldier who was in the mounted charge at Ojos Azules in 1917 used to speak scornfully of men with "s–t in their neck" who had run out of guts. There are a lot of those just now. pl

Ukrainian troops keep up pressure on fleeing Russian forces (msn.com)