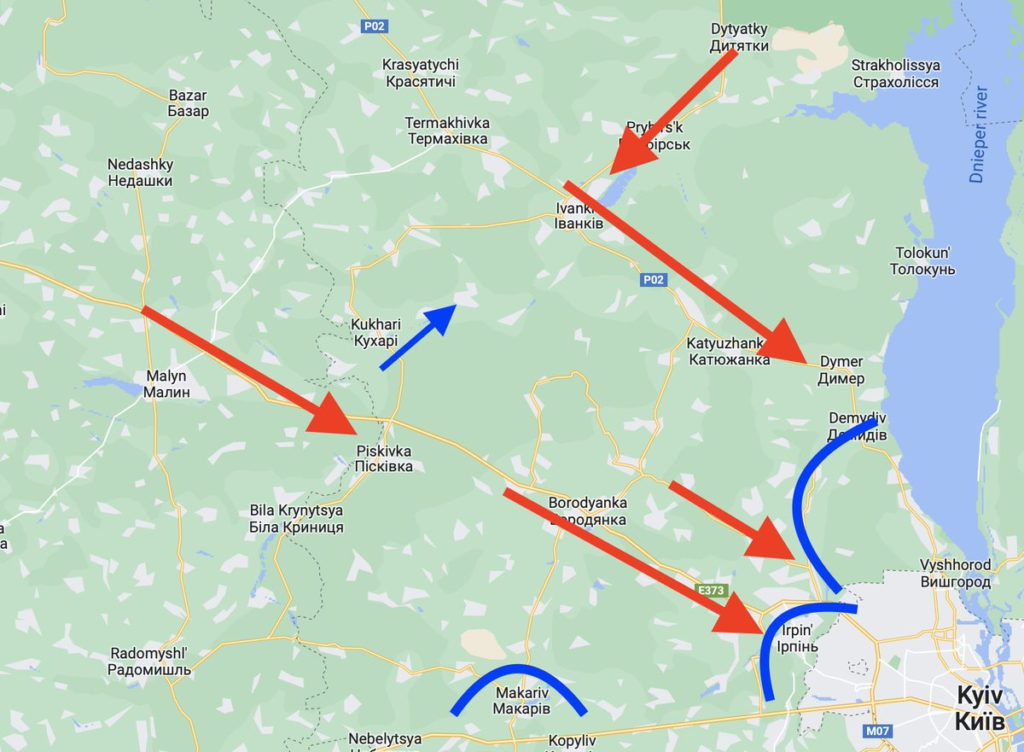 Oleksiy Sorokin, editor of the Kyiv Independent, tweeted out yesterday, "Armed Forces report fighting near Teterivske, 60 km northwest of Bucha. That's pretty far up. near the Belarus border."
Illia Ponomarenko, the defense reporter with the Kyiv Independent responded to this with his thoughts. He's been a defense and security reporter since at least the 2014-2015 fighting in the Donbas and has done the same with peace keeping forces in Palestine and the Congo. He's now reporting from Kyiv. (@IAPonomarenko)
"Just another illustration of the fact that we don't have a very clear front line in Kyiv region, west or east of the city. The whole theater is very patchy, and all those vast territories painted red on maps are barely controlled by the enemy in reality."
"Gaining a foothold in Ivankiv, of course, would be sweet. It's a very important point on the path between the Chornobyl Zone and northwestern Kyiv. Even more important is Borodyanka on the Warsaw highway. The whole Russian group would end up in the world of shit."
"I don't think that we should expect to see Russian forces in Hostomel-Irpin-Bucha effectively locked in a death trap in the nearest time. Ukrainian military will most likely continue breaking their supply lines and exhausting them in mobile defense along roads."
"I don't think this large enemy group is exhausted enough for that. And I don't think Ukrainian forces have enough control north and south of Bucha, including the Zhytomyr highway — at least, not yet. We'll see what happens next."
"IMHO it's too early for Ukrainian forces to completely switch from mobile defense and mount a big time attack in this area — the command still wants to save and as much power as possible. Russian air power in the region is not 100% suppressed yet. Everything written above is nothing but my speculation as a witness, of course."
Comment: I think Illia is on point in his description of the nature of the fighting. There are no clearly delineated front lines or controlled areas. There are not enough troops on either side for that. I noticed the same thing in Syria from the comfort of my armchair and believe I wrote about that. I also saw the same thing in the streets and alleys of Souk el Gharb and in the Chouf mountains. I have the raging tinnitus to remind me. I'm not going to write about that.
This is a platoon leader's war or even a squad leader's war. At most, it's a company commander's war. That sucks for the Russians since they don't a strong NCO corp to rely on. That's probably why their colonels and generals are being picked off fairly regularly. They're having to act like platoon leaders just to try to get things done. It's a shitty way to run a war. It's also extremely difficult to express this on a map.
The Ukrainian Army came from the same tradition as the Russian Army. However, for the last eight years the US and NATO have been rebuilding, training and advising the Ukrainian forces in the Western tradition with an emphasis on developing NCOs and junior officers capable of taking independent action. This time it worked. I'd like to think it worked with the Lebanese 8th Brigade, as well.
Of course, much of that success is due to the patriotism of the Ukrainian people and their desire to remain free. It's also due to Ukraine's adoption of national resistance as a defense strategy. This creates a mindset among the entire population, from the babushkas and dedushkas to the professional soldiers, to resist the invader. This shows up in the daily demonstrations against the occupiers in Kherson and other towns and in the farmers towing away abandoned Russian vehicles. The Territorial Defense Forces, as a critical part of this national resistance, are true local citizen soldiers capable of independent action. They are a potent addition to the regular Ukrainian Army often acting in coordination with the regulars and even along side them. This strategy of national resistance is a winning strategy.
TTG