A part of ancestral homelands on Fones Cliffs is restored to the Rappahannock Tribe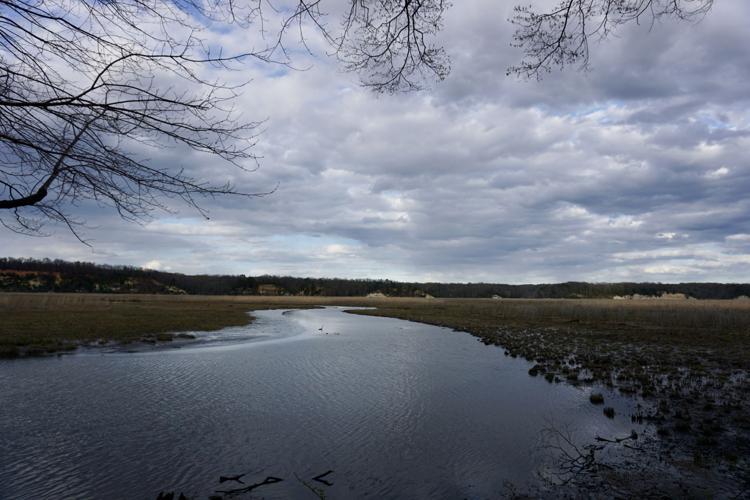 Nearly 400 years after the Rappahannock Tribe was forced from their lands along the Rappahannock River, they finally got a piece back. It all culminated in a "Return to the River" ceremony Friday, on a windy afternoon at a farm along the Rappahannock in Essex County. Under a giant white party tent that at times felt it would lift with the wind gusts, 200 people gathered—tribal members, their friends and the many who helped return the land. Some dabbed their eyes as they listened to heartfelt speeches and prayers and rejoiced with the Rappahannock's Maskapow Drum Group.
Across the river, the string of Fones Cliffs stand like sentinels, some up to 150 feet high. The tribe now owns 465 acres of them, their former town of Pissacoack mapped by Capt. John Smith during his 1608 explorations. The cliffs were once their home, along with lands up and down both sides of the river in this area, including the farm.
"I whispered over to Chief Anne before this all started, 'I hope I can get through my remarks without crying,'" U.S. Secretary of the Interior Deb Haaland told guests. She didn't. Nor did Rappahannock Chief Anne Richardson and many in the audience. But they were tears of joy and relief."You know for our people to go back there, which they haven't been yet, it's emotional because the bones of our ancestors reside there and their DNA is in the ground and the eagles watch over it," Richardson said the day before the ceremony. "It's a spiritual place for us."
Besides being part of Rappahannock ancestral homelands, the cliffs are a stopping place for hundreds of migratory bald eagles and a large year-round population. They can be seen perched over the river, which sustains sturgeon, shad and the invasive blue catfish, an eagle favorite. During certain times of the year, among the marshes across from the cliffs are thousands of migratory birds.
https://fredericksburg.com/news/local/a-part-of-ancestral-homelands-on-fones-cliffs-is-restored-to-the-rappahannock-tribe/article_9793cad8-a516-59f7-af98-0b1a98d1427c.html#tracking-source=home-top-story
Comment: I learned of this last Friday from a national news provider, but decided to see how my local paper covered the story. Glad I waited. Pamela A. D'Angelo did a great job covering and reporting this story. She also provided plenty of back story, both recent and ancient.
I don't get down to the Fones Cliffs area of the Rappahannock very often. I'm far more familiar with the area just up river from Fredericksburg. Just last Thursday I watched a rather large murder of crows on the rocks among the shallow rapids of this section of the Rappahannock. Just downstream from the crows, the ever present blue herons were fishing the rapids. Enjoy the respite. I did.
TTG