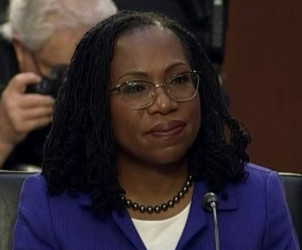 By Robert Willmann
Supreme Court Judge Oliver Wendell Holmes, Jr. took the oath of office in December 1902 and retired in January 1932. He became known for writings on the philosophical foundation of certain legal doctrines and governmental law. From his experience he called the court, "Nine scorpions in a bottle". A simple majority can make a ruling covering the entire country, estimated today to be 332 million people. With a job for life after nomination by the president and being confirmed by the senate, the judges can be removed only through impeachment by the House and a trial in the Senate.
Katanji Brown Jackson, nominated by Joe Biden to replace the retiring Judge Stephen Breyer, is not qualified to be on the Supreme Court, for more than one reason. The most obvious one at this time is her baffling and incomprehensible attitude of leniency about the vicious crime of child pornography.
The world of child pornography is not only about images of nude children and sexual contact and sex acts with children, but it also includes sado-masochism directed at children, primarily sadism. The word sadism includes forms of torture. And the word child includes babies.
Immediate action is needed to persuade enough U.S. Senators to vote against confirming Jackson so that she will not become a judge on the Supreme Court. Relevant evidence is provided below.
This is the time for all readers to contact the two senators from their state and calmly but firmly say that their vote should be "no" on putting Jackson on the Supreme Court.
Those who have had training and experience in military intelligence and in the CIA about contacting people, directly or through intermediaries, and working to persuade them to take a particular action, can put the training and experience to work in a personal and private capacity, and develop an approach to get one or more senators to vote "no" on Jackson.