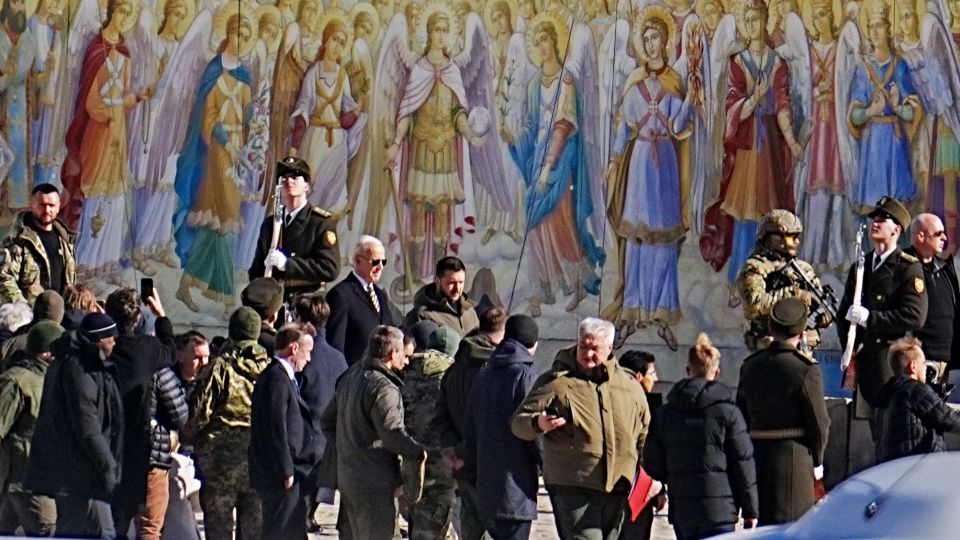 President Joe Biden made a surprise visit to Kyiv on Monday, arriving in Ukraine's capital in a show of support for the war-torn nation and statement of defiance ahead of the one-year anniversary of the war Russia launched.
Biden arrived at 8 a.m. local time and the presidential motorcade drove to Mariinsky Palace, where he was met by Ukrainian President Volodymyr Zelenskyy and his wife. "Thank you for coming," Zelenskyy said. Biden asked about the Ukrainian leader's kids and then said that the purpose of his visit was to signal the United States was "not leaving" Kyiv during the conflict. "I thought it was critical that there not be any doubt, none whatsoever, about U.S. support for Ukraine in the war," Biden said during a joint address with Zelenskyy.
The shock appearance happened under immense secrecy, with Biden taking off from Joint Andrews Base at 4:15 am local time. U.S. officials had expressed concerns that Biden couldn't fly into Ukraine or take a ten-hour train ride without immense risk to the host nation or himself. Ensuring the president's safety was a near-impossible endeavor, those officials said, though they acknowledged Biden had long wanted to go Kyiv.
But now Biden is in Kyiv for an eighth time, flanked this visit by a handful of staffers, including national security adviser Jake Sullivan. "Each time more significant," Biden said.
https://www.politico.com/news/2023/02/20/biden-ukraine-traveling-00083597
Comment: So the President apparently flew into Kyiv directly from Andrews AFB on Air Force One… pretty ballsy for an old man.
TTG