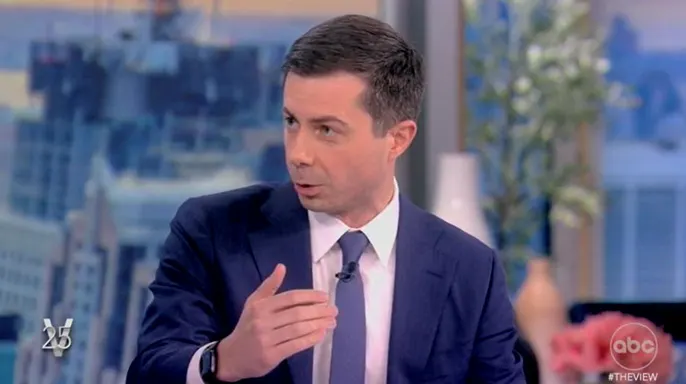 "Folks, it's not all Joe Biden's fault that our nation is in trouble.
His utterly inept cabinet is also to blame.
Let's start with Janet Yellen.
TREASURY SEC. JANET YELLEN BLASTED ON TWITTER AFTER ADMITTING 'I WAS WRONG' ON INFLATION: 'RESIGN'
Yellen, the first female treasury secretary, appeared to be the most seasoned, the best credentialed and least political of all Biden's cabinet appointees. Not so. 
The treasury secretary recently confessed that she blew it on inflation. She didn't apologize or admit its real cause, but at least she admitted she goofed.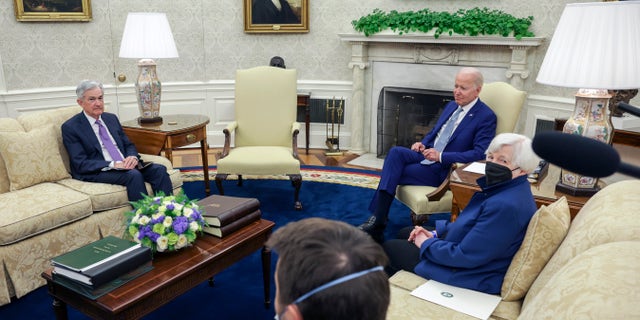 President Joe Biden meets with Federal Reserve Chairman Jerome Powell and Treasury Secretary Janet Yellen, in the Oval Office at the White House on May 31, 2022. (Kevin Dietsch/Getty Images)
She said, "I think I was wrong then about the path inflation would take … there have been unanticipated and large shocks to the economy … that I didn't at the time fully understand."
Yellen's pitch is, essentially, that inflation blew in because of completely unpredictable events that no one could have anticipated. Untrue. Most economists agree that the Democrats' $1.9 trillion American Rescue Plan spilled too much money into the recovering economy at the same time that we had goods shortages, sparking rising prices. 
In fact, a new book out says Yellen agreed with Larry Summers, who warned that Biden's spending spree would have just that effect, and argued for a smaller American Rescue Plan. Though she denies that account, it rings true. In other words, she knew better. Far from being the intellectual anchor of this administration, Yellen turns out to be yet another shill for Democrats' left-wing policies.
Next up: Homeland Security chief Alejandro Mayorkas, the first Latino in that role, who has permitted the worst-ever assault on our southern border, failed to deliver a plan to confront the crisis and who lied to Congress when he claimed our "border is secure."
On Mayorkas' watch, 1.2 million people have been apprehended trying to enter the U.S. illegally in the past seven months, of which nearly half a million were from countries other than Mexico or the northern triangle of Ecuador, Guatemala and El Salvador. The vast majority of those people are single adults – not families fleeing poverty, and the total includes 40 men on the terror watch list.
Under Mayorkas, deaths due to drug overdoses topped 100,000 for the first time ever, the vast majority (71,000) from fentanyl, imported from China and Mexico across our southern border.
Mayorkas whined to a censorious Congress last year that he worked "18 hours a day." When Republicans take back control of the House this fall, they should impeach him and let him catch up on his beauty sleep.  
Next up: Pete Buttigieg, the first gay secretary of Transportation, who has been Biden's invisible point guy responsible for smoothing our supply chains. As his reward for disappearing during our clogged-ports crisis (he took a months-long parental leave last summer after adopting twins with his husband), he is now in charge of $660 billion of the White House's infrastructure program, which he can dispense around the country in politically helpful ways. "
Comment: The combination of the hard-core neo-Bolsheviks, the post grad school Deep Staters and this menagerie of Democrat fantasy creatures is really deadly. And then there is Biden himself, a man who can't understand why the citizenry no longer loves him. pl
Biden's inept Cabinet shares blame for Biden's many failures | Fox News