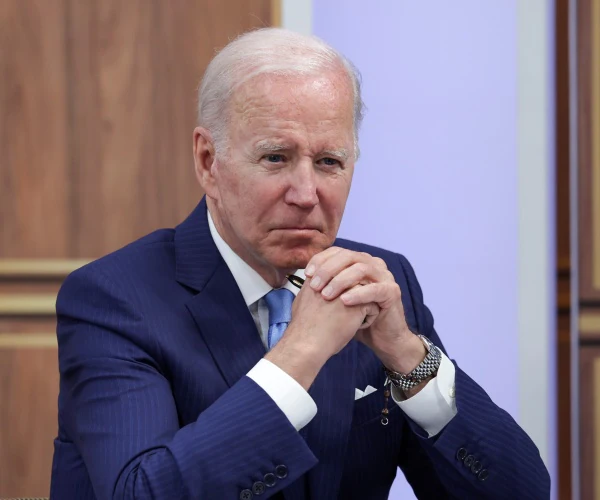 "President Joe Biden's trips to Saudi Arabia and Israel that had been planned for later this month have been postponed until at least July, but dates have not yet been confirmed, according to administration officials.
"We are working on a trip to Israel and Saudi Arabia for a GCC+3 Summit," a senior administration official told NBC News this weekend. "We are working to confirm dates. When we have something to announce, we will."
Sources said the White House is planning a more broad trip to the Middle East. The visits to Saudi Arabia and Israel were to be added to Biden's trips to Germany and Spain this month.
The administration didn't make it immediately clear why the trips were delayed, but Dan Arbell, a scholar-in-residence at the Center for Israel Studies at American University told The Jerusalem Post that the administration is claiming "technical-logistical reasons," but said more may be in play.
"One cannot help feeling that the White House wants to see if the Bennett-Lapid government survives for a few more months or if new elections are called," he said. "The Israeli political picture will be clearer in July, and it'll give the administration more time to prepare the visit and decide on its messaging."
Further, as the visit to Israel is tied to other stops, "it gives the White House more time to try and arrange a regional leaders summit or moves which would broaden and deepen the Abraham Accords," he said."
Comment: Is Joe Biden the worst president in America history? This remains an open question. He was never an intelligent man. He prevaricated endlessly as a senator, associating with avowed racist segregationist senators, professing his friendship for them on the basis of Delaware's once upon a time status as a slave state. That was safe then. There were enough Delaware people who thought themselves Southern to make it safe.
Nowadays, Joe stands, or stumbles through the days revealed as a servant of the far-Left and the post-grad Deep Staters running US foreign policy.
The far-Left Greenies have set his slippers on the path of war against "fossil fuels" (of which the US possesses a virtually limitless supply) even as inflation climbs into daily headline material for the GOP.
In reaction Joe's post-grad handlers are sending him to beg for increased oil/gas production from countries that hold him and the US in loathing and contempt.
And the fool accepts their guidance and will do that eventually if he does not fire them first in a fit of rage over the disrespectful way they treat him. pl
Biden's Israel, Saudi Arabia Trips Postponed Until July | Newsmax.com