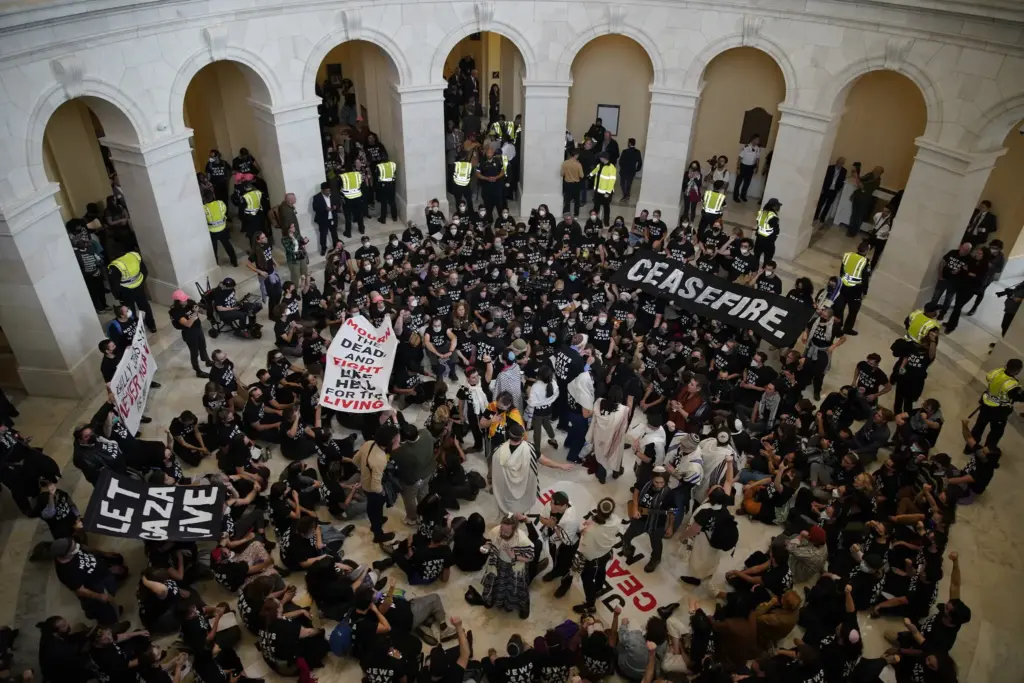 Protesters calling for a ceasefire in Gaza shut down parts of Independence Avenue and demonstrated for several hours in the Cannon House Office Building rotunda Wednesday. More than 300 people were arrested, a Capitol Police spokesperson said around 6:30 p.m., adding that the number could rise.
The protest was organized by two Jewish advocacy groups, Jewish Voice for Peace and If Not Now, and began at noon on the National Mall before migrating to the Capitol complex. "We're here because we're in an incredible emergency, the worst I've seen in my lifetime, where Gaza is being decimated as we speak," said Rebecca Vilkomerson, a member of Jewish Voice for Peace, as chants rang through the echoey rotunda and people were handcuffed and escorted out by Capitol Police. 
Rep. Cori Bush, D-Mo., announced this week a resolution calling for an immediate ceasefire in Gaza. That resolution is supported by Reps. Rashida Tlaib of Michigan; André Carson of Indiana; Summer Lee of Pennsylvania; Delia Ramirez, Jonathan L. Jackson and Jesús "Chuy" García of Illinois; Ilhan Omar of Minnesota; Jamaal Bowman, Alexandria Ocasio-Cortez and Nydia M. Velázquez of New York; Bonnie Watson Coleman of New Jersey; and Ayanna S. Presley of Massachusetts. "Israel just bombed the Baptist Hospital killing 500 Palestinians (doctors, children, patients) just like that," Tlaib wrote Tuesday on X. "@POTUS this is what happens when you refuse to facilitate a ceasefire & help de-escalate. Your war and destruction only approach has opened my eyes and many Palestinian Americans and Muslims Americans like me. We will remember where you stood."
Tlaib, who is the daughter of Palestinian immigrants and is the first Palestinian-American woman elected to Congress, was criticized on Wednesday for refusing to take the post down and again referenced the destruction of the hospital when speaking in front of the crowd of protesters gathered on the National Mall (before it moved toward the Cannon building). She was joined at the protest by Bush. "Today we demand that the world and our government don't turn a blind eye to the collective punishment against Palestinians that we are witnessing, even as we strongly condemn Hamas for the appalling … loss of life," Bush said.
Rep. Randy Weber, a Texas Republican whose office is near the Cannon rotunda, posted a video to X on Wednesday showing an "I Stand With Israel" banner outside his office that was purportedly pulled down by protesters.  "This is what happens when unrealistic, uneducated people want to support the killing of innocent Israelis, innocent Jews," Weber said. "They want to come into this Capitol building and wreak havoc. They will tear down and destroy public property because they don't have a clue what's going on in the Middle East. … These people should be prosecuted to the full extent of the law."
Republicans like Sen. Tom Cotton quickly tried to draw a comparison between Wednesday's protesters and those who stormed the Capitol on Jan. 6, 2021. "DOJ should treat this mob of Hamas supporters the same way they treated grandmothers who wandered into the Capitol on January 6," Cotton wrote on X.
But the ceasefire protesters — unlike the violent mob that breached police lines and tried to halt the certification of President Joe Biden's election on Jan. 6, 2021 — did not disrupt a session of Congress or enter the Capitol itself. They passed through security screenings to enter legislative office buildings that are open to the public. "There was no forced entry or break of protocol," a Capitol Police spokesperson said.
https://rollcall.com/2023/10/18/capitol-police-arrest-gaza-ceasefire-protesters/
Comment: There was at least one apparent act of vandalism with Representative Randy Weber's sign being torn down. These protesters went into the Canon Building with the express intent of being arrested. That's another difference between these Jewish protesters and the 6 January crowd. Those guys expected to be hailed as heros, not arrested. Well, the the two Jewish groups got their wish. They were taken away, processed and issued summons for a later court dates. The If Not Now Movement said they will be back in DC on 25 October. It will be interesting to see if they're allowed to enter any of the Capitol buildings that day or if they'll try to forcefully occupy another rotunda.
A question I have is if these protesters voiced any support for Hamas or if they condemned the Hamas atrocities during this protest. Another is if they voiced any calls for Hamas to release hostages or honor a ceasefire. At least they had a banner saying "Mourn the dead. Fight like Hell for the living." One should be able to seek justice while, at the same time, condemn terrorist actions.
TTG