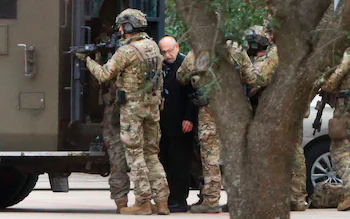 A British man was shot dead on Saturday after taking four people hostage at a Texas synagogue.
The man's nationality was confirmed by the foreign office on Sunday, who released a statement saying: "We are aware of the death of a British man in Texas and are in contact with the local authorities."
The statement was issued in response to an enquiry about a Sky News report which said a gunman who had disrupted a religious service at a synagogue in Texas was British.
One of the hostages was released during a 10-hour stand-off at the Congregation Beth Israel synagogue in Colleyville.
An elite FBI team rescued the three others and shot the suspect dead. 
During the siege, the man demanded the release of Aafia Siddiqui – a Pakistani scientist who in 2010 was sentenced by a New York court to 86 years in prison for the attempted murder of US officers in Afghanistan.
Comment: OK. OK. The FBI killed him, but the willingness of Texas authorities to have them do that says a lot about them. pl
https://www.telegraph.co.uk/news/2022/01/16/hostages-freed-texas-synagogue-siege-10-hour-standoff/