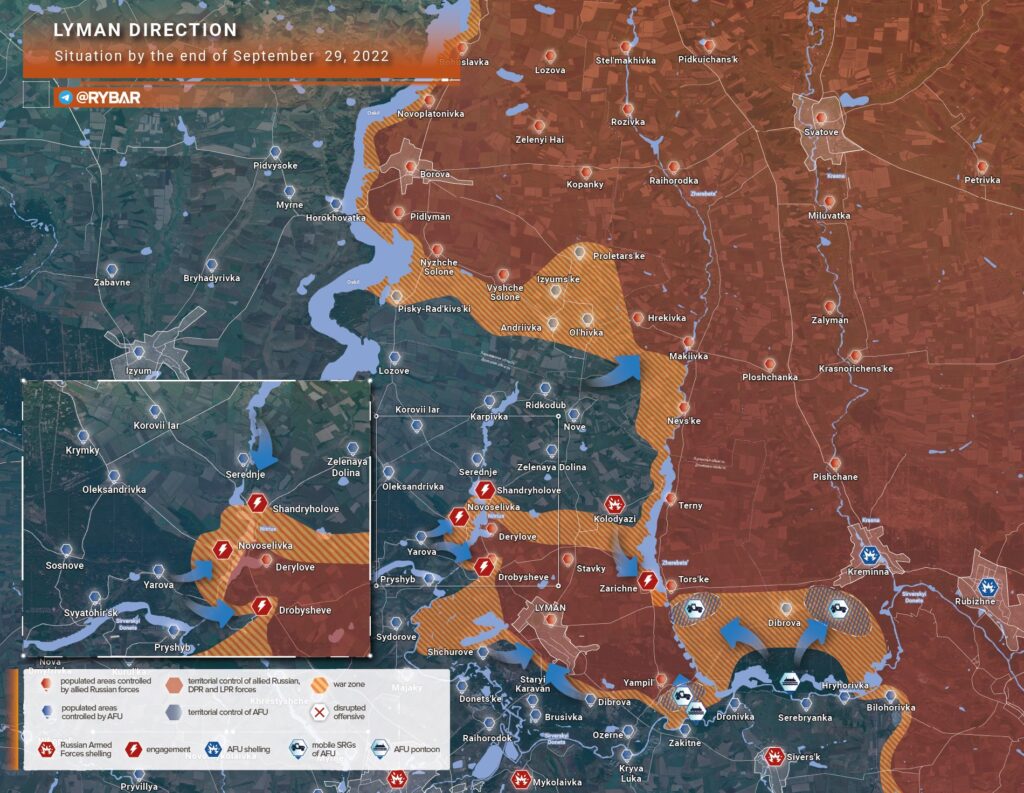 RYBAR – Ukrainian formations continue to surround Lyman, developing an offensive towards the territorial borders of the Luhansk People's Republic. The Lyman garrison is fighting in an operational environment with superior enemy forces
On the outskirts of Lyman – The enemy tried to attack the city from three directions: from the side of Dibrov, the Brusino railway station and the Old Caravan. The garrison is holding out, all attacks are repulsed. The Armed Forces of Ukraine are intensively shelling the Lyman with all available means of destruction, including the HIMARS.
North of Lyman – Units of the Armed Forces of Ukraine occupied Kolodezi, Zelenaya Dolina and cut the road Svatovo – Makeevka – Terny – Lyman. From the side of the village of Kolodezi, a platoon of the Armed Forces of Ukraine, with the support of armored vehicles, conducted reconnaissance in combat in the direction of Zarechny (Kirovsk). After a fire defeat by the artillery of the People's Militia of the LPR, the Ukrainian formations were forced to retreat.
Through Zarechnoye – Torskoye passes the last road connecting the Lyman garrison with the territory controlled by the allied forces. The Armed Forces of Ukraine are attacking villages from the north from the side of the village of Kolodezi and from the south – from the bridgehead on the banks of the Seversky Donets.
West of Lyman – UAF occupied Shandrigolovo and Novoselka. The western flank of Lyman's defense in Drobyshevo is held by fighters from BARS-13 and the 20th combined-arms army of the RF Armed Forces.
At this stage, without the transfer of significant reinforcements and the concentration of attention of the command of the RF Armed Forces in the Lyman direction, there is a serious risk of the fall of Lyman and further collapse of the defensive orders of the RF Armed Forces on the western borders of the Luhansk People's Republic.
STARSHE EDDY – Under Lyman the situation is extremely difficult. The enemy delivers the main attack near Yampil and Torskoye, with the goal of finally cutting the Kreminna-Lyman highway and encircling our troops. Attacks with large forces supported by artillery, HIMARS and armored vehicles. Tonight is going to be a very difficult night and tomorrow a very difficult day.
WARGONZO – Urgent – AFU broke through in the Stavkov area and cut off Drobyshevo. Emergency information is coming in from the field that the neo-nazis were able to break through to the Torsk-Drobyshevo highway in the Stavtov area, thus effectively cutting off Bars-13 (Russian Legion) from the main highway. There is a tough fight going on . Our heroes are cutting and doing everything to hold their positions and prevent the enemy from gaining a foothold. The situation is extremely difficult.
Comment: According to these Russian bloggers, we may soon see the long awaited Donbas cauldron. It just won't resemble the fever dream that all the Putin cheerleaders have been crowing about for seven months. What a shame. 
TTG