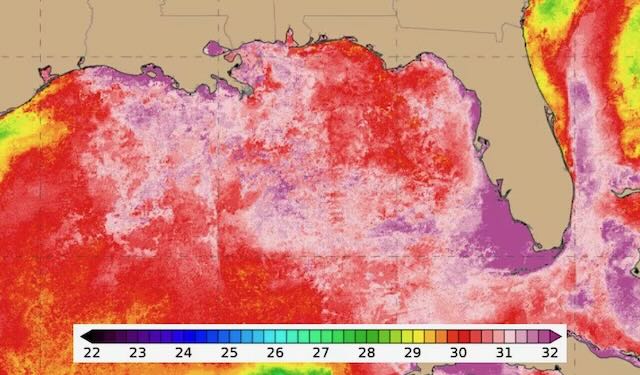 Not only is Florida sizzling in record-crushing heat, but the ocean waters that surround it are scorching, as well. The unprecedented ocean warmth around the state — connected to historically warm oceans worldwide — is further intensifying its heat wave and stressing coral reefs, with conditions that could end up strengthening hurricanes.
Much of Florida is seeing its warmest year on record, with temperatures running 3 to 5 degrees above normal. While some locations have been setting records since the beginning of the year, the hottest weather has come with an intense heat dome cooking the Sunshine State in recent weeks. That heat dome has made coastal waters extremely warm, including "downright shocking" temperatures of 92 to 96 degrees in the Florida Keys, meteorologist and journalist Bob Henson said Sunday in a tweet. "That's boiling for them! More typically it would be in the upper 80s," tweeted Jeff Berardelli, chief meteorologist and climate specialist at WFLA-TV in Tampa.
The temperatures are so high that they are off the scale of the color contours on some weather maps. The warmth registers as a Category 3 out of 5 on the National Oceanic and Atmospheric Administration's marine heat wave scale. NOAA defines a marine heat wave as a period with persistent and unusually warm ocean temperatures, "which can have significant impacts on marine life as well as coastal communities and economies." The agency describes Category 3 as "severe."
Such warm water temperatures "would be impressive any time of year, but they're occurring when the water would already be rather warm, bringing it up to bona fide bathtub conditions that we rarely see," Brian McNoldy, senior research associate at the University of Miami and hurricane expert for Capital Weather Gang, said in an email.
The toasty waters are influencing temperatures on land by raising the humidity, which makes it harder for temperatures to cool off at night. Numerous records for temperatures and heat indexes have been broken since mid-June, and the heat wave is expected to continue for at least a week. According to McNoldy, Miami's heat index soared to 110 degrees on Monday and has reached at least 100 on 30 straight days.
https://www.washingtonpost.com/weather/2023/07/10/florida-ocean-temperature-heat-records/
Comment: So it's hot and sticky in Florida in the summertime. That's not exactly news. I'm sure it's still nice on the beaches… except for the seaweed and red tide. This article is more worried about the warming oceans around Florida rather than the hot, humid weather on land. And it's not just the oceans around Florida. All the world's oceans are warming. The articles linked below detail the extent and causes of this phenomenon.
What are we going to do about it, besides sucking it up? Nothing meaningful until it starts costing the one percenters real money.
TTG
https://www.theatlantic.com/newsletters/archive/2023/07/climate-change-heat-waves-ocean-sea-level-rise/674676/
https://www.theguardian.com/science/2023/may/25/slowing-ocean-current-caused-by-melting-antarctic-ice-could-have-drastic-climate-impact-study-says
https://newsroom.unsw.edu.au/news/science-tech/huge-atlantic-ocean-current-slowing-down-if-it-collapses-la-niña-could-become-norm