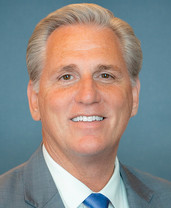 By Robert Willmann
After two more unsuccessful votes today, 6 January 2023, for Speaker of the U.S House of Representatives, the House will start again at 10:00 p.m. eastern time tonight for more voting. However, in the two votes starting at noon today, the opposing number dropped from around 20 to seven, and then six–
"1:56:45 p.m. Roll call 15 – Election of the Speaker. Mr. McCarthy 213, Mr. Jeffries 211, Mr. Jordan 4, and Mr. Hern 3 (Roll no. 15).
"3:21:58 p.m. Roll call 16 – Election of the Speaker. Mr. McCarthy 214, Mr. Jeffries 212, and Mr. Jordan 6 (Roll no. 16)".
The chairman of the House Freedom Caucus, Scott Perry (Repub. Pennsylvania), appeared on FoxNews television today to speak of a "framework" to have Kevin McCarthy elected as Speaker–
http://www.foxnews.com/media/freedom-caucus-chair-perry-defends-mccarthy-vote-speakership-accountability-key
Anna Paulina Luna (Repub. Florida) won a seat in Congress in the November 2022 election. She switched her vote today to McCarthy, saying on the House floor when doing so: "pending negotiations in good faith…." Her statement is pretty funny. In an interview later today after the vote, she said that the letter, or whatever it is — which is to set out what is to happen — is about three and a half pages long, and we will get to see it. Is this paper going to be disclosed before or after tonight's vote(s)?
Switching their vote to McCarthy by those objecting hinges primarily on changes to the House rules, one of which will allow a single member to make a "motion to vacate the chair", and if a vote on it is successful, the Speaker will be effectively removed. They think they can use that procedure (if it becomes part of the rules) to make McCarthy do what they want.
In my opinion, McCarthy is not a natural leader, he is a vindictive type, and he cannot be trusted. We will see what happens starting shortly at 10:00 p.m.