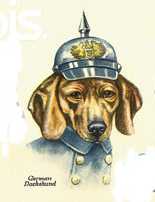 Yup. During WW1 the Dachshund was said in Britain to be a "spiritual agent" of the Imperial German Government.
In WW2 the German Shepherd was felt to be so threatening a beast that in the UK people started referring to the breed as "Alsatian."
During WW1 a story circulated widely in England that Russian troops had been seen arriving in English ports. It was said to be easy to identify them because of the snow on their boots. People believed that because it was widely said.
In the same period it was widely believed that British Army troops had massacred miners at some place called Tonypandy in Wales. This was completely untrue but nevertheless believed because "everyone was saying it."
In the First Gulf War the rumor was spread that Iraqi troops had looted baby incubators in Kuwait City to ship them home while leaving the Kuwaiti babies on the floor to die. This was completely untrue, a fabrication concocted by an Arab hating congressional committee chairman and the daughter of the Kuwaiti ambassador to the US. She testified before the man's committee that she was a witness to this event. In fact she was comfortably resident in Washington during the Iraqi invasion of Kuwait. When I objected to this deception at a hearing before his committee the man threatened me with Contempt of Congress.
The point is that you can BS the masses into believing just about anything you want if you are persistent and if the meme supports what the media want to believe.
Now the effort, a strong effort, is being made to persuade the Democrat masses that the people who voted for Trump are racist hillbillys who intend to overthrow the US government by force and violence and that the Proud Boys, Qanon weirdos and maybe the Knights of Columbus will attack Nancyland (Capitol Hill) any day now, any day. pl