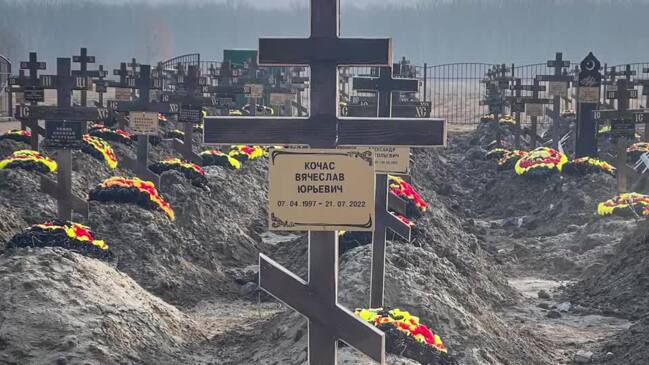 A senior Ukrainian official warned that Russia can reconstitute itself as a serious threat to Ukraine in the long run despite facing severe force generation problems at this time. Deputy Chief of the Main Operational Directorate of the Ukrainian General Staff Brigadier General Oleksiy Hromov stated on April 13 that Russian crypto-mobilization efforts are stagnating due to Russians' growing awareness that causality rates for Russian soldiers in Ukraine are high. Hromov stated that Volgograd and Saratov oblasts have only met seven percent (134 of the 7,800 recruits) and 14 percent (270 of the 7,600 recruits) of their regional recruitment quotas for the first quarter of 2023 respectively. Hromov also stated that Moscow is creating "alternative" private military companies (PMCs) to fill these gaps, but that these PMCs will not be as powerful as the Wagner Group in the near future, partially supporting previous ISW forecasts. Hromov noted that Ukraine and its allies must not underestimate Russian force generation capabilities in the long run for a protracted war of attrition. ISW has previously warned that the US and NATO should not underestimate Russian capabilities in the long run, as Russia can regenerate by leveraging its population and defense industrial base (DIB) to threaten Ukraine and NATO if Russian President Vladimir Putin decides to fundamentally change Russia's strategic resource allocation over the long run. Russian Defense Minister Sergey Shoigu announced plans on January 17 to form 12 new maneuver divisions over the course of several years, for example.
The Kremlin has not yet undertaken the necessary reorganization of its war effort to effectively leverage economies of scale to support large-scale Russian force generation, however. Current Russian half-measures and decentralized recruitment efforts to regenerate forces such as crypto-mobilization, leaning on Russia's regions to generate volunteers, relying on new small PMCs, and pressuring various Russian state-owned enterprises to sponsor and pay for recruitment campaigns seek to shift the resource burden to generate forces among different siloviki and elements of the Russian state. The Kremlin is reportedly billing the Russian state-owned energy company Gazprom for its volunteer recruitment efforts in occupied Donetsk Oblast, offering volunteers 400,000 rubles (approximately $4,900) salary per month. A Russian State Duma official proposed the institution of a new 2–3% "military tax" on Russian citizens' income — a provision that would allow Putin to reduce the burden on existing federal funds but would likely anger more Russians. These various Russian groups' resources are finite. The Kremlin's currently unsustainable effort to commandeer them will exhaust itself without fundamental resource generation and resource allocation reform. These current efforts will generate some additional combat power in the short term, to be sure, but will do so with diminishing marginal returns at increasing cost. The Russian state's current model of resource allocations and economies of scale do not synergize disjointed efforts to tap discrete resource pools. The Kremlin's decision to continue relying on financially incentivizing voluntary recruits with both one-time payments and accrued lifetime benefits will create large long-term structural costs and will not be sustainable indefinitely.
Ukrainian assessments confirm ISW's longstanding assessment that Russia cannot conduct multiple offensive operations simultaneously at this time. Deputy Chief of the Main Operational Directorate of the Ukrainian General Staff Brigadier General Oleksiy Hromov stated on April 13 that Russian forces deployed unspecified Russian forces from the Avdiivka area of operations to reinforce offensive operations around Bakhmut and that Russia has lost about 4,000 Wagner and conventional personnel in Bakhmut since around March 30. Hromov's statement supports ISW's longstanding assessment that the Russian military — in its current form — is unable to conduct large-scale, simultaneous offensive campaigns on multiple axes.
https://www.understandingwar.org/backgrounder/russian-offensive-campaign-assessment-april-13-2023
Comment: This appears to be an attempt at a long term assessment beyond a Ukrainian counteroffensive this year and into 2024 and beyond. What is suspect is either Hromov's or ISW's math skills concerning the recruitment figures in Volgograd and Saratov oblasts. Volgograd's recruitment of 134 out of a goal of 7,800 is 1.7% not 17%. Saratov's recruitment shortfall is 3.5% rather than 14%. Hromov was giving Russki recruiters too much credit.
Another indication of Russia's manpower problems was revealed in the recent "Discord Leaks." Russia's Spetsnaz unit losses have been catastrophic. One brigade has only 125 out of an original strength of 900 remaining. Two brigades are assessed with 90 to 95 percent casualties. These losses can't be replaced with prison meat. It takes years to train a Spetsnaz trooper and longer than that to train an effective team.
Beyond Hromov's difficulties with heavy ciphering, it's obvious that force generation will remain a major problem for Russia. It's not that they will run out of people to make into soldiers (or mere meat). The ability to absorb millions of casualties in WWII and keep ticking should prove that. But Russia can't produce the number and quality of troops needed to wage decisive war anytime soon. Conditions aren't that much better for the Ukrainians, but WWII proved they can also take a licking and keep ticking. We should soon see how well they've done in building a credible reserve force once their counteroffensive kicks in. Then we'll have to see how long it takes them to assemble another credible reserve for future operations.
I tried to embed Jerry Clower's tale of the coon hunt for your enjoyment and to illustrate the predicament both combatants are currently in. Can't be done. I guess some things are sacred. The link is below. I happened to be cruising with SWMBO in my '71 Super Beetle just south of Phenix City, Alabama in 1976 when I first heard this Jerry Clower tale. Ah, newly weds.
TTG