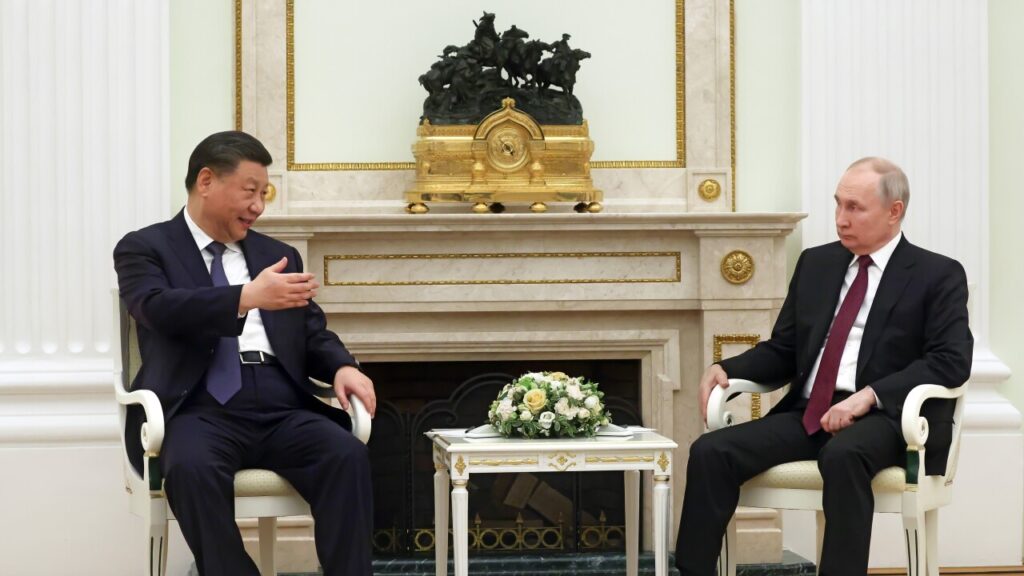 Chinese President Xi Jinping met with Russian President Vladimir Putin in Moscow on March 20 and offered a more reserved vision for Russian-Chinese relations than what Putin was likely seeking. Xi and Putin touted the strength of Chinese-Russian relations in their meeting on March 20, but offered differing interpretations of the scale of future relations in articles they published on March 19. Putin published an article in Chinese state media in which he argued that Russia and China are building a partnership for the formation of a multipolar world order in the face of the collective West's seeking of domination and the United States pursuing a policy of dual containment against China and Russia. Xi offered a less aggressive overarching goal for Russian-Chinese relations in his article published in Russian state media outlet Rossiskaya Gazeta, in which he noted that Russia and China are generally pursuing a multipolar world order but not specifically against an adversarial West. Xi instead focused heavily on presenting China as a viable third-party mediator to the war in Ukraine whose plan for negotiations "reflects the unity of views of the world community on overcoming the Ukrainian crisis." Putin wrote that Russia welcomes China's willingness to "play a constructive role in crisis management" regarding the war in Ukraine, but Putin likely was hoping for Xi to adopt a similarly aggressive rhetorical line against the West.
Xi's refusal to explicitly align China with Russia in Putin's envisioned geopolitical conflict with the West is a notable departure from China's declared "no limits partnership" with Russia preceding the start of the Russian invasion of Ukraine. Xi's rhetoric suggests that he is not inclined to fully give Russia the economic and political support that Russia needs to reverse setbacks in Ukraine. Putin and Xi offered somewhat similar visions for increased Chinese-Russian economic partnership, and it is likely that the two will sign bilateral trade and economic agreements during Xi's visit, some of which will likely aim to facilitate schemes for sanctions evasion. Xi will also likely offer a more concrete proposal for a negotiated settlement to the war in Ukraine, although it remains unclear what his proposal will entail and how receptive the Kremlin will be to it. The prospects of China supplying Russia with military equipment also remain unclear.
https://www.understandingwar.org/backgrounder/russian-offensive-campaign-assessment-march-20-2023
Comment: In spite of any past announcements of a limitless partnership between Russia and China, China is going to do what's best for China. In my opinion, Xi has no desire to tie himself to  Putin. His eye is on a far wider goal, one that involves safeguarding the international order, as China sees it, and expanding global trade opportunities.
TTG