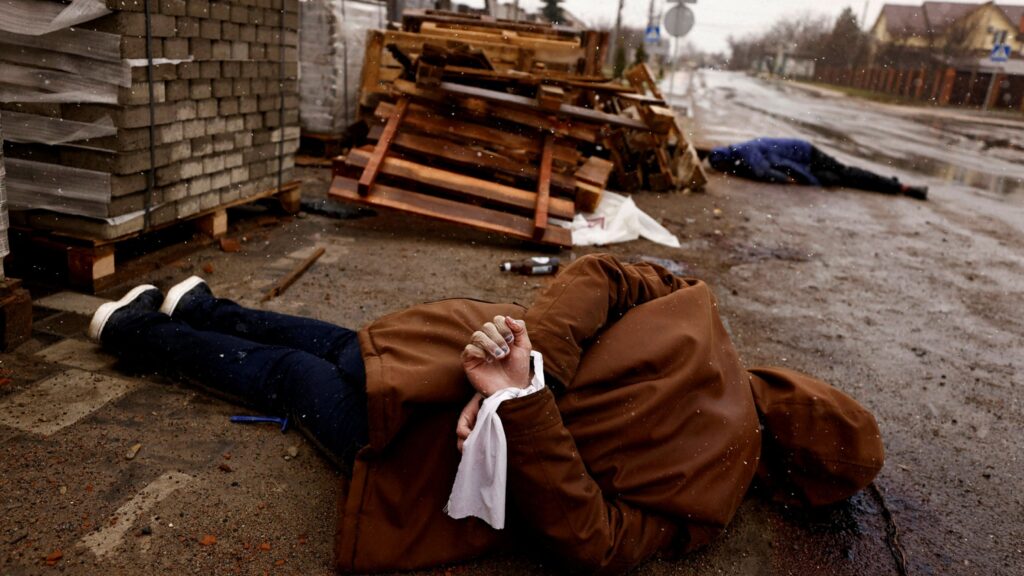 Having now read this most recent @usosce summary report three times yesterday and again once this morning, I've tried to wrap my head around Russian military actions in Ukraine. I can't. With each read, there's more disgust.
A thread on war crimes.
The US rep to @OSCE is @mikercarpenter, a man I deeply respect from previous interactions. Having served many years in Europe, I have deep appreciation and respect for the very difficult mission the Commission has executed over the years.
Here's a summary of what OSCE does. It originated in a mid-1975 Conference held in Helsinki and it was created as a forum to discuss issues between the eastern and western bloc during the cold war. 57 countries participate. The OSCE helps in conflict prevention, crisis management, and post-conflict rehabilitation. In effect, their primary mission is to prevent conflict, but they also contribute to arms control, promotion of human rights, free and fair elections, protection of the free press. Since 2014, after the MH17 shootdown and the Russian invasion, they've had steady presence in Ukraine. 
This report on and evidence of war crimes committed by Russia is staggering:
– Systemic, planned, deliberate and indiscriminate attacks on civilians
– Establishment of formal torture chambers and extrajudicial executions
– Mass forcible transfer and use of "filtration centers" 
– Widespread mass rapes and indiscriminate murders, including these acts against 100's of children
– Approved looting and resale of stolen personal property
– Conscription of Ukrainians to fight AGAINST their fellow citizens
– Use of banned weapons against Ukraine and Ukrainian citizens
– Precision targeting of hundreds of protected infrastructure: Schools, hospitals, water and energy plants, military medical treatment centers
– The theft of thousands of tons of grain as part of a with a planned attempt to exacerbate famine in other regions/countries. 
All wide-scale and flagrant breaches of the rules of land warfare and established international law…and morality: It is relatively easy to tie all these acts to specific violations of International Humanitarian Law under the Geneva Conventions and its additional protocols.
Sherman is alleged to have said: "War is hell." Those who've experienced it, who have the responsibility of command and waging war, know that's true. But one of the many jobs of military leaders is to "control violence." Morality, law, training and discipline requires it. Unfortunately, there will always be conflict. But societies and humanity have evolved and attempted to reduce human suffering through:
– Trained and disciplined professional armies
– Leader accountability
– Precision weapons
– Laws and protocols
– Advanced in human morality and decency 
Every army will have individuals who violate these laws and standards of discipline within their ranks. In combat, I had several instances where I had to discipline those who did. But what Russia is doing is widespread, inherent in their actions, blessed by their leaders. That's why Putin must remain a pariah on the world stage…forever. No coming back. That's why Russian commanders must be held accountable for criminal action. "Lack of knowledge" or "just following orders" aren't excuses. No deliberations or cease fires, continued support. 
Comment: This is a summary of the recent OSCE Moscow Mechanism report by retired LTG Mark Hertling (@MarkHertling) on his twitter account. I haven't been able to find the actual report, but I've provided links to the remarks by the US Ambassador to the OSCE, Michael Carpenter, along with the State Department comments on the report.
I've seen a lot of comments asking why the West is raising such a stink this time after offering such a muted and short lived response in 2014. The short answer is that the 2014 invasion was dramatically different from this one. And so is Ukraine. The seizure of Crimea was swift and almost bloodless. The Russians were known as the polite green men. They were bold and competent. Even the Donbas, although far messier, appeared to be far more a civil war than an invasion. Novorossiya, as it became known, had real heroes like Givi and Motorola. 
This time, it's far different. What was to be a swift decapitation of the government in Kyiv failed. The Russian Army is bringing the worse caricatures of the clumsily violent and cruel Red Army to life. Where is the brilliant and competent Russian Armed Forces that saved Syria from imminent defeat at the hands of the jihadis? Do they really think inflicting widespread and deliberate cruelty is going to win the war in Ukraine? Is this the only lesson they took from fighting the jihadis? Too bad. Russia and the Russian military had such promise.
TTG 
https://osce.usmission.gov/response-to-moscow-mechanism-report-on-ukraine/
https://www.state.gov/osce-releases-the-second-expert-mission-report-on-human-rights-abuses-and-international-humanitarian-law-violations-in-russias-war-against-ukraine/