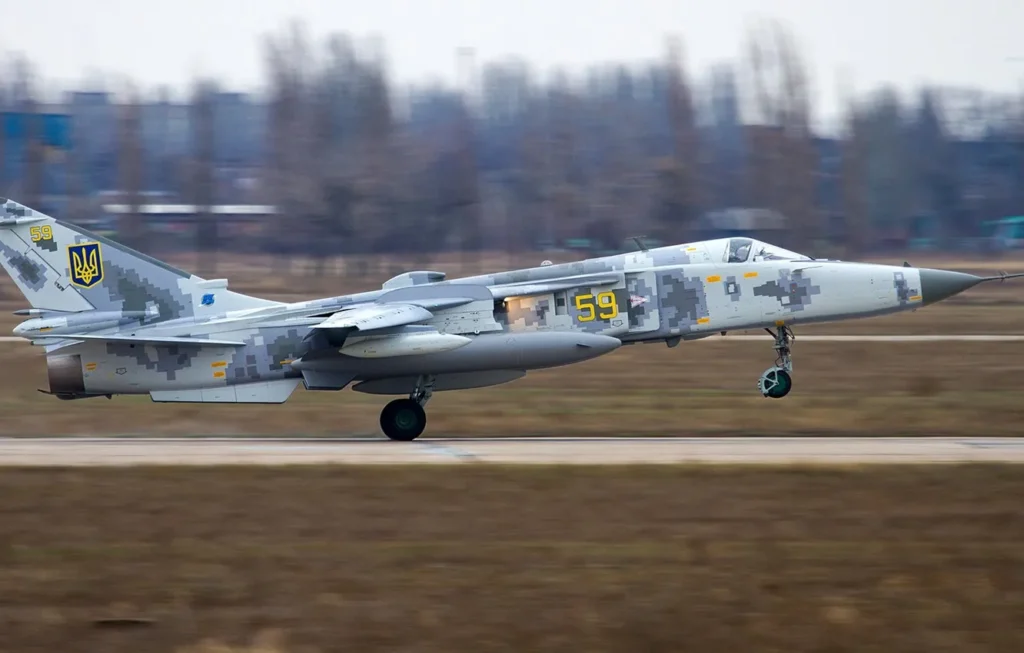 From Tom Cooper on 28 July 2023:
Finally, something based on 'lots of deduction', and over which there is a big question mark… and then something I guess is going to be taken as 'bad news' by many. The latest big Russian missile strike on Ukraine – the one of Wednesday, 26 July – should've included about: 36 Kh-101/555 cruise missiles from 8 Tu-95s, 4 Kalibrs from warships in the Black sea, and 4 Kinzhal air-launched quasi-ballistic missiles. The PSU claimed as shot down: 3 Kalibrs, and 33 Kh-101/Kh-555s. 
However…. it seems that the mass of missiles in question were deployed to distract the PSU's ground-based air defences from the actual target of this attack: Starokostyantyiv AB, in the Khmelnytskyy Oblast. Worst of all, and because it's outside the 'air defence bulb' covering Kyiv, it seems this base was actually hit by up to four Kinzhals.
Starokostyantyiv AB is the home-base of the 7th Aviation Brigade, PSU: the unit operating Su-24Ms modified to deploy Storm Shadow and SCALP-EG cruise missiles.
Now, yesterday, the PSU spokesperson, Yurii Ihnat, confirmed that Starokostyantyiv AB was hit, but wouldn't reveal any details. Nobody else in Ukraine would say anything more. But, from the way everybody is refusing to comment….well, my impression is that this Russian strike did cause 'major damage'. If nothing else: there are no indications that the PSU has flown any additional Storm Shadow/SCALP-EG-strikes over the last two days.
Sure, different Russian HQs and supply depots in southern Zaporizhzhya and southern Donetsk have been hit the last two days, plus one in Shakhtarsk (east of Donetsk), the last night; but – as far as is known – all of them by M142 HIMARS and M270 MRLS.
https://xxtomcooperxx.substack.com/p/ukraine-war-28-july-2023-dirt-and
And on 30 July 2023, he reported:
Gauging by reports from the Russia-occupied Crimea, the PSU's Su-24-force has survived the 4-Kinzhal-strike on its homebase in Starokostyantyiv of 26 July. Yesterday, it flew a multi-aircraft strike on the Armiansk and Chongar Road bridges, connecting the Crimea with the mainland Ukraine. Reportedly, both were hit. Precise extent of damage remains unclear, but social-media reports are indicating six hits on the Chongar bridge and interruption of the road traffic on both roadways. If Ukrainians deployed six Storm Shadows against it alone, that would require at least three Su-24Ms. The Syvash Railway Bridge (next to the Chongar Bridge) was not attacked.
https://xxtomcooperxx.substack.com/p/ukraine-war-30-july-2023-oldies-and
Comment: This Russian air attack was well conceived and well planned. Knocking out Ukraine's Su-24Ms should be a priority. This is the type of attack they should be doing often until it achieves the desired effect. Why they don't do so is a mystery. Knocking out the HIMARS should also be a priority, but that's proved to be tough. It still deserves a concerted effort. The Russians may not be stupid, but they sure seem to half-assing it on a regular basis.
Russian war bloggers were silent on the bridge strike. Up until now, they could be counted on blab about such things whether they were successful or not. This time it was silence until the local Quisling announced the bridges were attacked by a total of 12 Storm Shadows and the above photo showed up on Telegram today. Ukraine doesn't need this coverage. They know what attacked the bridge and how effective it was. But now average Russians, along with us armchair generals, know the Kinzhals did not stop the Storm Shadows and another critical bridge was struck.
Interdiction of the rail bridge linking Dzankhoi to Melitipol via Syvash-Chongar serves the same strategic goal of interdicting the Kerch railroad bridge. The difference lies in the greater vulnerability of the Syvash-Chongar bridge to Storm Shadows. Russian logistics are right royally screwed if either of those bridges are impassable for any length of time. Now we'll see if the Ukrainians hit it again if it is repaired quickly, although the damage looks like it might take a couple of weeks to repair.
TTG