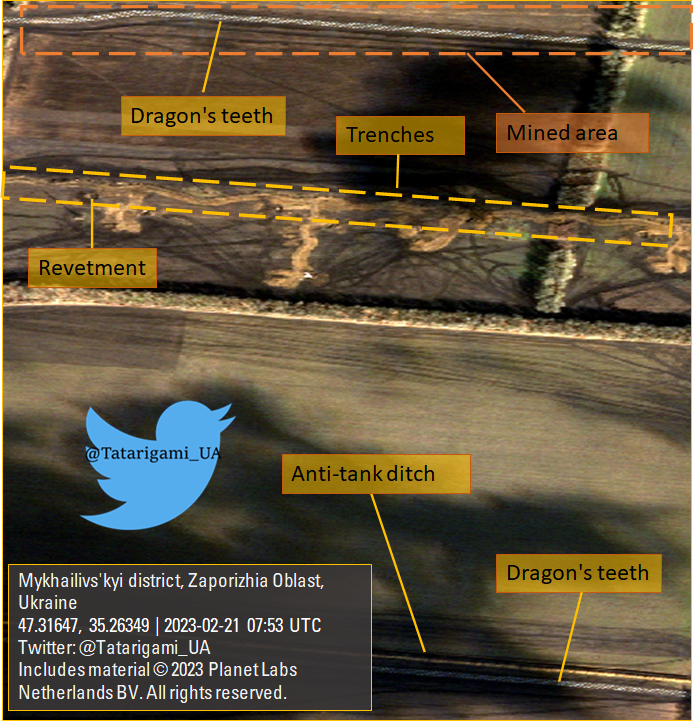 Given the ongoing discussions regarding the Ukrainian counter-offensive, it's crucial to understand Russia's echeloned defense system along the frontline, particularly in the south. These defense lines are composed of multiple obstacles that Ukrainian forces will face. To help paint a clearer picture, we'll be using satellite imagery from Feb 2023 to analyze a section of the enemy's fortifications located south of Vasylivka, Zaporizhzhia oblast. Although some changes have occurred since then, the general idea of the defenses remains the same.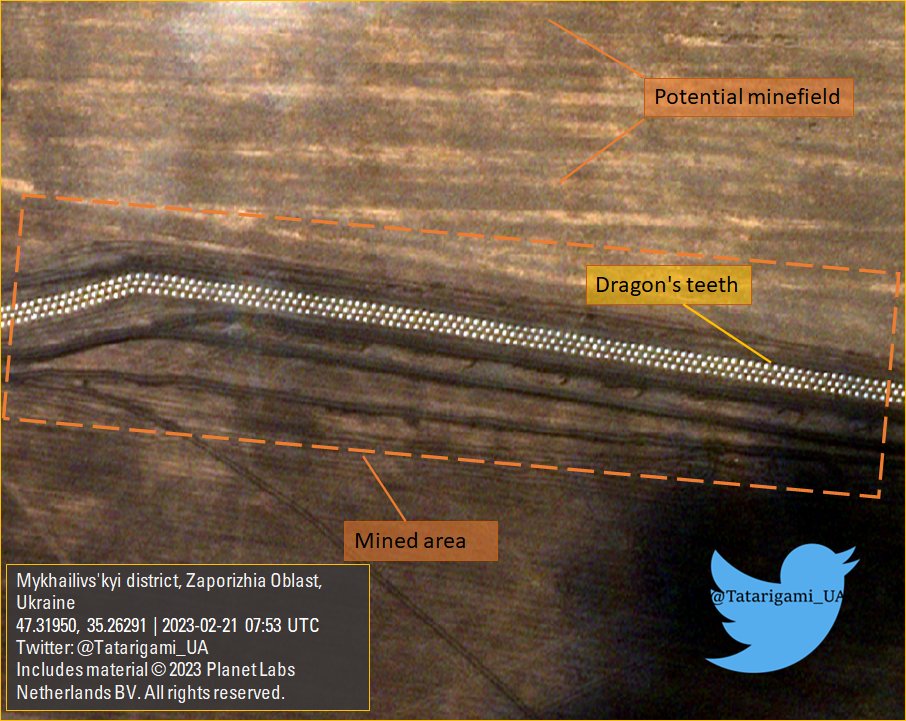 One key feature of Russia's defense lines are famous dragon's teeth, pyramidal anti-tank obstacles that can effectively impede or slow down mechanized or motorized units during an attack. These obstacles can be particularly effective in combination with other defense measures. It is common for the areas immediately preceding and following dragon's teeth to be heavily mined, and this specific section of the defense line is no exception.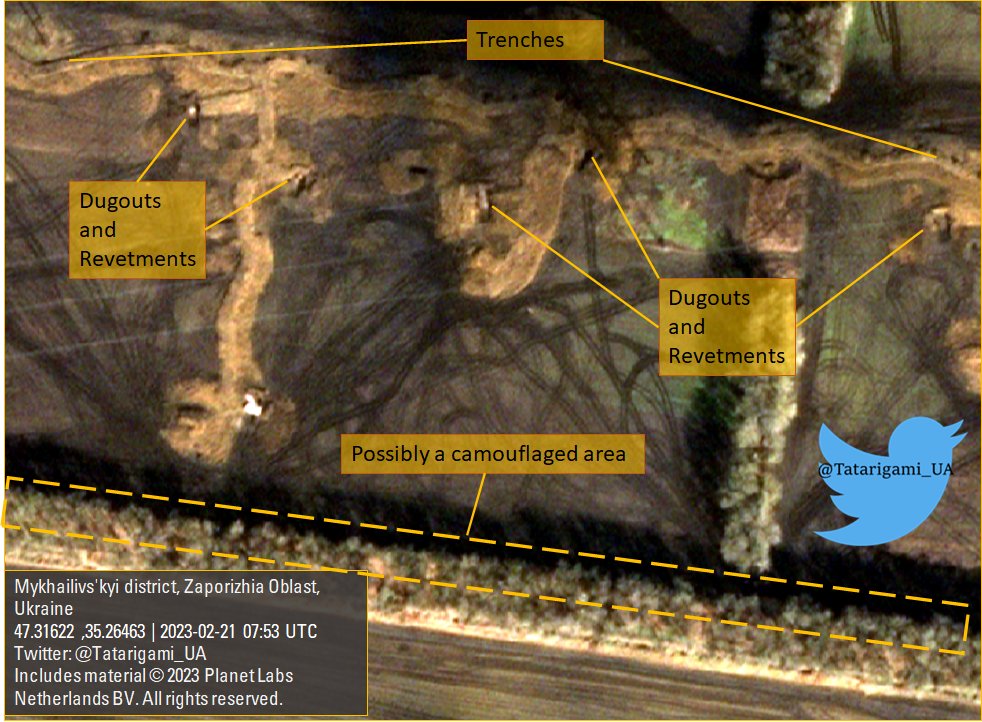 The subsequent defensive line, positioned approximately 300-500 meters away from the dragon's teeth, is composed of conventional trenches, dugouts, and vehicle revetments, providing protective cover for armored vehicles positioned in "hull down" mode. It is common to utilize tree lines as camouflage for ammunition, observation posts, or anti-tank guided missile (ATGM) teams. It is possible that we may observe the presence of older anti-tank weapons such as the MT-12 "Rapira" in that area.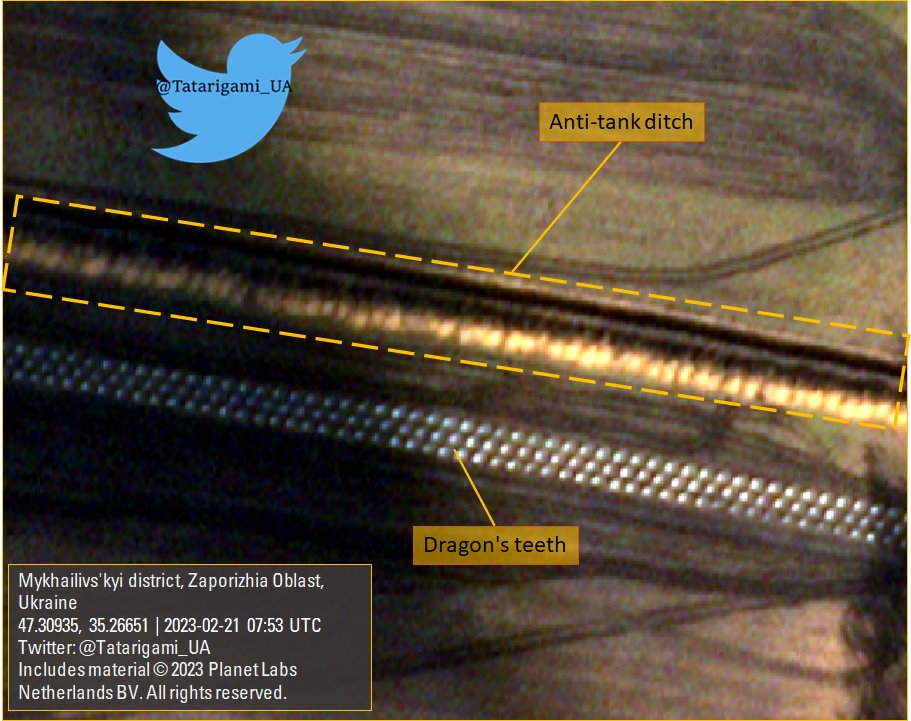 About 500 meters further, another line of defense begins which includes anti-tank ditch. This excavated ditch is designed to prevent the advance of attacking vehicles by forcing them to fall into the ditch, thus becoming immobilized.
Although overcoming these obstacles is certainly feasible and well within Ukraine's capabilities, it is important to acknowledge that the fortified defenses are substantial and have the potential to significantly impede maneuverable attacking forces. If we view these defense lines on the imagery as a single echelon, it's important to note that Russia has multiple echelons in some areas, with as many as three in certain directions, each separated by dozens of kilometers.  Air power can neutralize these defenses, but limited availability of modern jets in sufficient numbers makes it challenging. A successful breach of such defenses could serve as a valuable case study for researchers and historians, showcasing effective military art.
https://twitter.com/Tatarigami_UA/status/1645651237415575553?cxt=HHwWgoCz5ZrFw9YtAAAA
Comment: The author of this thread is a Ukrainian Reserve officer. In later comments he states he is pretty confident Ukrainian forces can achieve victory in the coming offensive, but he knows it won't be a cakewalk. This is why recent shipments to Ukraine include lots of ammo along with obstacle breaching equipment like mine plows, armored bulldozers, mine clearing line charges (MICLIC) and armored vehicle launched bridges. I saw one video of a Stryker equipped with a mine plow. I never knew those existed. Of course drones of all flavors will also play their part.
The Russian field works are impressive from a distance, but their impressiveness diminishes upon examination. The dragon's teeth are smaller than those used in WWII and are not anchored to each other or the ground. They'll definitely stop lighter wheeled and tracked vehicles, but they won't stand up to the mine plows and may not even be much of an obstacle for tanks. The mine fields, on the other hand, are a serious obstacle that will require the mine plows and MICLIC to breach. The trenches don't offer much overhead cover for occupying infantry. Our DePuy fighting positions formed an interlocking defense with overhead cover for all the defending infantry. And the infantry could fight from under that overhead cover. Still, these defenses if sufficiently manned and backed up by sufficient artillery could be a tough nut to crack. Soviet/Russian doctrine calls for a mobile defense with armored reserves. I don't know if that's still the case or if that aspect of doctrine went the way of the BTG. Twenty years of corruption and a year of attrition have taken a mighty toll on the Russian Army.
TTG